Every product is carefully selected by our editors. If you buy from a link, we may earn a commission.
The Safest and Most Functional Life Vests On the Market
Stay safe on aquatic adventures with these top-rated life vests.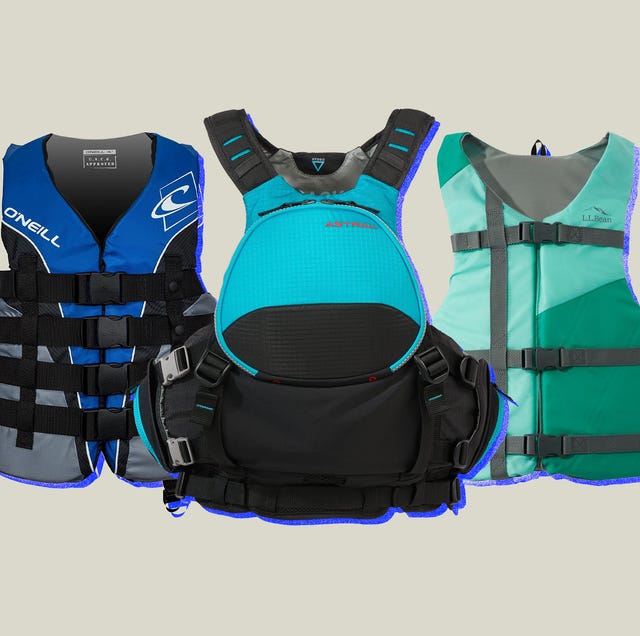 There's no feeling like being on the water: whether you're kayaking, paddling, fishing or spending a casual day on the boat, the sensation of moving, falling, swaying and swirling with the immeasurable power of water is simultaneously mediative and awe-inspiring. But in order to have the best (and safest) experience, it's important you take the necessary safety precautions, and one of the most important is investing in a reliable life vest.
What is the difference between a life jacket and a life vest?
The short answer: nothing. Life vest and life jacket are used interchangeably to refer to a PFD: personal flotation device. A PFD is any device used to keep a conscious person afloat in water. However, there are different flotation ratings for PFDs — your life vest can be a Type I, Type II or Type III device.
What are the differences between Type I, Type II and Type III life vests?
The "Types" of PFDs are delineated by their flotation levels and buoyancy capabilities, which are measured in Newtons. The Newton levels that will be marked on a PFD are Level 150, Level 100, Level 50 and Level 50S. A Type 1 vest is rated 100 or 150: they offer the best level of support and are the only type of vest that offers the head and neck support needed during inclement weather and harsh water conditions.
Type II PFDs are equivalent to Level 50: they don't offer any head support and are best used on smooth water and during activities like jet skiing or kayaking. Level 50 life vests and below are not allowed as life vests on boats, due to their lack of support in case of harsher weather conditions. Type III life vests (Level 50S) are "special purpose" life jackets. They don't comply with color requirements that make them easy to spot, don't have head support and are therefore appropriate to be used in smooth waters.

How should I choose a life vest?
The most important factors to consider when choosing a life vest are fit, durability and design function. If you're an angler and need storage options for tackle and bait, choosing a fishing-specific vest with plenty of pockets is going to serve you best. If you've got growing kids and want a vest that'll grow with them, opt for a style with more adjustment points and fit customization. Finally, think about intended use: if you're stocking your boat with vests to use in case of an emergency situation or harsh weather, don't go for anything else besides a Type I classification. The more casual the activity or smooth the water, the more wiggle room you have with picking based on Type. For this guide, we chose to recommend only Type III vests, which can be used in a greater variety of casual conditions, and provide a more even mix of safety and comfort.

Whatever your water sport may be, choosing the right life vest for you can make or break your experience. Here are our top picks.