Every product is carefully selected by our editors. If you buy from a link, we may earn a commission.
The Best Leather Jackets Money Can Buy
From faraway Japanese grails to US-born bespoke brands.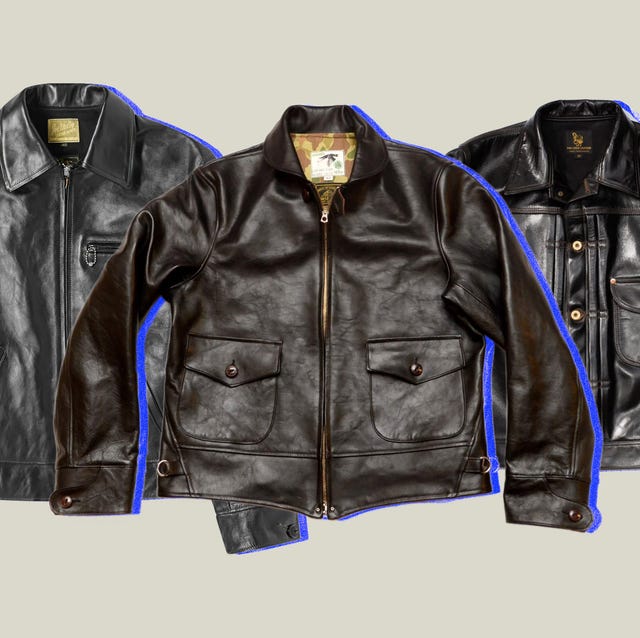 Like a lot of the clothing guys wear today, the leather jacket got its start as a utilitarian object. There was no need for a bomber jacket, a motorcycle jacket or a racing jacket before the inventions of the airplane, the motorcycle or the automobile. But leather jackets didn't make their widespread style debut until after World War II, when the idea of leather for style, instead of purely for function, started seeping into popular culture.
After sky-rocketing to popularity by way of Marlon Brando in the film The Wild One, the motorcycle jacket became such a symbol of youth in revolt that it was banned in schools for an entire year in the mid-1950s. This helped place them on the backs of guys who wanted to telegraph "rebel cool," gaining popularity throughout the 60s, 70s, and 80s.
"[For] everybody from Elvis to The Beatles, to The Stones, every psychedelic band from the Jefferson Airplane to the Grateful Dead, it was like a rite of passage," said Michael Paradise, a former employee of North Beach Leathers who now owns The Stronghold, a heritage clothing boutique in Los Angeles. "You signed a recording contract, you got your first paycheck, you went to North Beach Leather."
They're now an indispensable part of a man's wardrobe — and guys who work in more casual settings can get away with swapping a minimal black, brown or navy leather jacket for a blazer. It's more durable, water repellent, and looks just as good over jeans as it does with a pair of tailored trousers. With so many options on the market, finding the perfect one for you can take a lot of time and research — but it's well worth slowing down to do so.
Unlike other clothing, buying a leather jacket is like buying a piece of furniture. Pick the right version and you'll have it forever. Go with the wrong thing, and you'll end up making an expensive mistake. To help shorten your list of candidates, we compiled our favorites makers across the four major categories, motorcycle, bomber, racing, and shearling jackets. We also spoke with experts — click the button below — about style, fit, quality, and care to better inform your big spend.
The Best Leather Jackets You Can Buy