Every product is carefully selected by our editors. If you buy from a link, we may earn a commission.
The Right Robe Will Brighten Your Morning
Perfect for early at-home tasks or while completing your skincare routine, a robe will keep the wearer (aka you) warm and dry.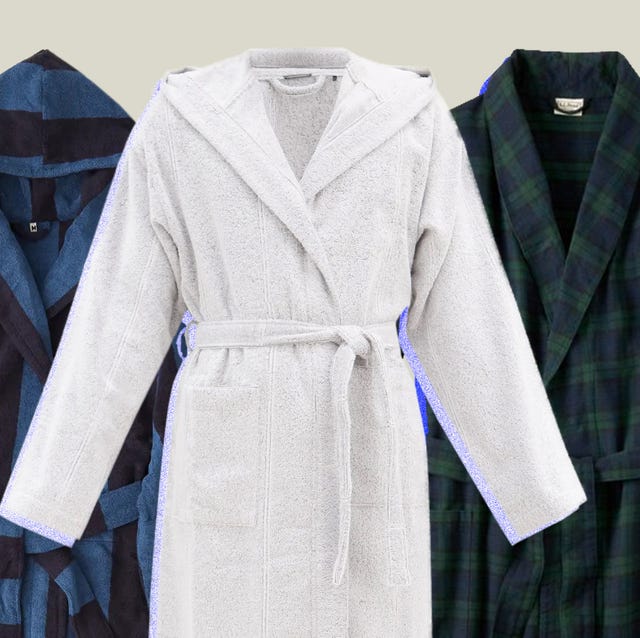 Most mornings, you will find me in a robe braving the cold kitchen floor as I make my morning coffee. For maximum comfort, I turn to one made from trusty terry cloth, a material that wears well (meaning it keeps you both warm and dry) and lasts long.
Most brands employ this fabric when crafting their take on the top layer, because while linen or silk might look more put together, these fabrics don't do much for wet, cold bodies. But cotton, fleece, flannel and even waffle knits will. They'll trap in heat and soak up leftover moisture (hopefully from the shower) without becoming a limp, damp rag. Usually, robes come with an inner hook for hanging's sake, too, to deter that infamous locker room odor. (It's bad, if you're not familiar.) Like towels, robes need ample room to air out.
The vast majority of robes don't stretch all the way down to the floor, because you need room, too. But they almost always come with a sash, whether extravagant and on the outside or hidden within, to keep your valuables (aka your intimates) out of view. The belt also frees your hands up from having to hold the whole thing together; it makes bundling up easy, I'd argue.
That's why, when it's super cold outside, I pair this with some flannel pyjamas, and maybe wool socks, and I am set for whatever lies ahead — even if it's just lounging around. If you need a little help perfecting the formula for cold weather coziness, here's where to find the top robes right now.