Every product is carefully selected by our editors. If you buy from a link, we may earn a commission.
The Thermal Shirt Is a Sartorial Swiss Army Knife
Called a waffle-knit shirt or simply a thermal, these long-sleeve base layers ooze Americana and prove plenty warm.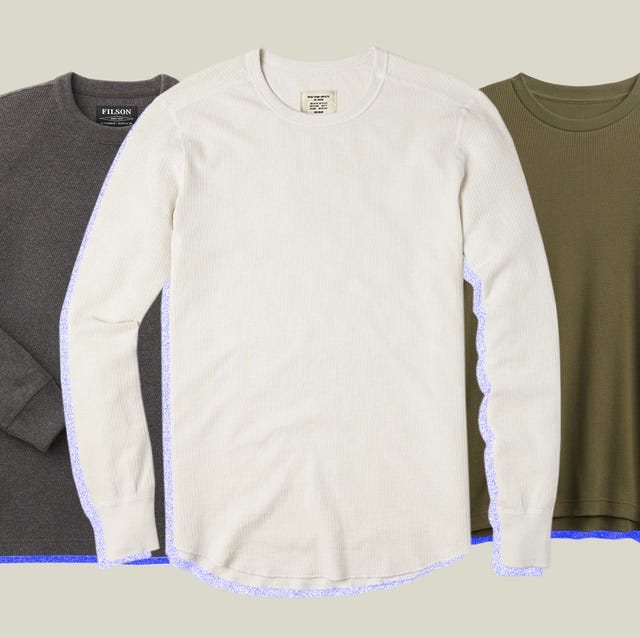 When the air turns cold and snow starts falling, you're going to need layers to keep warm. Sure, classics like a crisp white tee or an old-but-gold tank work well and fit without fuss beneath sweaters and dress shirts, but if you want to be comfortable outdoors in the winter months you need a thermal base layer — a firm, infallible foundation, if you will.
What is a thermal? And, how is it different from a waffle-knit shirt? Well, they're one and the same. Colloquially, the term waffle-knit refers to the fabric itself, a literal description of how it looks and feels up close. On the contrary, the term thermal refers to the garment's function: to serve as insulation for your body. You see, the style is meant to be thick, a truly hefty option oft cut from mid- to heavyweight cotton. The weight alone warms your skin's surface, but the breathable waffle formation lets air flow freely out but barely in, thus regulating your temperature and wicking unwanted moisture.
This combination of capabilities make it — the waffle-knit or the thermal, whichever name you prefer — the ideal base layer. Put it on first beneath a nylon liner and a wool overcoat? Incredible; you'll be super warm. But paired by itself with faded blue jeans? Stylish in a '90s-era Wrangler commercial — you know, the now questionable one with Brett Favre slinging the pigskin — kind of way.
So, seek out an iteration that feels heavy without being overwhelming, tightly-woven without seeming artificial and, of course, stylish enough to serve as an unidentifiable base layer or a standalone top.
Cream — which is decidedly different from stark white — is certainly the preferred color, but faded black, navy blue, olive and gray iterations are OK too.
This content is created and maintained by a third party, and imported onto this page to help users provide their email addresses. You may be able to find more information about this and similar content at piano.io