Every product is carefully selected by our editors. If you buy from a link, we may earn a commission.
The Oxford Shirt Is a Versatile Essential
This classic cotton button-down can be worn a million ways.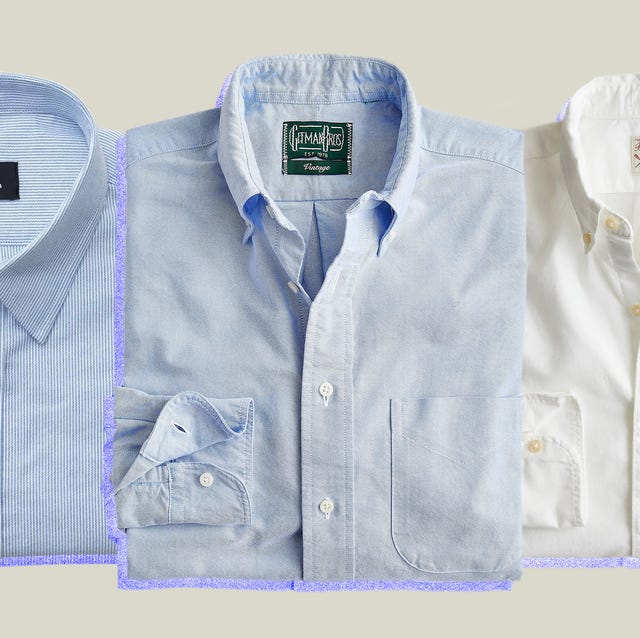 Every man should own a button-down oxford shirt. It's a staple of menswear notable for its versatility: It can be dressed up or down, it fits with a variety of wardrobes and it complements a range of body types. And while men's publications proselytize investing in quality, and countless brands offer "definitive" designs of the oxford, the components of a well-made shirt are, at best, vague.
What Is an Oxford Shirt?
According to designer Todd Shelton, "the only absolute detail for an oxford shirt is a button-down collar. The length of the collar point is possibly the most important detail and a big decision for a brand." He says the differences between brands can be minute, but they mean a lot — especially to the trained eye.
"Every shirtmaker uses the same basic construction techniques. The difference between makers is how disciplined and artful they are in applying those techniques," he says. "The single greatest variable between brands, and the ultimate contributor to quality, is the shirt pattern — it's their blueprint for shirt construction. A pattern makes up all the shirts' components and how those components sew together. The pattern wholly controls how well a shirt will fit. If the fit is not right, the best fabrics and the smartest details are meaningless. Fit is king."
You probably can't ask J.Crew where the brand made its own oxford or to see its (possibly patented) shirt patterns, but that's why, if you can afford them, you should pick one from a smaller brand with a transparent, trusted history.
It Starts with the Yarn
Shelton says yes, the fit is important, but oxford shirts live and die by their yarn quality. Low-end yarn means a plain, lackluster shirt. However, though, a well-fitting shirt can hold its own against those crafted from superior cotton.
"Oxford is such a basic fabric that a fundamental, like yarn quality, is a key ingredient. Oxford is a heavy fabric, which requires a thicker yarn when weaving. A thicker yarn can be created two ways: from one single heavy-gauge yarn, or by twisting two or more finer yarns together. Oxford cloth made from multiple finer, twisted yarns will be softer and richer. It makes a big difference," he says. "My experience has been, you get what you pay for when it comes to fabrics, especially oxford."
Durability Over Discounts
Gitman Vintage owner Chris Olberding says while one could save on an oxford from a bigger, cheaper brand, you really do get what you pay for (like Shelton said). Picking a slightly pricier shirt means you'll own the shirt longer, even if you wear it every single day.
"Many inferior makers offer a good-fitting shirt," Oldberding says, "some even with a decent collar roll. But show me one that lasts more than six months of continuous wear and came through the American laundering process. You'd be hard pressed to find it."
The Best Oxford Shirts for Men
How to Care for Your Oxfords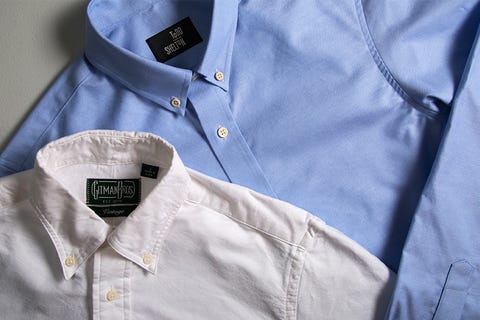 "I wish men could get to a place where they'd embrace a shirt that has a bit of a rumple — and didn't feel the necessity of eliminating wrinkles or commercial pressing," Shelton says. "It would save them lots of time, money, and chemicals. In my opinion, an industrially cleaned and pressed shirt is dated. Great fabrics, with a slight rumple, on a clean-groomed man is natural and cool — even in a professional setting."
When it comes time to clean it — say it has a slight... stench — Shelton says it's OK to wash it on cold and then let it hang dry.
"A light ironing at home is great if the occasion calls for it, and you have the time and patience," he adds.