Every product is carefully selected by our editors. If you buy from a link, we may earn a commission.
It's Time for a Better Belt. Start Here
Belts keep your pants up, yes, but they also enhance your personal style.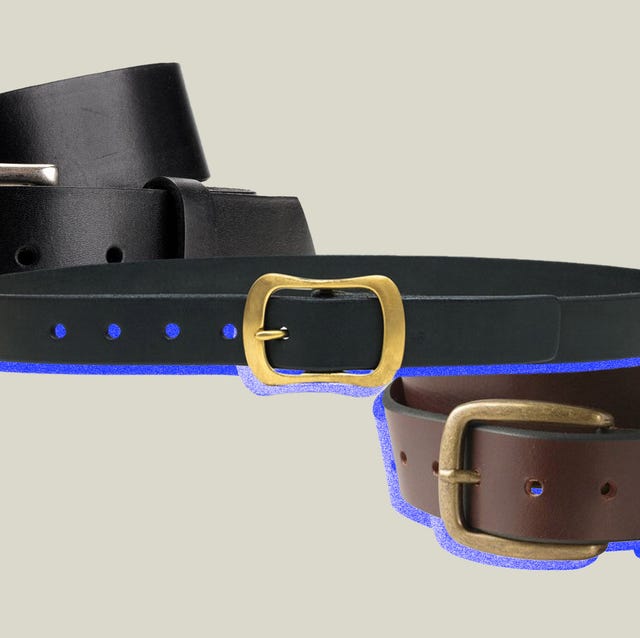 Picking the right belt is by no means rocket science. Follow one simple formula, and you'll land a proper pants-holder. First, invest in high-quality leather. Then experiment with texture. The range available in casual belts — suede, bridle, vegetable tanned, alligator and bison — can fit different aesthetics, so don't shy from variety.
Types of Belts
Like I said, there's loads of variety within the category. There are not only a number of colors and sizes, but also a bunch of strap styles.
Calfskin
Exotic leather: Lizard, Crocodile, Ostrich
Cowhide
Braided
Suede
Fabric
Rope
Canvas
Vinyl and faux leather
But you can also shop belts by pant style and occasion: There are dress belts, jean belts, casual belts and beyond, and each corresponds with what you're wearing and where to. If you're wearing dress pants, the belt loops are smaller than those on jeans.
Types of Belt Buckles
The buckle is what keeps the belt together. It can be simple or ornate depending on your style and how you'll wear it. If you tuck your shirt in, you'll want something with a little more substance. If it's simply there to keep your pants up, it can skew simple.
Frame buckle
Plate buckle
Snap buckle
D-Ring
Snap buckle
O-Ring
The Best Belts for Men