Every product is carefully selected by our editors. If you buy from a link, we may earn a commission.
The Best Deodorants for Men
Stick or spray, it doesn't make a difference. These deodorants will freshen even the foulest pits.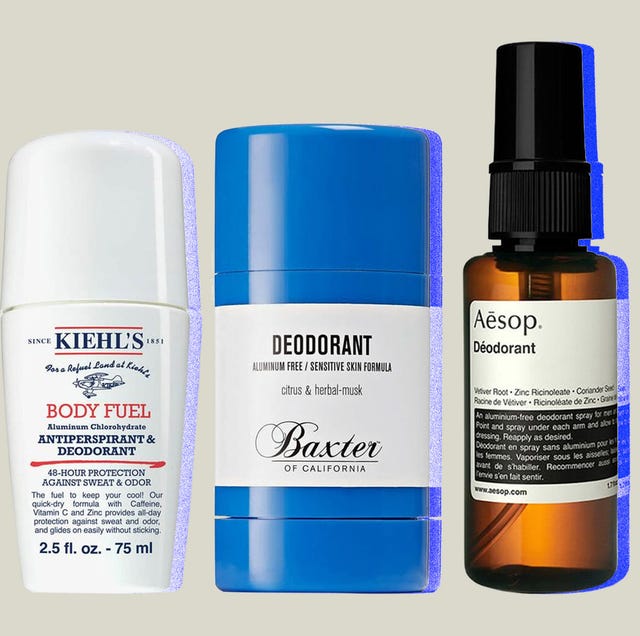 There's no nice way to say it: Humans are sweaty creatures. And while you're mostly dealing with water here, some parts of your body (like, say, your armpits) also secrete proteins and fatty acids. These things are harmless but annoying; when they react to bacteria on the body, you get a little thing called trans-3-Methyl-2-hexenoic acid — a.k.a. body odor.
What to Look for
You already know what to do, of course. But before you reach for the same old stick you've been using since the first day of middle school, you might want to consider your other options. There are lots of ingredients and methods of application to consider. Because when it comes to something as essential as deodorant, it's worth sweating the small stuff.
Ingredients to Avoid
Phthalates: Phthalates are a binder, and a preservative for synthetic fragrances. But research suggests they can harm men's endocrine systems.
Triclosan: Banned by the FDA for use in hand soaps, triclosan can still be used in other grooming products — like deodorant. It's an antibacterial chemical that kills odors but could cause other issues with repeat exposure.
Parabens: Parabens are preservatives, but these preservatives can penetrate the skin — and they shouldn't.
Synthetic fragrances: Naturally-derived fragrances are the way to go. Look for plant-based extracts and oils.
Butane and Isobutane: These ingredients are only found in spray deodorants, because they're what can compress and expel aerosols. Most modern sprays have moved on to other alternatives — look for "aersol-free" or "non aerosol."
Aluminum: Although hotly debated, aluminum plugs your sweat ducts. Plus, it can cause issues on the cell level, which is why it's been linked to tumor growth.
The Best Deodorants for Men