Every product is carefully selected by our editors. If you buy from a link, we may earn a commission.
The 13 Best Antiperspirants for Extra Sweaty Pits
Options for when you need a little help managing your moisture.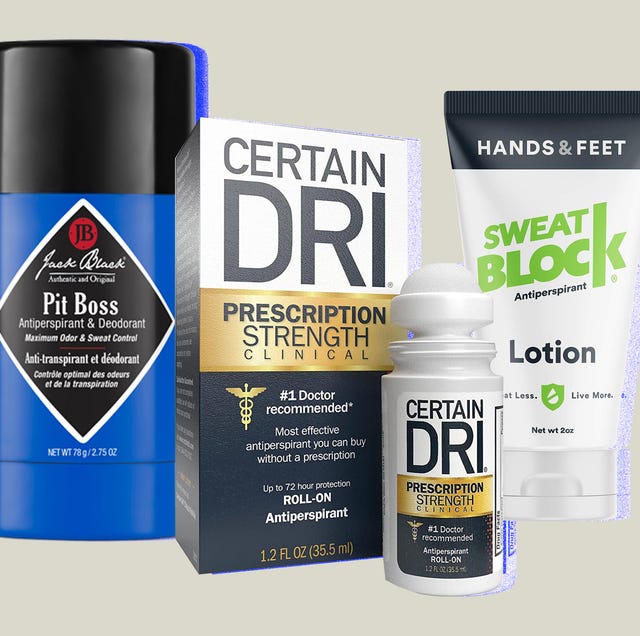 The conversation around deodorant has largely steered itself towards natural products. It's great to see consumers being so conscious of the ingredients in their grooming regimen, especially since the long-term effects of aluminum — the key ingredient used in antiperspirants — are still somewhat nebulous.
Are Antiperspirants Bad?
Currently, the various studies on aluminum all contradict and negate one another. Some say excessive exposure causes Alzheimer's or dementia, while others claim this is hullabaloo when considering the light-dose application of deodorants. Without conclusive evidence on the matter, aluminum antiperspirants are still widely sold. (And largely viewed as harmless.) And like many products on the market, they are effective at the job they set out to do.
That's why we still find value in touting antiperspirants. Until there is conclusive evidence that sways us one way or the other, we say this: Buy antiperspirants if you absolutely need them. They work. Some people who experience non-stop sweating (diagnosed as hyperhidrosis) will swear by antiperspirants since they allow these individuals to go about their day without swimming in their own body's soup.
Active Ingredients in Antiperspirants
The most common active ingredients in antiperspirant deodorants are aluminum chlorohydrate, which you'll find in aerosols and other applicators, and aluminum zirconium tetrachlorohydrex glycine complex, in solid sticks. Both do similar jobs. They block your sweat glands to prevent moisture from exiting. That's good if you sweat a lot but bad if your sweating is only mild.
In that case, a normal natural deodorant would work because it's only addressing the bacteria that cause body odor, not sweat. Folks who fear developing cancer or dementia from using antiperspirants with aluminum shouldn't stress; there is little to no evidence of an association between aluminum and cancer development.
Avoiding Antiperspirant Stains
When the sweat that breaks past aluminum's physical barrier combines with these active ingredients, they become staining agents capable of yellowing white T-shirts. It's the reaction that causes this color, not your natural sweat.
If you use an antiperspirant and spend a day under the sweltering heat, you're bound to have some sweat that breaks through — and that's when staining happens. It's smart to reapply before this happens or invest in a longer-lasting formula.
---
This content is created and maintained by a third party, and imported onto this page to help users provide their email addresses. You may be able to find more information about this and similar content at piano.io