Every product is carefully selected by our editors. If you buy from a link, we may earn a commission.
The Best Sunscreens for Your Face
You should be cleaning and moisturizing your face every morning. An equally important (and oft-forgotten) step? Applying sunscreen.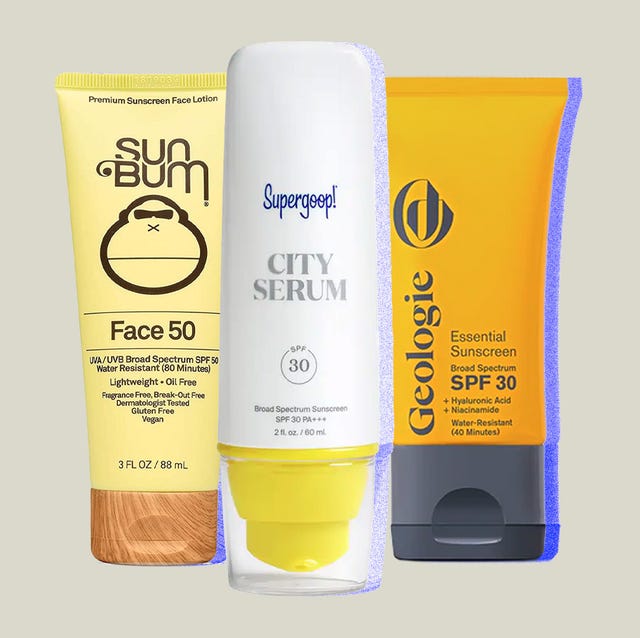 When you hit the beach and cover yourself in sunscreen, there's a good chance you're applying the same product to both body and face. But considering how much more sensitive and finicky your face is compared to the rest of your body, it's important to be a little more church-and-state about your face and body — when it comes to cosmetic products.
Just as you separate your facial cleaner from a body wash, and your daily moisturizer from a hand or body cream, you should also distinguish between face and body sunscreens. Facial ones prioritize non-comedogenic ingredients (that is, they won't clog your pores), and they wear lightweight while still providing the same UV defense.
Some of our favorites double as moisturizers, and some are dedicated sunscreens only. Some utilize physical sunscreen ingredients (like zinc oxide), and others utilize reef-safe chemical shields. Some of the best are top dollar, while others are under ten.
Always Apply Sunscreen
Dr. Jeremy Fenton — Medical Director for Midtown Manhattan's Schweiger Dermatology Group and winner of the Marion B. Sulzberger Award for Excellence in Dermatology — says there is a defined order in which you should ready yourself each morning: First, wash your face; second, moisturize it; third, apply sunscreen; then add retinol; and, lastly, splash on some serum.
"The most important thing that's going to make the biggest difference, in the long run, is putting a sunscreen on every day," Dr. Fenton says. Even if you're not planning to lay out on the beach and boil under direct sun, you still need sunscreen. Repeat exposure even in a cloudy city can cause damage down the line. "Underestimating the importance of sunscreen is a common mistake."
Facial Moisturizer vs. Facial Sunscreen
There's one distinction you need to make when choosing a face sunscreen: Is it a moisturizer with SPF, or is it a sunscreen for the face? They're closely related, but not one and the same. A moisturizer's key goals are to pump a bunch of nutrients into the skin, while preventing moisture loss and any intrusion from pollutants and toxins. So, if it also has SPF, it doubles as a UV shield. A sunscreen, on the other hand, is primarily a UV shield, though many come with nourishing components.
The Best Sunscreens for Your Face
---