Order Your Own Apple Employee Sneakers
These nod to Adidas-made Apple employee sneakers from the '90s, which regularly fetch more than $10,000 at auction.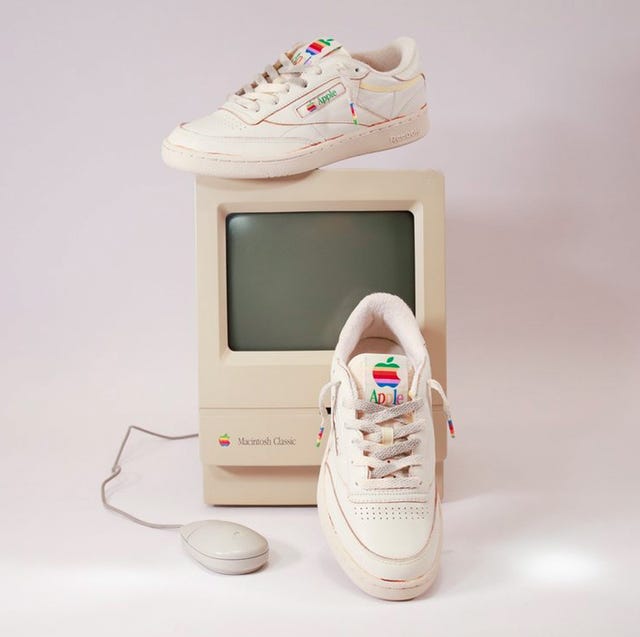 Sneakers were Apple's first wearables after all. The company made a handful of footwear prototypes with Adidas in the mid-90s, but they never reached the general public. People on the product teams stashed a few, while maybe a dozen more were handed out at the National Sales Conference. (Although the year is unknown.) Back then, Apple wasn't the titan it is today, so the sneakers generated relatively little buzz, which probably compelled very few to keep theirs. TLDR: there are probably less than 100 in existence.
The originals often sell for over $10,000.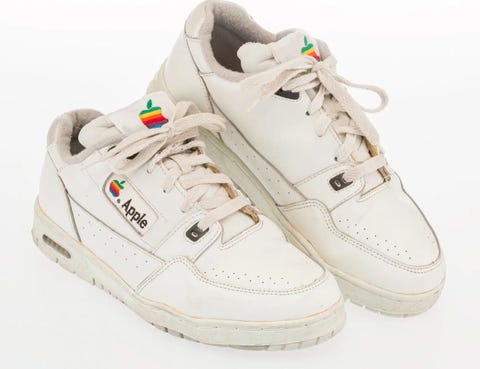 But, for the lucky bunch that stashed them in their box or barely broke them in, these rare sneakers are worth big bucks at auction — usually over $10,000 dollars to be exact; one even sold for over $30,000 dollars. Luckily for the rest of us, aka those without a down payment on a house to drop on vintage computer kicks, sneaker company Foxtrot Uniform and customizer Thinking Different have debuted two different remakes of the originals, a low-top Reebok Club C and a high-top Nike Dunk Hi.
Both come with an asterisk, though: Fictional Employee. These of course aren't originals, but rather both silhouettes customized to pass for them. The classic Club C gets updated accent stitching, a cutout side logo, a new tongue tag, and new laces; the Dunk Hi gets the same treatment, plus brass grommets.
Shop both pairs below, but act fast: The Foxtrot Uniform shop closes in at midnight EST tonight, October 4th. Plus, every order comes with three pairs of matching Apple socks.