Every product is carefully selected by our editors. If you buy from a link, we may earn a commission.
This Classic Sneaker Is Back in Production After a 100 Year Hiatus
The US Rubber Company popularized rubber soled sneakers in 1892, which lead to production contracts with 30 brands — and the military — that lasted until 1917.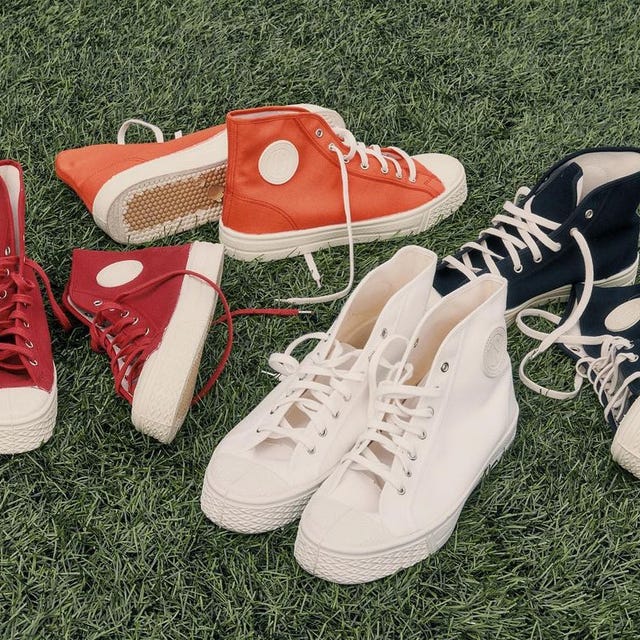 Without the US Rubber Company, which was founded in Connecticut in 1892, there would be no such thing as sneakers. It's true: From 1892 until 1913, the company's factories manufactured vulcanized rubber sneakers — a process the company gained access to through the acquisition of Goodyear — for 30 different brands. Three years later, they were all consolidated under the name Keds, which became the first company to sell a rubber soled canvas sneaker, a precursor to countless silhouettes, in 1917.
Even the name "sneakers" comes from the US Rubber Company, WWD writer Rosemary Feitelberg unveiled: "In 1887, the term 'sneaker' first appeared in print to describe Boston school children's tennis shoes. But, it was a 1917 Keds ad that referenced how sneakers allowed wearers to sneak up on unsuspecting friends that helped make the word part of the public's vernacular."
Some of the US Rubber Company's most popular designs, though, have military roots. The company serviced the US Army during both World War I and II, all while Keds was competing with Converse and PF Flyers the civilian sector. Marrying civilian looks and with military performance, the company created the Military High Top, a clear riff on these styles with better durability. These never made it to civilians, but a close second did: the National Treasure, which is now called the Colchester.
This one and the military-first design are back, though, courtesy of a brand relaunch in 2019. (And Huckberry has a select few colorways of both in stock right now.) They're not made in the US anymore, but they are faithful reproductions nonetheless, albeit done in Slovakia, not Stamford, Connecticut. There, one of the oldest factories in Europe attaches durable uppers to vulcanized rubber outsoles, evident by their two-tone tread, and finishes each pair with period correct metal eyelets and patch logos.
While these surely still lack arch support, the foot pain is worth it for this time capsule, because there's no telling how long this relaunch will last. Plus, most of the originals you'll find online — if you can find any — are essentially unwearable, leaving these to carry on their lineage.
---