Every product is carefully selected by our editors. If you buy from a link, we may earn a commission.
Integrated Amplifiers Are the Future of Hi-Fi. Here's Why
An integrated amp is the best option for most people building a home hi-fi system.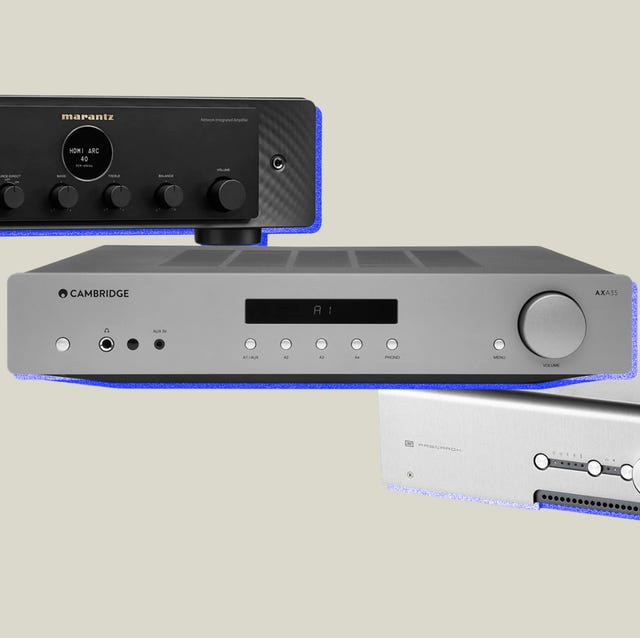 When you're building your first home stereo system, an integrated amplifier is your best friend. By combining a power amplifier with a preamplifier, an integrated amp is not only simpler than hunting for separate components, but it also gives you a good mix of performance and features for less money than you'd spend otherwise. Integrated amps come in all shapes and sizes, run the gamut from $500 —$5,000, and work best with bookshelf loudspeakers.
Integrated amplifiers have made huge strides in performance as manufacturers have gotten better at integrating the various sections; power, source selection, volume control and connectivity while minimizing the amount of electrical noise that negatively impacts sound quality. The cherry on top? The signal path between the various sections is shorter in an integrated amp, which not only improves sound quality but also means you don't need as many cables for your system.
Wireless active loudspeakers and one-box integrated amplifiers, which include both wired and wireless digital streaming connectivity, have made a system of various expensive boxes mostly obsolete for the average listener. The resurgence of vinyl has forced manufacturers to include a phono pre-amplifier in most integrated amplifiers and the myriad of streaming services such as Tidal, Qobuz, and Spotify are supported along with playback platforms such as Roon.

What Is an Integrated Amplifier?
The term "integrated amplifier" combines two components, a power amplifier and a preamplifier, but the latter of which might not accept all your music sources (like a CD player, a computer or a turntable). For the sake of this article, we are only including integrated amplifiers that have a built-in phono preamplifier, meaning you can connect a turntable (without a built-in preamp) directly to it. There are a wide variety of integrated amplifiers that do not have built-in phono preamps, meaning you'll need an external phono preamp (or a turntable with a built-in preamp) and you'll need an integrated amplifier with RCA inputs to connect it. We did not include those integrated amps in this article.
What to Look For
Power: If you're in the market for an integrated amplifier, chances are you already have a set of passive speakers that you're looking to drive. (After all, the speakers are the most important component in any hi-fi system as they actually play the sound.) The good thing is that most integrated can properly drive an entry-level set of passive bookshelf speakers, and it's really only when you get into the realms of real hi-fi that you probably need to worry about it. Nevertheless, before buying an amp, check your speaker's power and sensitivity and make sure that the amp can more than match it. (Generally, you want an amp that can deliver roughly 1.5x the continuous power of your speakers.)
Connectivity: Different amps come with different analog and digital connectivity options, so you want to make sure you get the component that fits your hi-fi system's needs. All our included integrated amps have a built-in phono preamp, making it easy to connect a turntable; however, some support both MM and MC cartridges, while some support one or the other, so you need to make sure it matches up with the turntable you have (or plan to buy). There are various analog connections you should look at depending on your source, including optical, coaxial, USB, RCA and headphone jacks. And different amps have variously Bluetooth and Wi-Fi connectivities.

Streaming: Support for wireless streaming has become a standard feature on some integrated amplifiers, including Bluetooth aptX and aptX HD. Both formats are lossy but sound quality has taken a huge jump recently when streaming from your smart device to an integrated amplifier. Many integrated amplifiers now include optical, USB, and Ethernet connectivity for external streamers or if you use your desktop computer or laptop as your digital source.
Price: Integrated amplifiers are available with a wide range of features and power ratings. You can easily spend anywhere from $350 to $6,500 and have the nucleus of an excellent-sounding system for many years to come. The one thing to remember is that better sound quality and a more extensive features list come with a much higher price tag. The smarter solution is to find a combination of amplifier and streamer that fits into your budget if you are concerned about price/performance.

Why Trust Us
We've been writing about and reviewing audio products — including speakers, headphones, earbuds and other audio components that run the gamut from consumer to hi-fi — for near-on a decade. We also work with major brands and talk to experts within the audio industry. The below selections of integrated amplifiers are a combination of products that we've had hands-on experience with as well as products that are made by brands that are trusted within the audio space.
More Hi-FI Guides
• The Best All-in-One Turntables that Simplify the Vinyl Experience
• The Best Turntable and Speaker Combos
• A Beginner's Guide to Home Audio Equipment
• What does "Hi-Fi" Mean Anymore? The Experts Weigh In