Every product is carefully selected by our editors. If you buy from a link, we may earn a commission.
The Best Chronograph Watches Under $2,000
You probably didn't know you could get serious chronos for this kind of money — even mechanical ones.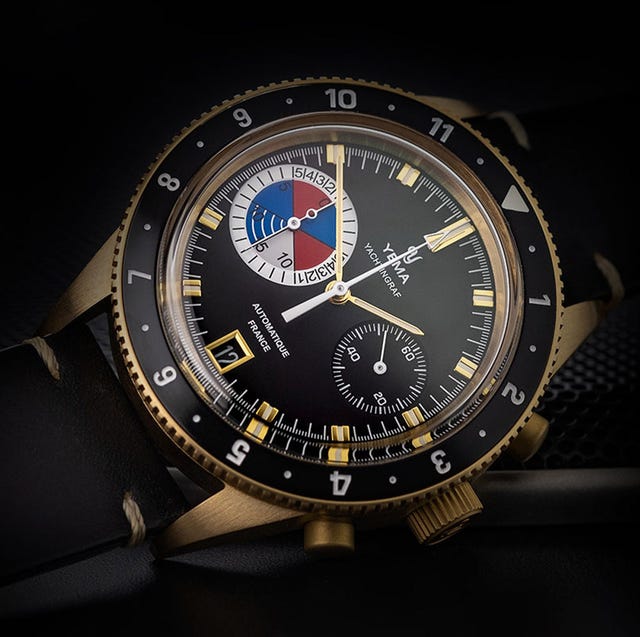 There's good news for anyone who admires chronograph watches but doesn't have multiple thousands to spend: You can get an excellent mechanical chrono for under two grand. Even better? You've got options — exciting options.
In the past few years, a new crop of chronos has arisen that's lowered the cost of getting that somehow captivating complication on your wrist, but decent mechanical chronograph watches under $2k are, in fact, still rare. Small and independent brands don't often push into mechanical chronograph pricing territory and typically stuck to simpler, time-only options. However, it now seems that more brands have discovered that it's the value proposition that makes the sale more so than the outright price.
We get it: $2,000 is still a serious chunk of change. If you simply need or want time-recording functionality, of course, you can get it from quartz watches that cost in the triple digits — or from your smartphone. But if mechanical chronographs intrigue you, the following examples are about the best you're going to get — and they show that this price level is where the value's at.
Tissot is the only major Swiss watchmaker represented on this list, as most sub-$2k chronographs come from smaller brands. Like the Maen Skymster above, the Heritage 1948 is powered by the ETA 2894 automatic movement, helping keep it impressively thin (11.9mm) and wearable with a modest 39.5mm case diameter. The design references a 1940s style that differs from the multitudes of vintage-inspired watches drawing upon the 1960s and '70s.
Diameter: 39.5mm
Movement: ETA 2894-2 automatic
Price: $1,400
Yema Yachtingraf Bronze Limited Edition
The Yachtingraf is based on a vintage model intended for yacht racing, hence the big subdial with its emphasized minute markers that give it a captivatingly quirky and asymmetric style. Next, it offers premium materials like sapphire crystal and a bronze case, but also an interesting movement: the Seiko automatic chronograph caliber inside is uncommon but solid and reliable.
Diameter: 40mm
Movement: Seiko NE86 automatic
Price: $1,699
Junghans Max Bill Chronoscope
The Max Bill range from German watchmaker Junghans is a longtime icon of the famous Bauhaus school of design, and the Chronoscope represents it particularly well. Available in multiple versions featuring black or white dials and a couple design variations, each is equally compelling and a great example of the design philosophy of functional minimalism.
Diameter: 40mm
Movement: ETA 7750 automatic
Price: ~$1,764
Archimede Outdoor Chronograph
Like its sister company Limes, Archimede offers a German approach to tool watches at quite reasonable prices. It also stands out on this list of sub-$2,000 chronographs by not having the vibe of something specifically from the 1970s or earlier. The Outdoor Chronograph has a unique look and offers a pragmatic feel and legible design with in-house-made case.
Diameter: 41mm
Movement: ETA 7750
Price: ~$1,809
Nivada Grenchen Chronoking Manual
Vintage watch fans were excited to see the once-defunct brand Nivada return from the Quartz Crisis abyss with one of its most famous models: the Chronoking. They weren't disappointed, either, as the watch offers a faithful modern rendering of the vintage design. The size makes it feel straight out of the 60s as well, and the brand has done a great job with thoughtful touches and details.
Diameter: 38mm
Movement: Sellita SW510 manual
Price: ~$1,944+
Farer Chronograph Sport Moritz
British microbrand Farer's colorful proclivities manifest in the Chronograph Sport collection — a range of unique-looking models with a motorsport theme. The Moritz offers a relatively subdued design within the collection but features some fresh highlights. (For a truly vibrant look, check out the Carnegie.) All the models feature a hand-wound Swiss movements.
Diameter: 41mm
Movement: Sellita SW510 manual
Price: $1,955
The Hanhart 417 ES was originally made in the first half of the 20th century as a pilot's watch, but it later became associated with the actor and style icon Steve McQueen, who often wore it on a Bund strap. The German brand is making it again today, and it offers a cool historical backstory, solid build and manually wound Swiss movement. Although 42mm isn't especially large for a modern chronograph, it happens to be larger than the mostly retro-styled and -sized watches on this list.
Diameter: 42mm
Movement: Sellita SW510 manual
Price: $1,970
Certina DS Chronograph Automatic
With its thin step case, pearly white dial, blued baton hands, square pushers and telemeter and tachymeter scale, you'd be forgiven for thinking this is a watch produced in the mid-1940s. Alas, however — this is a fully modern chronograph, doing its best '40s impression. Its automatic movement features an impressive 60-hour power reserve, and it's also got 100m of water resistance and a modern-sized 42mm case. For under $2k, that's pretty impressive.
Diameter: 42mm
Movement: ETA A05.H31 automatic
Price: $1,990
The Ultimate Guide to Chronographs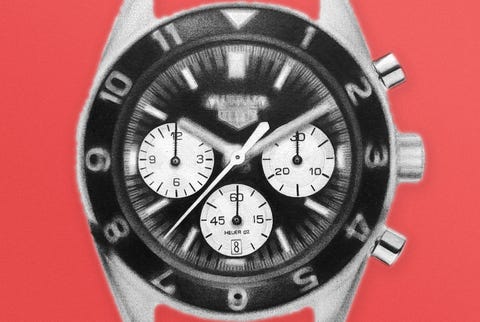 Not familiar with the ins and outs of chronos? Then let this guide be your primer.
This content is created and maintained by a third party, and imported onto this page to help users provide their email addresses. You may be able to find more information about this and similar content at piano.io