Every product is carefully selected by our editors. If you buy from a link, we may earn a commission.
This Vintage Watch Feature Is Back with a Vengeance
The California dial features a mix of Roman and Arabic numerals — and it's coming to a watch near you.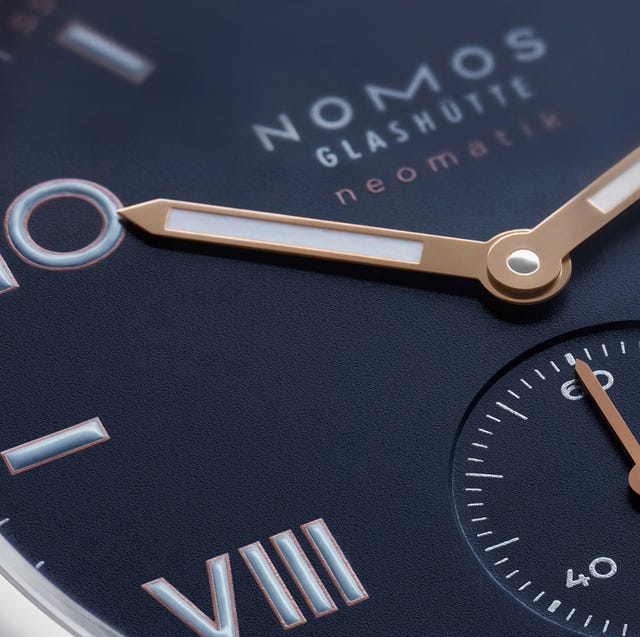 Dive deep into the world of vintage watches and you invariably encounter some strange shit. Things no one can explain. Things grown men fight one another over on the internet.
One such thing is the "California" dial. Why is it so Californian? Nobody really knows. What is it, exactly? That's easier to explain: The California dial is a watch dial on which the upper indices are rendered in Roman numerals, and the lower in Arabic numerals. (Unless you're Nomos.) The cardinal indices at 3, 6 and 9 o'clock are horizontal lines, and the 12 o'clock index is an upside-down triangle. (Again, unless you're Nomos.)
So what's so special about these dials? It would seem they were developed and produced by Rolex as early as the late 1930s but perhaps not patented until the early 1940s, during WWII. I you read the original patent, it seems they were intended to enhance visibility: Because of the arrangement of half-Roman and half-Arabic numerals, there was truly no way to mistake the time — if you happened to be one of those people who has trouble reading your watch correctly. (The dials, which were dubbed "Error Proof," were also slathered in radium, which definitely helped with the whole visibility thing.) Because Rolex also made early Panerai watches, a model developed for Italian frogmen in 1944 also bore a large version of the California dial — and now the brand is rather famous for it.
So what are possible sources for the whole "California" name? One is that the "bubbleback" — the type of early Rolex automatic watch that bore the Cali dials — was popular in California in the 1980s, and thus many California dealers were constantly looking to buy them up. Another possible source is that a well known dial refinisher from around the same time was based in CA and used to put this type of dial on Rollies that came into his shop — regardless of whether the original dial was a California or not. Another story is that these watches were popular in CA back when they first debuted in the 1930s and 1940s. The truth is that nobody seems to know for sure, but one thing does seem clear: that Rolex itself didn't use the "California" nomenclature.
Anyhoo, for many decades, if you wanted a watch with a California dial, you needed to either buy a bubbleback — many of which now have refinished dials — or you needed to track down an early Panerai that an Italian frogman wore while trying to sabotage Allied shipping. (Needless to say, this was a difficult proposition.) In fact, noted vintage watch seller, historian, and all-around nicest guy ever, Eric Wind, told us that for every 15-20 bubblebacks with California dials, perhaps only one is original. They're so rare these days that the presence of an original Cali dial can drive up the price of the watch by 50%.
Nowadays, however, things have changed: You can buy vintage-inspired Panerais with California dials all day long without worrying about contracting radium poisoning. And though Rolex is yet to reissue a California-dialed watch, all manner of other brands are dropping them. And, you don't need to spend thousands of dollars to get your hands on one. (But you can, if you'd like to.)
Here are some of our favorite modern California dial watches that run the gamut from affordable to "f**k-off."
This content is created and maintained by a third party, and imported onto this page to help users provide their email addresses. You may be able to find more information about this and similar content at piano.io