Every product is carefully selected by our editors. If you buy from a link, we may earn a commission.
How Much More Will Rolex Certified Pre-Owned Watches Cost? We Now Have Some Early Clues.
One of Rolex's official retail partners just revealed the first wave of Certified Pre-Owned watches available for sale.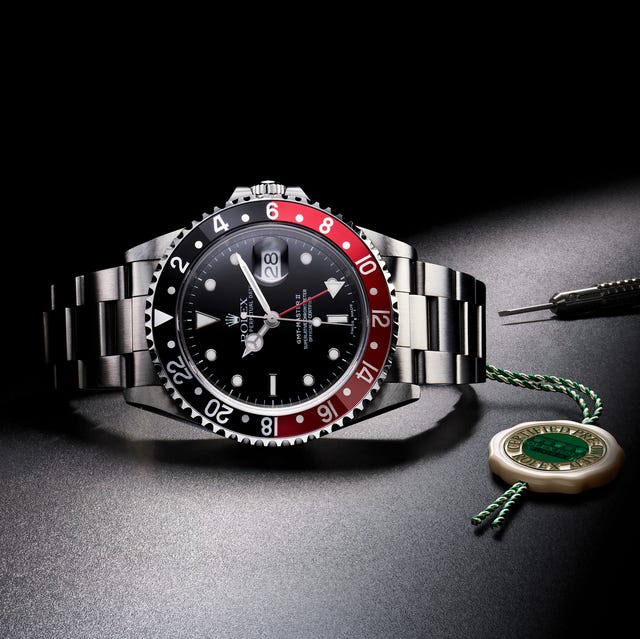 In a monumental shift, Rolex announced that it is now certifying pre-owned watches. We've put together a detailed overview of everything you need to know about the Rolex Certified Pre-Owned Watch Program. We also reached out to watch industry insiders to get their opinions on the program, and it's potential impact on the entire watch industry.

But beyond the program basics and potential impact, watch shoppers want to know this: what kind of premium should they expect to pay for a Rolex Certified Pre-Owned watch?

Unfortunately, no one knows the exact answer to this query outside of Rolex. Still, a few limited clues and a little comparison work can provide a rough and early idea of what may soon be the market norm. Before diving into specific price comparisons, it's essential to understand some basic background information on the topic.
Key factors that distinguish Rolex Certified Pre-Owned Watches from other pre-owned Rolexes
Four significant points of distinction separate Rolex Certified Pre-Owned watches from other pre-owned Rolexes.

Watches included in the program are at least three years old at the time of resale.

So don't expect the program to serve as another avenue for snagging gently used new releases. Likewise, don't assume that the Rolex Certified Pre-Owned Program is limited only to well-maintained references released decades ago.

Watches are sold only by "retailers in the brand's official distribution network."

As of late 2022, only Bucherer boutiques in six countries (Switzerland, Austria, Germany, France, Denmark and the UK) will offer Rolex Certified Pre-Owned watches. Rolex says the list of retailers will grow in the spring of 2023 as other official Rolex retailers join the program. Why does this matter? According to Rolex's press release, "Rolex watches – new or second-hand – should only be bought from Official Rolex Retailers, who are authorized to sell and care for Rolex watches. Thanks to their skills and technical expertise, the retailers ensure the continued smooth functioning of each timepiece over the years. Only the official Rolex network is able to provide these guarantees."

Watches are authenticated directly by Rolex.

A Rolex Certified Pre-Owned seal accompanies each watch in the program. A Rolex Certified Pre-Owned guarantee card is also provided at the time of sale, which officially confirms the watch is genuine and guarantees its in proper working condition. Similar to selling a pre-owned watch with its original retail box and certification papers, these special documents provide unmatched assurances that buyers are acquiring a genuine Rolex. This should also translate into a higher watch valuation for anyone who eventually decides to resell or trade a Certified Pre-Owned Rolex.

Watches include a two-year international guarantee from Rolex.

This provides additional peace of mind to buyers, although the exact details regarding what's covered under the guarantee are still unknown as of the program's immediate launch.
Important details to remember when conducting pre-owned price comparisons
No two pre-owned watches will ever be identical in terms of their condition, maintenance history, etc. So comparing any two pre-owned watches will never be an exact apples-to-apples comparison.

That said, there are a few significant details to pay close attention to when comparing other pre-owned Rolex watches against a Rolex Certified Pre-Owned Watch.

Price comparing a Certified Pre-Owned Rolex and other pre-owned Rolex selling without their original box and papers isn't very informative. Their prices will differ significantly for a good reason.

Pre-owned watches that sell with their original packaging and certification papers/cards cost more than pre-owned watches without them. This is because a watch's original packaging and documents firmly establish its authenticity and provenance for perspective buyers. The authentication provided by the Rolex Certified Pre-Owned program offers even more assurances to prospective buyers -- after all, packaging and certifying documents can technically also be faked. And just because a watch comes with its original papers doesn't mean it also currently runs smoothly.

Watches that don't include their original box or papers are priced lower accordingly because potential buyers must take a bigger leap of faith regarding the watch's authenticity.

Look to match as many watch specs as possible when conducting price comparisons. Differences in case materials, size, bezel types, dial colors, bracelet type, movements, etc. can result in significant price discrepancies.

Most people understand that precious metals like gold cost more than materials like stainless steel. Most people also understand that larger versions of products often cost more than their smaller counterparts. When it comes to watches, other design details such as dial color and bezel type can also have a massive impact on a watch's market value and price. The same can hold for less apparent factors like when a watch was made or the particular product model generation it belongs to.

Why? Because all of these factors influence a watch's rarity and value for collectors. The more details differ between two pre-owned watch models, the less relevant price comparisons will be.
How we approached making price comparisons to Rolex Certified Pre-Owned Watches
To make this analysis as relevant as possible, we did our best to find current non-certified pre-owned Rolex listings that matched a Certified Pre-Owned version listed on Bucherer as closely as possible. Please note that the certified pre-owned prices listed were converted from Bucherer's listed CHF prices into American dollars and are approximate.

We've also highlighted whether the non-certified examples we found include the original Rolex box and papers and any form of warranty, given that Rolex Certified Pre-Owned watches provide buyers with both, which is a significant value.

And if we could find Rolex's listed MSRP for the current version of the same watch, we've included it as well for the sake of comparison.
Early Clues: Rolex's pre-owned certification appears to come at a variable cost premium, with model popularity playing a key role.
The nascent state of Rolex's Certified Pre-Owned program, combined with a minimal set of watch price comparisons, makes it irresponsible to form any broad or lasting conclusions about Rolex Certified Pre-Owned pricing today.

Two seemingly obvious conclusions may hook those seeking insights into what to expect from the program moving forward.

The first potential takeaway is that Rolex Certified Pre-Owned Watches will likely sell at a premium over similar non-certified options (duh). This finding isn't surprising, given the tangible value buyers receive through purchasing watches in Rolex's Pre-Owned Certification program.

However, Rolex's markup calculations may weigh model popularity heavily. The early premiums for Rolex Certified Pre-Owned offerings of wildly in-demand watches such as the Submariner, Daytona, and GMT-Master II appear to be higher than premiums for the Oyster Perpetual, Daydate, and Datejust.

These early listings also show that Bucherer at least intends to align Rolex Certified Pre-Own Watch prices with the demand-fueled highs of the existing secondary Rolex market, not Rolex's official MSRPs. It makes sense that authorized Rolex retailers would seek to capture the additional value previously left to the secondary market resellers. As a corporation, though, Rolex has, at points, frowned upon the price-gouging markup practices associated with its watches on secondary markets. Whether the price points of Rolex Certified Pre-Owned Watches signify a change of attitude by the Crown on this topic is still an open question. But the watch world will definitely be keeping a close eye on it.

Editor's Note: The links provided to unofficial pre-owned Rolex sellers in this story are not a recommendation by Gear Patrol to purchase a non-certified pre-owned Rolex from any vendor. The links references are external data points only.