The Ford Bronco Sport, Driven Off-Road and in the Real World
The new generation of Bronco launches with the smaller version. It still impresses.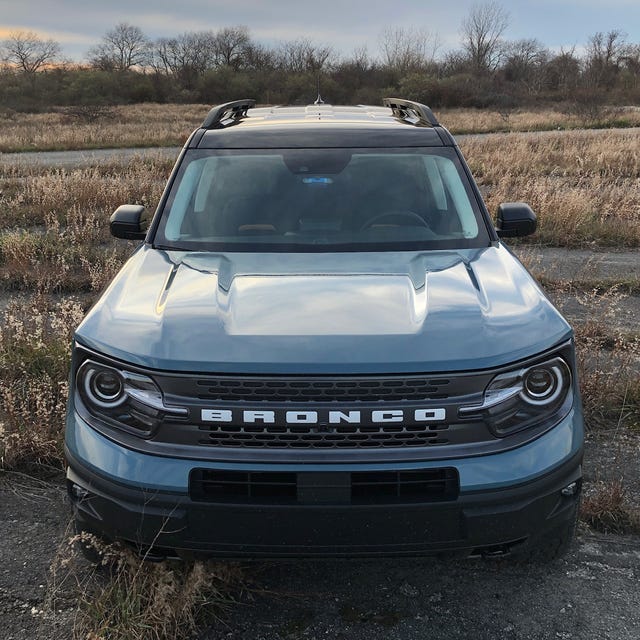 The all-new Ford Bronco may have been one of the most anticipated vehicular reveals of 2020 — but you can't actually buy one in 2020. No, there's only one member of Ford's new equine-themed SUV family you can park in your driveway here in this hellscape of a year: the 2021 Bronco Sport.
The Bronco Sport, in case you've forgotten what with the 19 million other things that have happened since it debuted back in July, is not a traditional body-on-frame SUV like its bigger Wrangler-fighting sibling; rather, it's built on a version of Ford's C2 platform, which also underpins the Escape and the latest Focus that's not sold in America because we can't have nice things. It shares its powertrains — a 1.5-liter turbocharged inline-three and a 2.0-liter turbocharged inline-four — with the Escape, as well as its eight-speed automatic
Still, anyone who knows anything about how car companies design and engineer vehicles today knows that automakers can make vastly different products based on the same set of bones. So to find out whether the Bronco Sport is truly worthy of its bucking name or merely a zebra covered in paint, both staff writer Tyler Duffy and editor Will Sabel Courtney took turns behind the wheel: the former at an off-roading event in Michigan, the latter on the hard streets of New York City.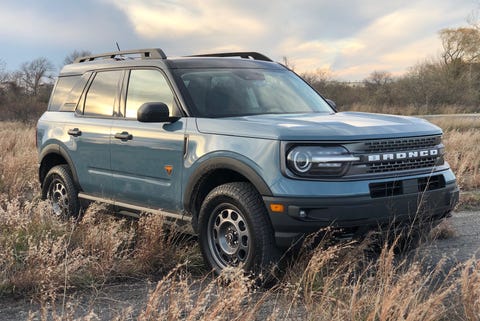 Tyler Duffy:
Ford has struggled to translate the Bronco Sport's marketing- brief into English. The company website describes the Bronco Sport buyer as "the thrill-seeker, the sightseer, and the day-tripper"...whatever that means.
But as with the Big Bronco, the easiest way to figure out Ford's intent is to look at Jeep. Off-road branding sells crossovers: more than 335,000 Americans bought a Cherokee or a Compass in 2019, more than the Wrangler and Gladiator combined. Ford saw room to make a version of those cars that was both more engaging and more capable. That's the Bronco Sport, which is fitting for everyone who doesn't need much space.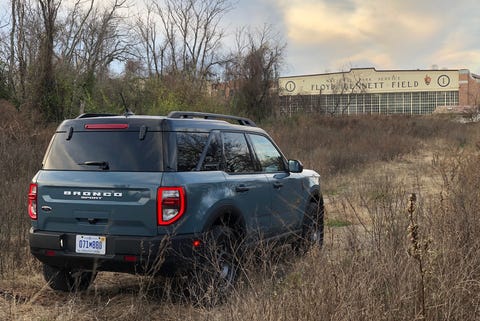 Ford has stressed how the Bronco Sport, especially in full-bore Badlands spec, is a legitimately capable off-roader. After driving it on a course through Holly Oaks ORV park in Michigan, I agree — mostly.
The Bronco Sport certainly is happier on dirt and loose surfaces than on pavement. It's excellent going up and down grades, and features like the automated Trail Control (a.k.a. off-road cruise control) alleviate a lot of the clenching usually involved.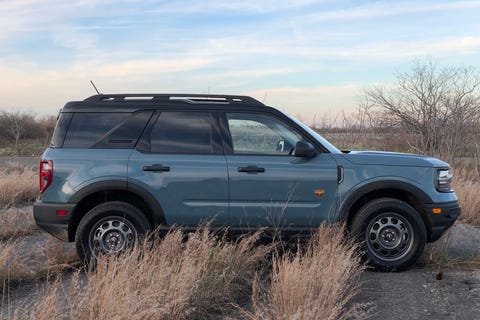 Granted, the Bronco Sport won't compete with the Wrangler on the Rubicon Trail; even our mild rock course required some manual rock shuffling to help the vehicles pas. We traversed the par's shallower water obstacle, as the Bronco Sport can wade through about two feet of water — a good bit less than, say, a Land Rover Defender.
Still, it has 8.8 inches of ground clearance, more than a Subaru Outback, and approach and departure angles of more than 30 degrees. It will be "built wild" enough for pretty much any crossover buyer.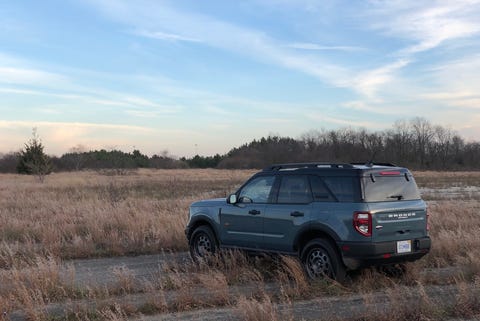 Typically, Ford has shown off the Bronco Sport in two ways, and neither quite does it justice. The carmaker has often shown the Bronco Sport next to the more hirsute Bronco, which does a great job of highlighting what the Sport isn't. Ford also favors the Bronco Sport's side view, making it look longer to potential buyers than it is (which is, not very).
But in person, it's rugged looking and boxy, with an expansive, almost truck-like hood. (The forward-facing terrain camera comes in handy). Is the Bronco Sport as badass-looking as its big brother? No. But it's certainly a good-looking little crossover.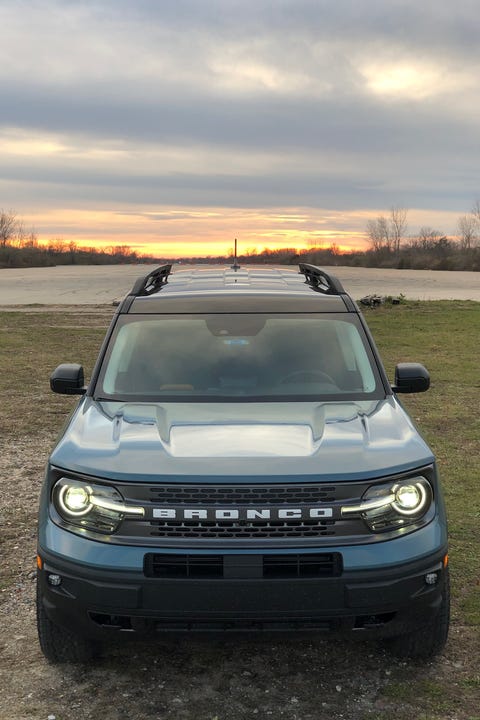 Will Sabel Courtney:
Ford's newest l'il SUV feels like a very well-composed, intentionally designed package. Approaching it from the outside, you might not realize it's supposed to be the cheaper, more approachable alternative to the full-stop Bronco. Still, take a closer look, and it's clear Ford made an effort to make the Sport, shall we say, cuter than the full-bore Bronco: the boxy front fascia actually has a pronounced curve to it that's obvious from a few angles, for example.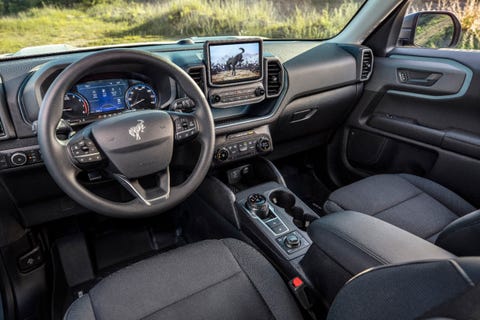 The interior is really nice — not in the conventional throw-leather-at-it way, at least in my Badlands tester, but with outdoorsy materials and a rugged design. I love the rubberized controls, which feel very much designed for interfacing with actual human hands, rather than the glass-panel displays found in many a Teutonic terror these days.
Likewise, the control layout feels very intentional and smart. The touchscreen isn't huge, but it's well-placed for both looking at and touching, and displays everything you need clearly — so who cares?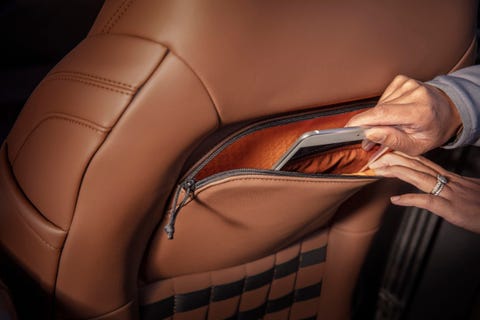 Clever convenience features abound. I counted four USB ports (two USB-C and two regular ones), two 12-volt plugs and two 110-volt outlets — including ones in the cargo area. The front seats themselves have not one but two sets of pockets — zip-up ones ideal for laptops, tablets and magazines in the seatbacks above the MOLLE straps that can be used to attach all sorts of accessories, and cupholder-like ones in the side bolsters near shoulder level.
There's also not one but two rubberized cubbies in the dashboard that are perfect for odds and ends, I took to using the lower one (where a pair of USB ports lies) for my phone and the upper one to store my face mask.
The Best Winter and Snow Tires You Can Buy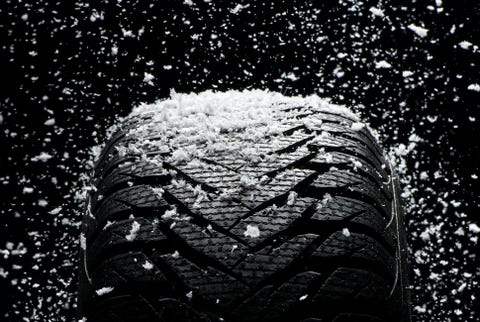 We picked the best tires to help you stay mobile through the winter months.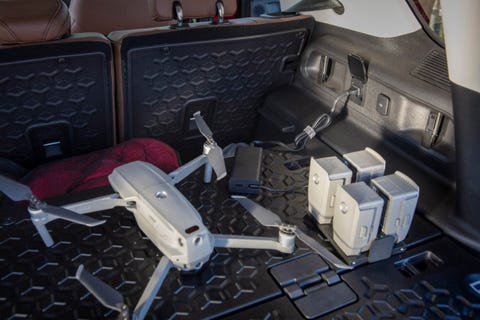 The Bronco Sport may be compact, but it makes good use of its footprint. I can sit behind myself on the passenger's side, though it's admittedly tight in both rows. The cargo area does seem a little small, though. The high load floor means you probably can't put more than a couple bags back there before you start impinging on the rear sight lines.
That said, having the ability to open either the rear glass alone or the entire hatch is handy, especially for tall folks who can easily reach into the upper enclosure and access most of the cargo bay.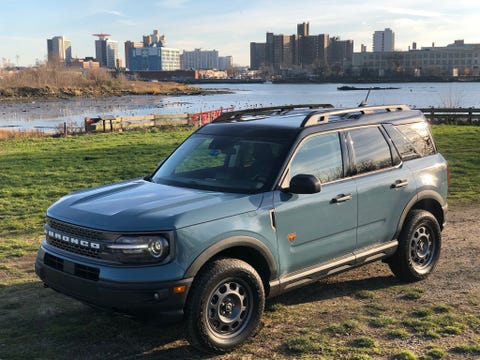 Like all Badlands versions of the Bronco Sport, mine had the 2.0-liter engine, which felt more than peppy and responsive enough for urban life. Low-end torque is ample enough that, on the part-throttle roll-outs that largely define in-town driving, both vehicle and engine feel reassuringly bigger than they are. The engine reveals its cylinder count when you floor it on the highway — it's a bit coarse, but most four-cylinders are under those situations.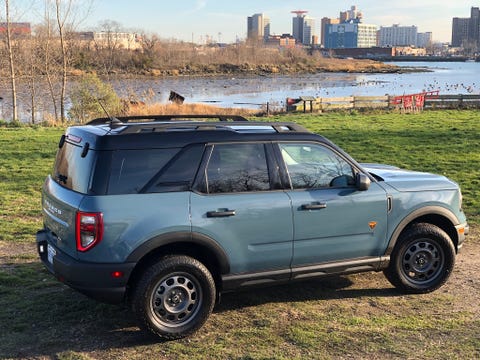 The suspension is surprisingly soft. That's great for off-road compliance, but it makes the high-speed ride on winding roads a bit bouncy; you can feel it dive and bob when you make quick inputs, to the degree that it made me, on occasion, momentarily dizzy. It wasn't a dealbreaker by any stretch of the imagination, but definitely worth noting. Drivers who don't drive like residents of the Tri-State area (or Massachusetts) likely will find less to complain about, though.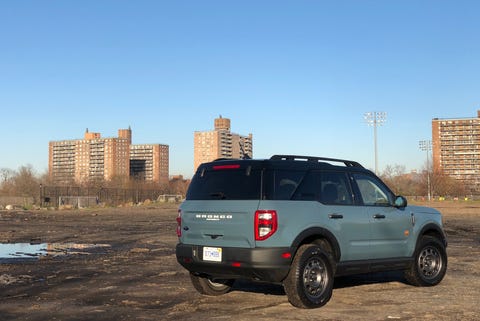 Lacking real off-road driving to do, I ventured out to the edge of Brooklyn in search of terrain that might challenge the Bronco Sport. A recently flooded dirt lot filled with driftwood and puddles in a park near Coney Island was the best I could do, but that was informative enough for a first impression. It gallivanted through the crumbly dirt, muddy pools and rocky terrain with unquestioned ease; crater-like potholes occasionally sent shocks through the body as the suspension slammed against its hydraulic bump stops, but the Sport felt fine otherwise.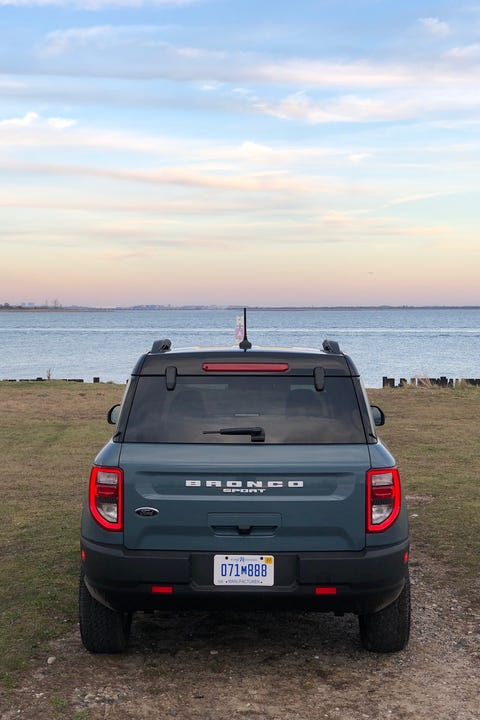 It is, ultimately an impressive effort for what, beneath the surface, is a Ford Escape with a new body. Indeed, the new Bronco Sport is an impressive effort, full stop — a vehicle that manages to be comfortable, cool and capable in equal measure, all at a reasonable price: a well-equipped Bronco Sport can roll out the door for around $30,000. Ford could have phoned it in with this little rig and let it sell on the strength of its name; instead, they went far enough to make a vehicle worth of the title.
2020 Ford Bronco Sport Badlands
Price as Tested: $35,745
Powertrain: 2.0-liter turbocharged inline-four; eight-speed automatic; all-wheel-drive
Horsepower: 245
Torque: 275 lb-ft
EPA Fuel Economy: 21 mpg city, 26 mpg highway
Seats: 5
The 12 Best Travel Mugs Money Can Buy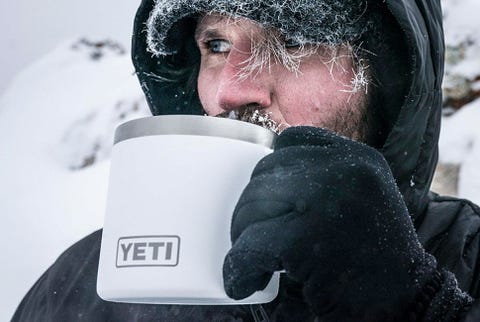 When you're on the go or off on a big adventure, a top-notch coffee keeper is critical — and these picks are just perfect.