The Audi R8 Is Refreshed for 2020, But It's Still a Great Everyday Supercar
Tiny tweaks do nothing to change the R8's core appeal.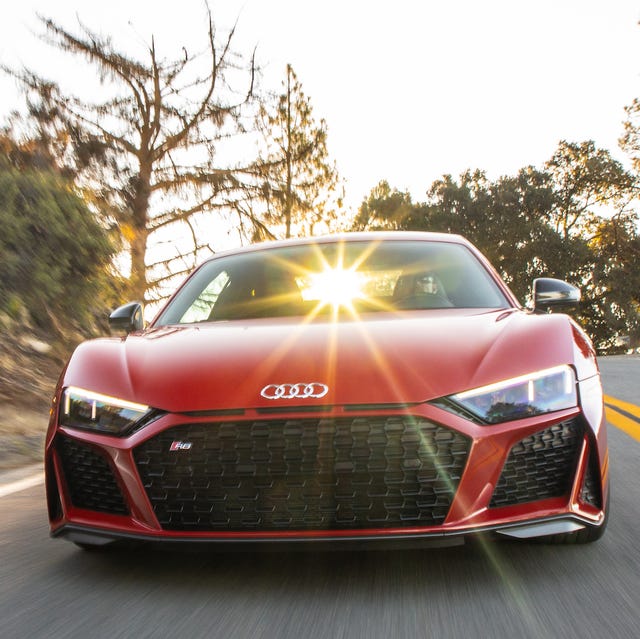 Recently, we spent a little time with the latest version of the Audi R8. Here's what we thought of it.
Want more product reviews? Check them out here.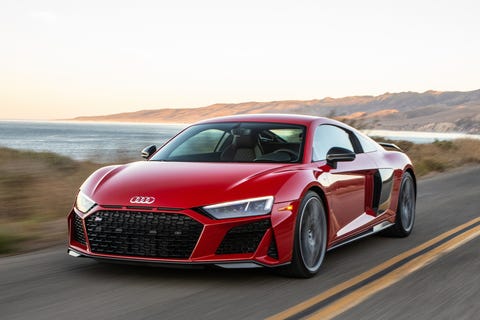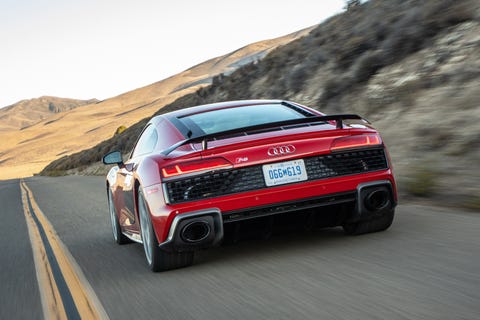 Just a bit. The second-generation R8 arrived back in 2015, which means that by the standards of ordinary cars, a mid-life refresh would be overdue. But cars like the R8 sell in low enough numbers that updates don't need to happen as frequently as with, say, F-150s and Accords, so Tony Stark's favorite ride just received its update for the 2020 model year.
The new model year updates are fairly small in total: the entry-level R8 V10 sees power rise 30 ponies to 562, while the top trim spits out 602 horses and changes its name from R8 V10 Plus to R8 V10 Performance, The front and rear fasciae has been massaged to look bolder and more angular, the steering has been tweaked, and a few changes to the electronics make it a dash easier to drive.
(Of course, Audi then went on to make even more changes for the 2021 model, the most notable being to replace the base AWD R8 with a new rear-wheel-drive variant. But that just gives us an excuse to drive it again in the new year.)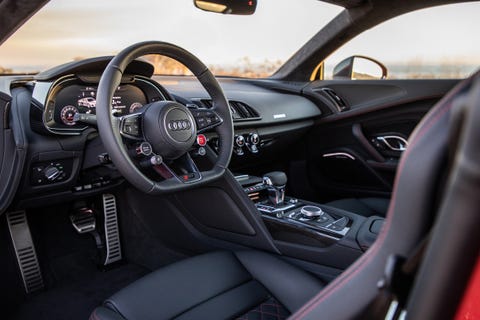 The Audi R8 is one of the handful of cars out there that could realistically be called "supercar everyday drivers." (The Porsche 911 Turbo, McLaren GT and Ferrari Roma being the other obvious examples, although extroverts could probably make a case for the likes of the 812 Superfast.) The R8, though, is perhaps the most easy to identify as such, because it has a sibling that's very much not a daily driver — the Lamborghini Huracan.
For the driver, the most noticeable difference between the two cars is in the interior. While the Huracan's is a snug-fitting hyperkinetic capsule that feels like it wants to be a starfighter cockpit, the R8's is more like what you'd find in any four-ringed vehicle, with a bit more room to stretch out and more conventional controls for things like the gearbox and turn signals. And while the R8 is no shrinking violet, its technocratic, almost nouveau-steampunk exterior is less extroverted than the Huracan's stealth-bomber wedge of a body.
One thing the Huracan and R8 share, though: they're both fast as stink, and sound great doing it. Their communal V10 is one of the nastiest, most scintillating engines still on sale, ripping to its 8,700-rpm redline with an early-2000s Formula 1 wail and a 1960s Le Mans rush of acceleration. Leave the Audi in automatic mode and let the dual-clutch gearbox make its own choices or use the stubby paddles to control the flow yourself — both methods are a sensory delight.
The 11 Pieces of Gear You Absolutely Need for Car Camping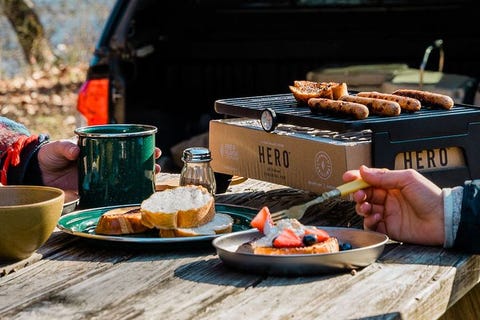 Car camping makes getting away easy as pie. These items will make the experience even tastier.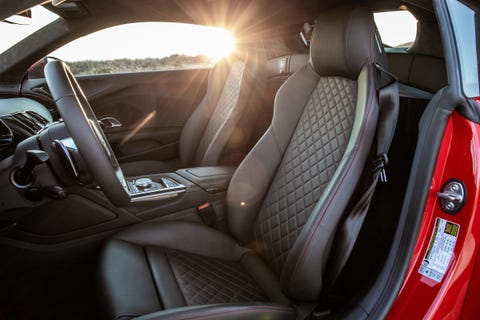 As mentioned, it certainly feels roomier than your average Lambo, but that's not to say it boasts the relaxed, expansive accommodations of a Q7 or A8. Legroom is still tight for the truly tall, and I'd suspect torso room would be constrained for the thicc. Still, apart from a 911, you'd be hard-pressed to find a car of this price and performance that's as easy to sit in. Luggage space is surprisingly good for a car of this type, as well; I was able to pack a large carry-on suitcase in the front with plenty of room to spare there, and there's a parcel shelf behind the driver and passenger for added (ideally soft) cargo.
Indeed, it's traditional in a way basically no other new car is today: there's no infotainment screen in the middle of the dashboard. Individual knobs there control the climate for driver and passenger, but otherwise, the visuals for all the controls — drive mode, radio station, navigation, even Apple CarPlay — show up on the all-digital Virtual Cockpit instrument panel.
It's a very cool idea that demonstrates the driver-focused nature of the car and cleans up the look of the interior, but it does come with a downside: cramming so much information into one screen means something has to give. Sadly, in the R8's case, that's the tachometer and speedometer. Turn on CarPlay — something I'd venture many of us do quite often, whether for Waze / Google Maps or to play Spotify / podcasts — and the center of screen fills with the car's version of your iPhone screen, pushing the speedo and tach to silver dollar-sized circles at the lower corners. Lamborghinis and Ferraris that offer CarPlay may give you a teeny-tiny screen on the instrument panel to view it in, but at least they don't subjugate the most important data to second billing in the process.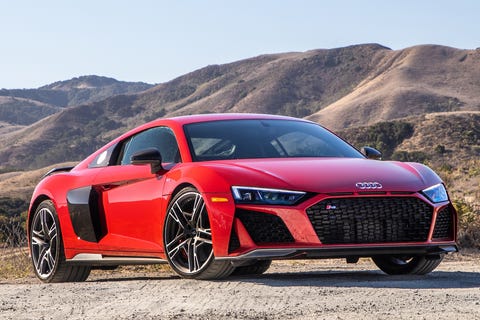 It's, uh, zippy. The naturally-aspirated V10 makes a compelling argument that high-revving, cylinder-packed internal combustion lacking turbos and superchargers deserve to live forever;hybridize them if need be, sure, but the experience they deliver is worth preserving even as every other type of car goes over to batteries and electric motors. (While such engines do, admittedly, rack up terrible fuel economy figures, the pittance of supercars sold every year and the handful of miles most such cars are driven means their total impact on the climate is miniscule.)
Punch the throttle from a roll, and instead of the immediate punch of thrust you get from high-performance turbocharged engines, there's an ever-growing rush of go that builds in proportion to the engine's scream, making it all the more involving. Accelerating in an R8 is like skydiving; accelerating in, say, an M8 Competition is like getting rear-ended.

The streets of New York City are no place to explore the handling limits of a mid-engined supercar (or, really, anything sportier than a Mitsubishi Mirage), and I didn't have a chance during my dalliance with the R8 to dash up to the back roads I usually use to put fun cars through their paces. I can tell you, however, that the on-ramps, off-ramps and highway curves all proved as easily attacked as a mountain lion would take on a cyclist, with nary a hint of roll nor hesitation. Point it, and it goes — and I mean goes.

But remember: it may be a more livable supercar than most, mind you, but it is still a supercar — which means care must be taken when a) tackling high curbs, b) mounting steep ramps, c) opening its long doors near obstacles, and d) parking.(I have a story about a certain well-known actor and an R8 parking incident that decency requires I keep to myself.)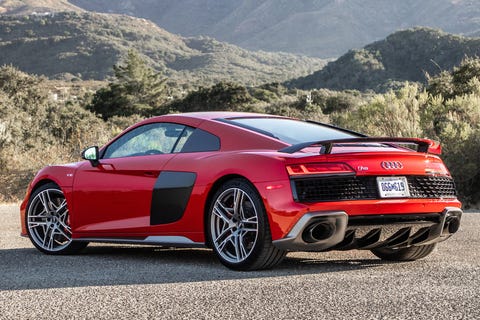 Your basic 2020 R8 V10 will run you $170,895 (or you can wait a bit for the RWD R8 that makes 532 horses and starts at $143,595). The R8 V10 Performance starts at $196,895; my tester came packing a few options, most notably the $5,000 Sport seat package, $1,400 dynamic steering and $1,900 Bang & Olufsen stereo that helped inflate the price to $208,245.
The Best Winter and Snow Tires You Can Buy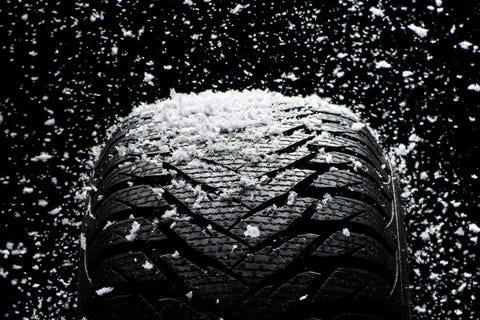 We picked the best tires to help you stay mobile through the winter months.