The Mercedes-Benz Metris Getaway Camper Van Is a Killer Recreation Machine
If you want to get away from it all every weekend, this Benz has your back.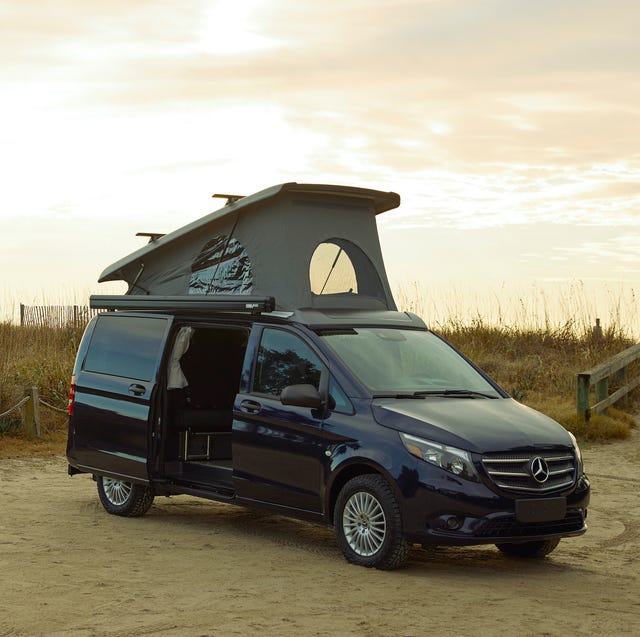 If you're looking to spend a bit more than $60,000 on a Mercedes-Benz product, you have quite a few options to choose from. A Mercedes-AMG C43 or CLA45 would certainly be a tempting choice for those with a thirst for power; a GLE 350 is alluring for those seeking a great all-around jack-of-all-trades; and anyone craving as much luxury as possible would be best-served by taking an entry-level E-Class sedan and loading it up with fancy add-ons.
Or, you could skip all those choices and buy a full-size van with a bed on top.
Granted, odds are good very few people are actually cross-shopping the new Mercedes-Benz Metris Getaway with anything else in the Three-Pointed Star showroom. You're more likely to consider it against, say, an Airstream Bambi to tow behind your existing truck or SUV, or against one of the many other camper vans offered through independent conversion companies across America.
But the Getaway packs something those other vans lack: the imprimatur of an automaker. Not just any automaker; Mercedes-Benz. The folks who not only use "the best or nothing" as their slogan, but pay Jon Hamm big bucks to make sure you don't forget it.
To find out whether the Getaway works as a mobile campsite worthy of its esteemed badge, we originally planned a week-long camping trip with it out West in the spring of 2020. Then, y'know, COVID-19 happened. So by the time we finally laid hands on the van in New York, it was late October, and the campgrounds were cold. So, rather than go all Matt Foley in Manhattan and live in our van down by the East River, my girlfriend and I spent a day driving around upstate to get a feel for what the van is like on the road, then parked it in Manhattan and turned it into a two-person night club.
The Metris Getaway isn't much to drive, but that's not the point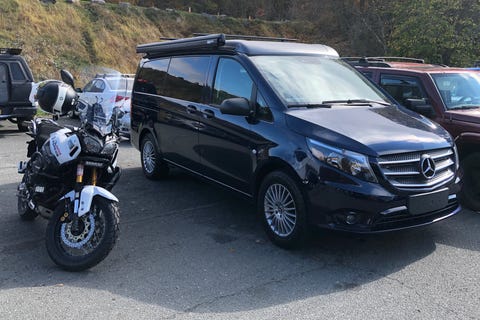 The Yamaha Super Ténéré parked next to the Metris here is a far, far more entertaining way to explore nature than Mercedes-Benz's camper van — at least, from the sense of operator engagement. The turbocharged inline-four's 208 horses and 258 lb-ft are enough to keep up with traffic, but not much else; the seven-speed automatic has its work cut out for it when passing and merging. (2021 models have been upgraded to a nine-speed automatic, for what it's worth.)
Likewise, anyone accustomed to the ride and handling of the rest of the Mercedes-Benz portfolio will find this Metris a bit lacking. This is, after all, a full-size van — a product designed more for commercial use than personal luxury. It's not bad; it's just not designed for the same role as other Benzes.
Inside, space is first and foremost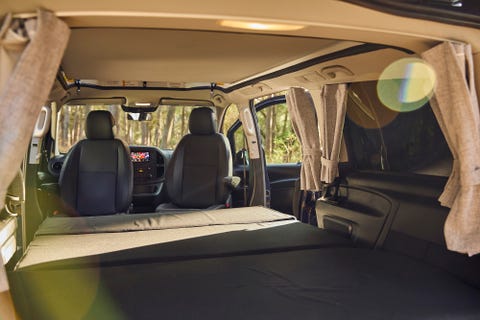 Abandon any preconceptions about what the interior of a $60,000 Mercedes should look like at the sliding door, or else you'll be in for a shock. There's no plush carpeting, no acres of leather, no wood trim. The materials are all solid, but they scream "workhorse," not "
What there is in abundance: space. With the rear bench in its upright and locked position, there's practically enough room between the front and back seats to throw a line dance. There's a built-in table on a metal bar that snaps into place between the rows when needed, and the front seats swivel around to turn the center into a comfortable dining space for four. Curtains on the windows provide much-appreciated privacy, as well.
Pop the top for maximum space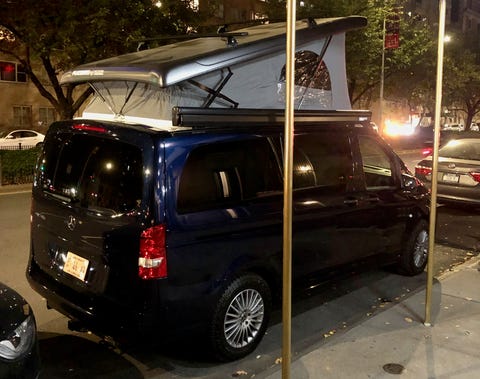 Like many a pop-top camper van of yore, the rising roof of the Getaway does double-duty. First and foremost, of course, it's a place to sleep, complete with a surprisingly comfortable tw-inch-thick memory foam mattress and enough space for a couple of tall adults to stretch out (vertically, at least — horizontal space is around that of a double bed).
But that mattress can also be quickly and easily pushed up to sit flush with the roof, creating enough room inside for even people in the 99th percentile of height to stand tall and proud.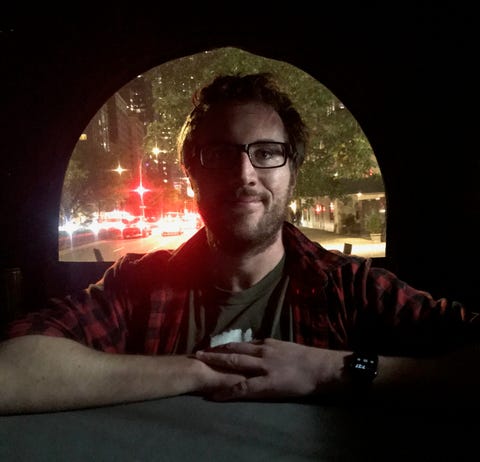 At six-foot-four, I could stand very comfortably up in the center of the van with ample room above my head. The sloping angle of the erected tent means max headroom drops off as you walk towards the rear of the van, but even in the very back, it's a noticeable improvement over just about any other vehicle you
Obviously, being tall helps you access the top bunk when the mattress is in sleeping position, as well. Entry and egress comes via a wide slot near the front end of the vehicle; anyone tall enough (or, I suppose, short enough but packing ample upper body strength) can simply lever themselves up and into the "bedroom" as though climbing out of a pool.
The Getaway offers a room with a view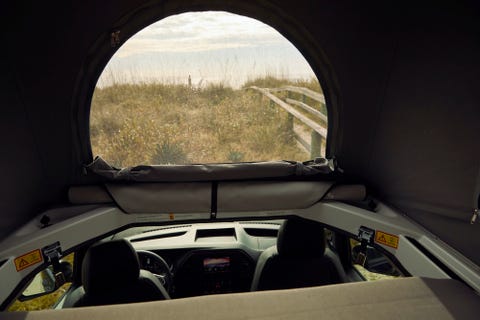 Once you're up there, the experience is rather like being in a rooftop tent such as a Roofnest: you have the stability of being atop a solid platform (albeit one that rocks a little on its wheels) and the security that comes with being out of reach of most critters that might be curious to pop by in the night and see what smells so funny.
You also score the incredible views and refreshing breezes that come with waking up six-plus feet above the ground, whether it's sunrise through the forest or sunset over the beach. And whereas the only way out of a rooftop tent is down a ladder in the open air, you can drop into the cabin of the Metris to get dressed in privacy before venturing out to answer nature's call.
There are other perks of going pop-top over rooftop sleeper, too. Unlike many a less-expensive roof tent, the Metris's sleeping arrangements don't preclude the use of the roof rack; surfboards, skis or bicycles can ride up there when you're driving from town to town. And unlike all rooftop tents, you score the added bonus of not having to worry about the unlikely-but-unsettling thought of your sleeping quarters detaching from your roof and flying away in the wind at 75 miles per hour.
The Gear You Absolutely Need for Car Camping
Car camping makes getting away easy as pie. These items will make it even tastier.
I call top bunk! (And you should too)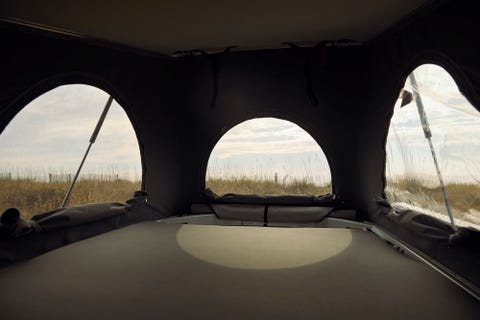 The upper deck accommodations are clearly the master suite; the mattress is a much nicer place to recline than the rear bench, even after the latter is folded flat. There's a pair of USB charging ports to make sure you can top up your Apple Watch or iPhone while you sleep, and you won't need to lie awake worried that the van won't start; the van packs a second battery for camping use.
If more than two people are going camping, however, you'll need to take advantage of the expanding lower bunk, which cuts into the usable space below. Creative minds can still find ways to store things like backpacks and other small items, but if you're planning on taking a ton of gear along, you may be restricted to room for two.
It's not for your dream life, but it is good for real life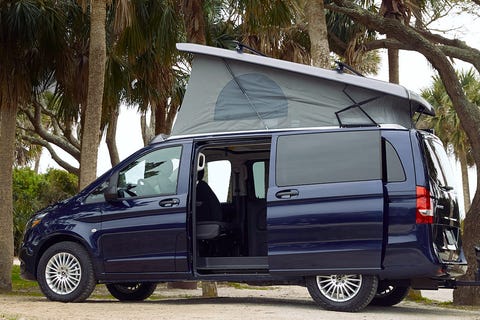 While Mercedes-Benz markets this van as the Getaway, it originally dubbed it the "Weekender." It's a shame they changed it, because that name seems ideal for this Metris's mission. Dreamy as the idea of escaping the rat race forever and living out of a #vanlife fantasy sounds, it's likely beyond the reach of most of us (especially those of us with the finances to drop $60,000 or more on a new vehicle). Anyone seeking a van they can live out of for days on end would be better suited with something like Ready.Set.Van's camper builds, or even a Class C motorhome; the Getaway's lack of features like a real kitchenette or toilet mean you'd be sacrificing an awful lot for that freedom.
It does seem like an excellent weekend vehicle, however — one for chasing after whatever outdoorsy goals or hobbies you love. (You certainly could use it as your primary ride, but again, that would mean you're spending enough to buy a nice luxury car on what amounts to a Super Shuttle.)
Maybe you do a lot of surfing, and want something you can sleep in by the beach so you can make the first waves. Maybe you love rock climbing, mountain biking or hiking, but don't want to waste valuable hours driving to and from the trails. Hell, maybe you just really love visiting breweries and would rather sleep in the parking lot than call a cab. Whatever your preferred passion, if it involves being farther from home than you'd rather drive, the Getaway is a pretty damn good buddy.
2020 Mercedes-Benz Metris Getaway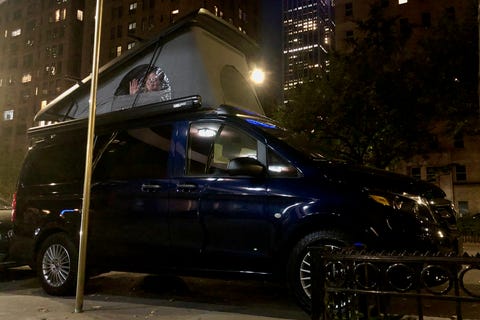 Base Price: $61,564

Powertrain: 2.0-liter turbocharged inline-four; seven-speed automatic; rear-wheel-drive
Horsepower: 208
Torque: 258 lb-ft
EPA Fuel Economy: 19 mpg city, 23 mpg highway
Seats: Five
Sleeps: Four
The Best Rooftop Tents You Can Buy
If you've always enjoyed the top bunk, you should invest in a rooftop car tent.