Bentley's New Continental GT Speed Feels the Need for...Y'know
Want a big luxury coupe that's also a blast to drive? You're welcome.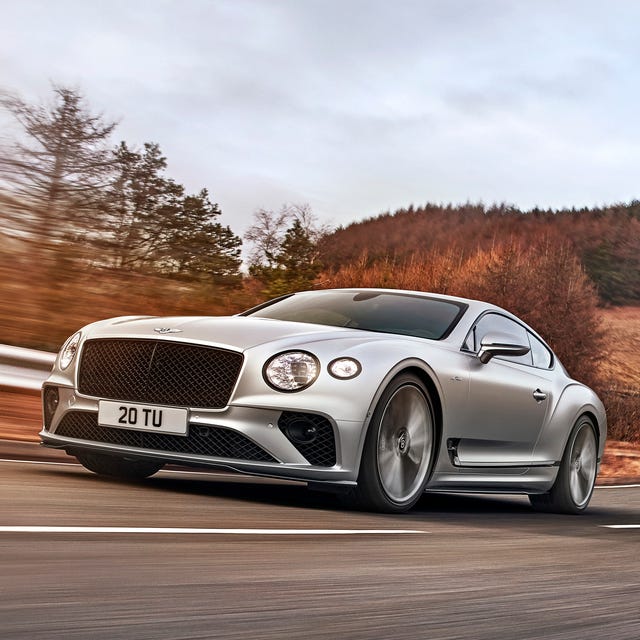 If there's a carmaker out there that doesn't do things by half-measures, it's Bentley. Whether it's comfort, performance, design or pushing into electrification, the British luxury brand gives everything its all these days.
After a surprisingly gangbusters 2020, the crew from Crewe is planning to set a bevy of fresh model variants loose on the world here in 2021, including more plug-in hybrids. But before those more efficient cars arrive, Bentley has something a bit more...extroverted for the world to feast its eyes on. Meet the 2022 Bentley Continental GT Speed.
No surprise: the Continental GT Speed is speedy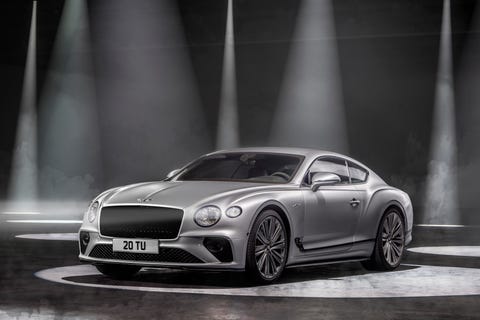 12-cylinder power ain't dead yet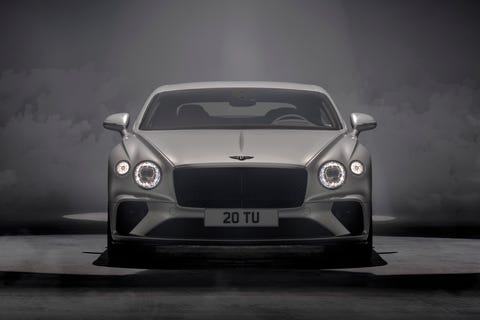 The mighty W12 engine that's been a staple of the Continental GT line since it debuted back in 2003 is on borrowed time; in a Zoom conference, Bentley CEO Adrian Hallmark told journalists that the brand isn't planning to hybridize the 12-cylinder engine, which means it'll go the way of the dodo when the brand transitions to all-EV-and-hybrid come 2026.
If it's going out, though, it's going out swinging. The Continental GT Speed's twin-turbo 6.0-liter W12 cranks out a nasty 650 horsepower and 664 lb-ft of torque. Admittedly, that's only 24 more ponies than the "regular" Conti GT...but hey, more is more, right?
This Bentley is made to play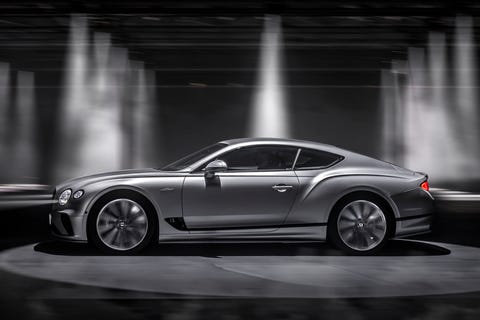 The Continental GT Speed's bigger differentiation from regular Contis comes in its handling prowess. The biggest addition is all-wheel-steering, which points the rear rims slightly in the opposite direction of the fronts at low speeds to make the car turn more tightly and turn the back wheels in the same direction as the fronts at high speed to improve stability.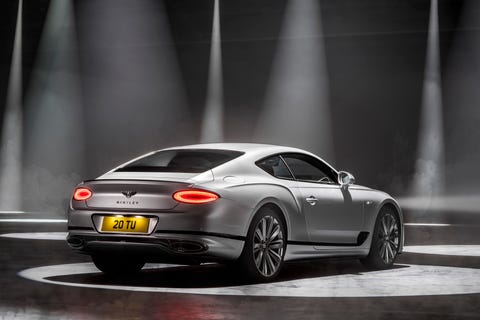 That's paired with an electronic limited-slip differential, which makes an appearance in a Bentley for the first time, as well as active torque-vectoring all-wheel-drive and a revised version of Bentley's 48-volt active anti-roll tech that's known as Bentley Dynamic Ride. (It isn't all that dissimilar from Porsche Dynamic Chassis Control, which isn't too surprising, considering the Continental GT and Panamera are related beneath the skin.)
It's a Bentley that can hoon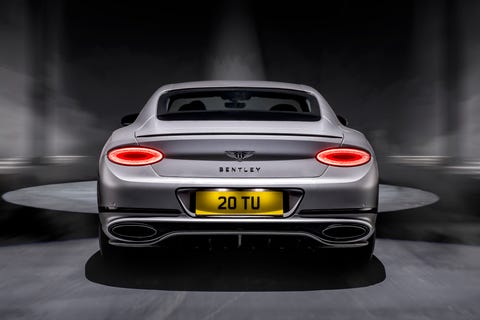 If you're looking for a 12-cylinder car capable of slicing up hyper-precise, super-quick laps of a racetrack, well, you'd probably be better off with a Lamborghini Aventador SVJ. That said, if you're into the occasional bout of power oversteer, the Continental GT Speed should have your back. Slap the drive mode selector into Sport, and not only does the suspension stiffen up and the lion's share of the power get routed to the rear wheels, but the e-LSD changes its mapping. Loosen the electronic stability control's reins, and, as Bentley puts it, "the ESC extends the freedom of the driver, allowing the experienced pilot to set and alter the cornering stance of the car at their discretion." In other words: wheeeeeeeeee!
Remember when 22-inch wheels were only found on the aftermarket?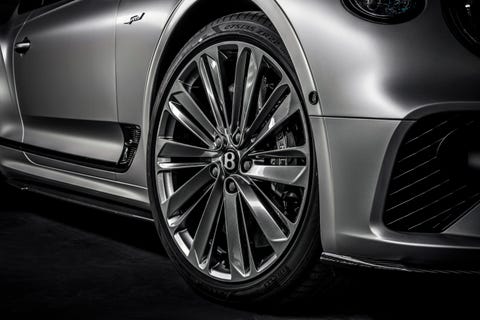 Hell, remember when they were reserved for SUVs? Well, Bentley's big coupe has offered them for a few years now, but the Continental GT Speed benefits from its own bespoke 22-inch rims. They're an evolution of the multi-spoke design used on previous GT Speeds, though now outfitted with a twin-spoke look.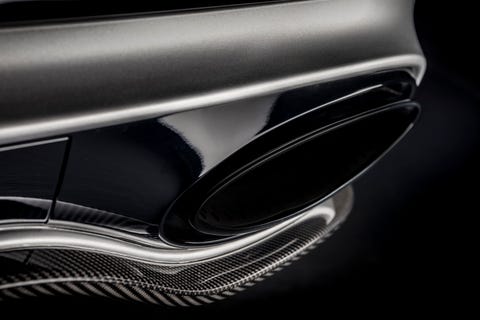 Carbon fiber is tastefully applied across the exterior of the GT Speed, with the material most notably applied to new sills and aerodynamic additions extending around the base of the car. If you're not a fan of chrome, you can also opt for gloss black trim to replace the shiny stuff on the wheels and on the body.
'We've Got the Formula:' Bentley's CEO Talks the Future of the Luxury Brand
"We have to reinvent Bentley," CEO Adrian Hallmark says. "If that appeals to vegetarians, carnivores, velociraptors, I don't care."
It's a Bentley, of course, so it's plenty comfortable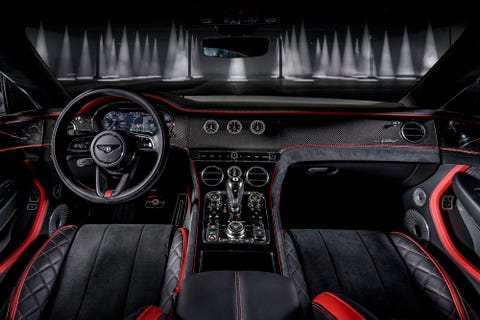 Bentley's mission, above all else, is to build elegant grand tourers capable of quickly crossing continents in comfort — and even the sporty versions like the GT Speed have to be able to live up to that mission brief.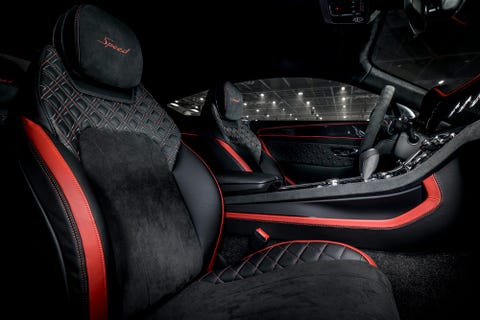 Granted, you can certainly make the Continental GT Speed look plenty racy inside. Want Alcantara instead of leather? Bam. Want splashes of color in new places, accent marks designed to liven things up? Go for it. Want carbon fiber on the dashboard instead of the usual wood trim? We can't say we'd do the same, but if that's how you feel, more power to you.
Consider the rotating display a must-have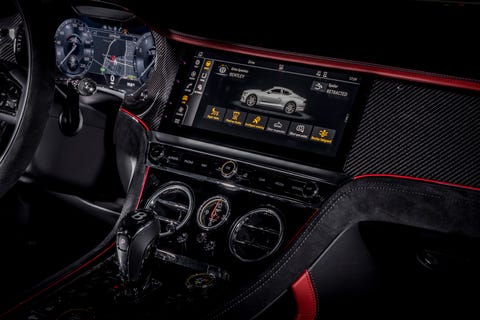 Technically speaking, the Bentley Rotating Display — which swivels between infotainment screen, analog gauges and a blank expanse of veneer — is an option (and a rather pricey one for us mortals, going for more than $6,000)...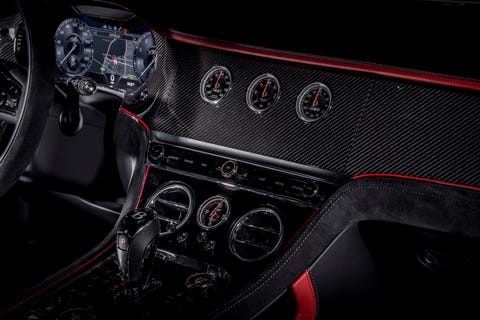 ...but if you're in the market for a car in this price range, well, that's likely not a sum you're likely to blanch at. Besides, trust us: it's worth it the first time you surprise a passenger with it.
Expect to see the Continental GT Speed in nice neighborhoods this summer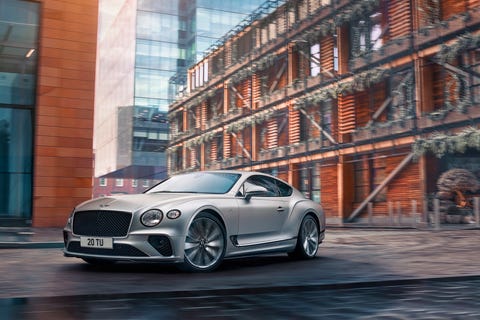 It could be the part of summer that feels like fall, mind you, but as far as the calendar says, it should be summer. Bentley says the 2022 Continental GT Speed should arrive in the U.S. and Europe in the third quarter of 2021, then reaching other markets in Q4. The carmaker isn't talking specifics on price, but CEO Hallmark told us to expect it to start around 20 percent higher than the regular W12. Don't plan on spending less than $275,000 then — and of course, you can always spend more on options.
What's It Like to Design Your Own Bespoke Bentley Continental GT? We Found Out
Buying a Bentley Continental GT is like buying a fine suit.