The Porsche 911 Turbo Could Be the Last Sports Car You'd Ever Need
Stupendously quick, incredibly fun and remarkably usable, the 911 Turbo is about as close as you can find to a perfect car.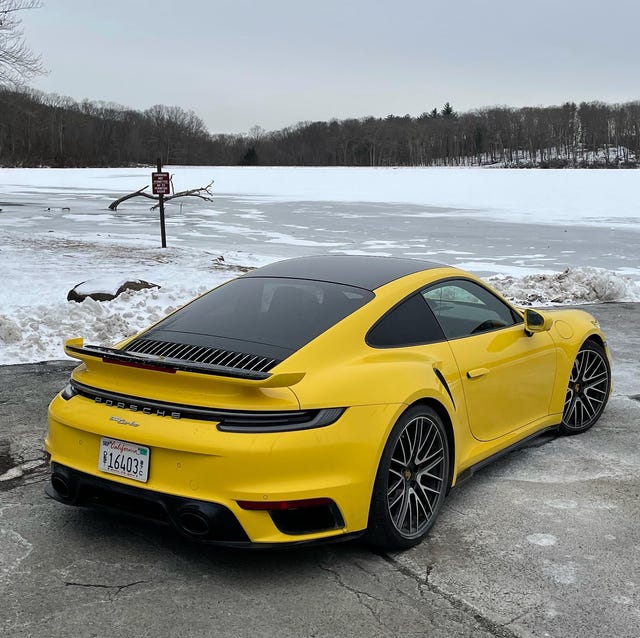 There is no such thing as a perfect car. Let's just get that out of the way to begin with.
There's not even a perfect car for any given person, let alone one overall. As Whitman reminded us, each of us contains multitudes, and those multitudes would demand a very big garage in order to satisfy all their wants and needs.
That said...after spending a weekend with the 2021 Porsche 911 Turbo, I can say this turbocharged beast comes awfully, awfully close. Especially if, as is my case, you don't need room for more than two adults.
Don't sell it short because it's not a Turbo S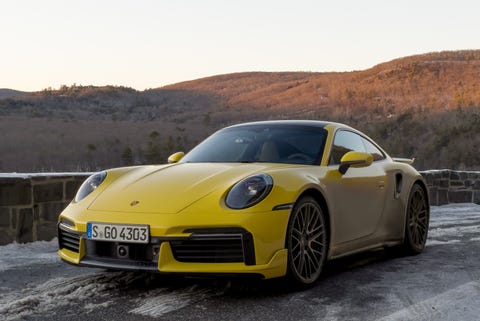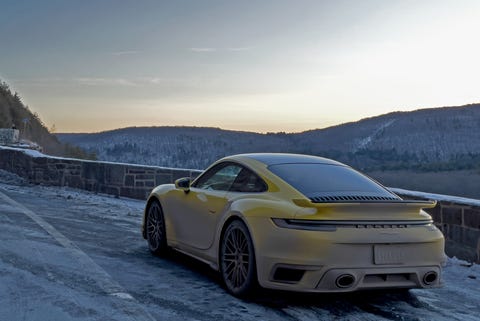 Few people in the market for this sort of car are shopping on a tight budget, but suffice it to say, if the $23,000 gap between Turbo and Turbo S is wide enough to put the latter out of reach...you won't be missing out.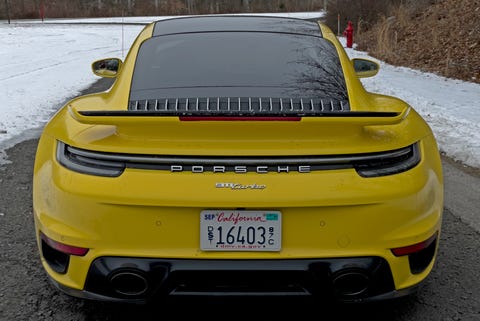 You certainly won't notice from outside. Other than the lack of a chrome "S" at the end of the badge on the stern, the two are pretty much identical, from that iconic 911 face to the pornographically wide rear end. (And if you're really worried about people asking why you didn't get the S, just opt for the badge delete.)
The 911 Turbo offers plenty of options, but you don't need many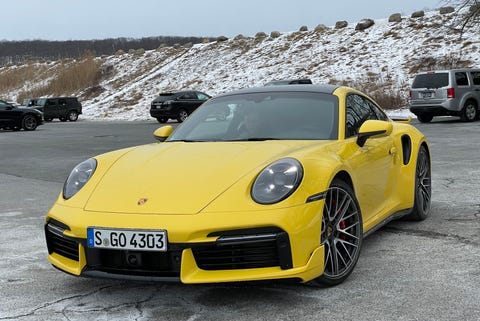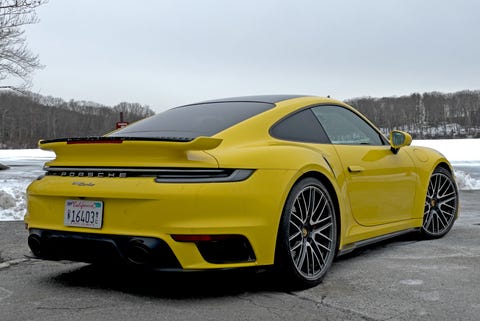 The options you do need on your Turbo are few. The $1,150 PASM Sport Suspension and $3,170 Porsche Dynamic Chassis Control active anti-roll bars are musts, and the $3,490 Sport Exhaust System gives a bit more va-va-voom to the boxer's voice. The $2,770 front axle lift system comes in handy in the real world, as does the $1,430 Surround View camera system that keeps you from inflicting far pricier damage when parking. There are plenty of other options that certainly would be nice, like ventilated seats, a sunroof or the Burmester stereo — but none of them are necessary in the same way.
Add those up and tack on the destination charge, and you'll wind up with a tab of $182,750. Affordable? No. Reasonable for what you get? Hell yes.
The Turbo destroys just about anything in the real world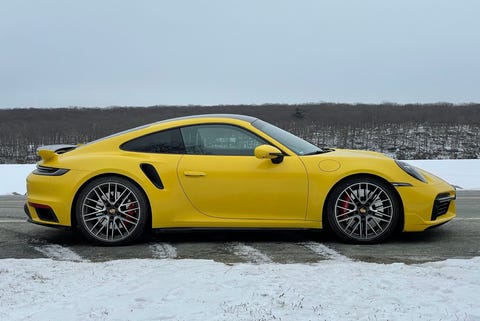 Indeed, if you didn't know that a Turbo S existed, you'd never feel like you were missing out. Hell, even if you do know the more powerful version is out there, it doesn't change the fact that the regular ol' 911 Turbo is brutally, almost impossibly quick. On public roads — which is where these cars spend most of their time — they're both so far beyond the limits of ordinary vehicles as to be from another planet.
The 16 Best Cars to Buy in 2021
Kelley Blue Book has released their best cars to buy awards for 2021. The results may surprise you.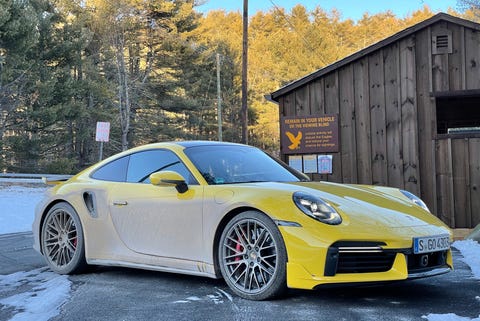 To fire the 911 Turbo down a back road is to enter a realm of driving nirvana few cars can match. The upcoming 911 GT3's screaming naturally-aspirated engine and manual gearbox might make for a more traditionally involving drive — I say might because, well, I haven't driven it yet — but the Turbo's all-wheel-drive makes it a far better companion for the real world, where pesky little things like winter and water come into play.
Four wheels clad in wide tires receiving power means the 3.7-liter twin-turbo never has to worry about any of its power going to waste on annoyances like wheelspin. There's no lag to speak of, just a steady push of power that starts at whoa and quickly passes ohgod on the way to sweetbabyjesus — which, in turn, quickly turns into a fit of laughter once you let off the gas. Which you'll have to do soon, even if you don't want to, given how quickly it picks up speed: I timed a launch-control dash from 0 to 60 miles per hour at a hair more than three seconds...in sub-freezing weather, on cold snow tires...on a street covered with road sand and grime.
And it just keeps pulling from there, well past the speeds where the cops don't even bother giving you a court date, they drag you off to jail right then and there. Over the course of my weekend with the car, I lost track of the number of times I merged onto a highway or jumped into the fast lane to pass a car then backed off when I thought I was doing 70...only to see numbers nearing (or above) the triple-digit mark on the speedometer.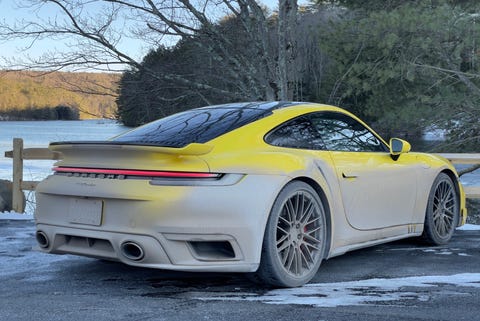 These days, though, there are all sorts of cars that can seemingly bend time and space with their straight-line acceleration. What separates the 911 Turbo from many of them is how engaging it is in the turns.
And that doesn't just apply at super-speed; it's just as much fun to drive at legal(ish) velocities. The steering offers remarkable feedback for any modern rack, let alone one with electric assistance; it reminded me of an old 993 I once spent a happy weekend with driving to Vermont and back again. The car's balance is balletic; it doesn't just take direction from your hands and feet, it dances with you, a well-trained partner that knows what you want almost as soon as you realize it yourself. And the shocks and lands damn close to the perfect balance between ride comfort and handling-helping stiffness, even with the sportier setup found on this tester. (You'll still want to avoid the potholes as much as possible, though, like you would on any car riding so low on such big wheels.)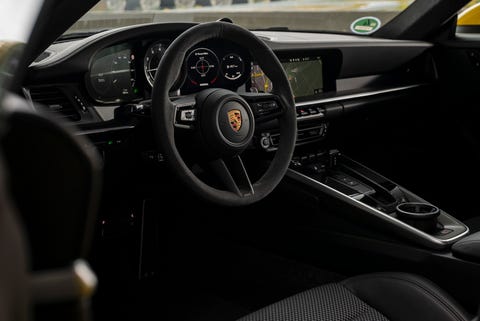 Like all modern-gen 911s, that thick options list means you can set up your 911 Turbo's interior any way from spartan to opulent. My test car — which was identical to the one in this Porsche-supplied image — sat closer to the former, with little color and sporty SporTex on the seats in lieu of leather.
Still, it was an exceedingly pleasant place to spend a long day of driving. Outward visibility is spectacular; the pillars are thin, the windows provide great visibility to the blind spots, and having that low, engine-free hood means it's incredibly easy to see the road ahead. And the seating position falls into the Goldilocks zone — enough room even for long legs, but with every control close enough to easily touch and find.
Like all 992s, the rear seats are largely token leftovers, vestigial slots there to give the car an added semblance of usability. Yet while they may not be much for human butts, they are handy for all sorts of other purposes. Between them and the deep trunk up front, for example, me and my girlfriend were able to fit a week's worth of groceries into the car with room to spare. Pack correctly — i.e. no hardsided bags — and you could easily carry enough luggage for a weeklong vacation.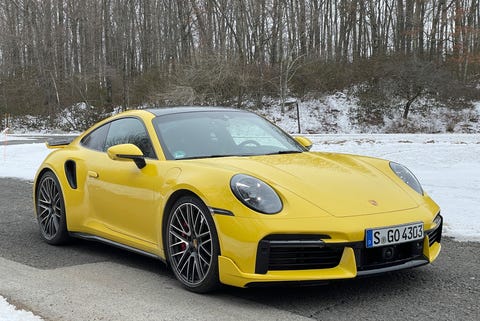 And that's the beauty of the 911 Turbo: so long as you can live with the constraints of its size, it's as close to a do-it-all car as you can find. It's a fine commuter car, a great gran turismo, a track terror, a backroad barnstormer and a work of art all in equal measure. There are other cars that can claim the same — but the Turbo's involving character and infectious joie de conduire push it to a new level entirely.
The 911 seems likely to be the last of the existing Porsche models to have to give up on gas; it seems likely that there'll be a 992.2 Turbo in a few years, and perhaps an ICE-powered 993 Turbo beyond that. If this were to be the last 911 Turbo to actually use turbochargers, though, it'd be a spectacular way to go out. And hell, given how reliable Porsche 911s are when you take good care of them, you could probably keep on driving it right up until that distant day when fossil fuel-powered cars aren't allowed on the roads anymore. (But hey, Porsche's working on a plan for that, too.)
The 2021 Porsche 911 Turbo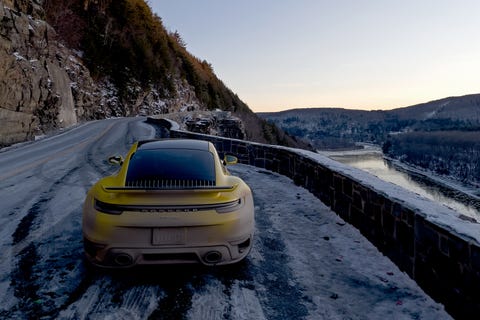 Price as Tested: $220,300
Powertrain: 3.7-liter twin-turbo flat-six; eight-speed dual-clutch automatic; all-wheel-drive
Horsepower: 572
Torque: 553 lb-ft
Fuel Economy: 15 mpg city, 20 mpg highway
Seats: 2, with room for 2 more small people / midsize dogs / large cats
The Complete Porsche Buying Guide: Every Model, Explained
Once known just for its sports cars, Porsche now produces a wide variety of coupes, convertibles, SUVs and sedans.