Every product is carefully selected by our editors. If you buy from a link, we may earn a commission.
The Infiniti QX55 Is Stylish Above All, and Sometimes That's All You Need
Not everyone needs a car that's fun to drive; some folks just want to look good. Enter the QX55.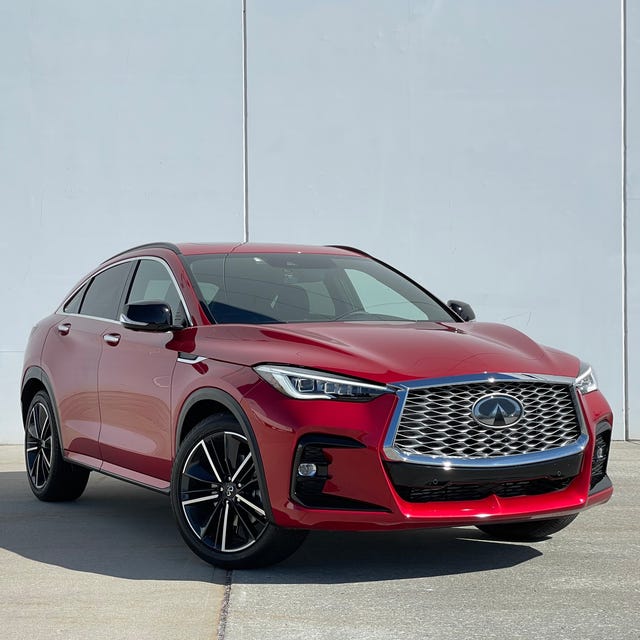 Strange as it may sound to those of us who love cars and driving...not everybody feels the same way. For millions of people, cars exist merely as appliances, machines that, like washers and dryers and air purifiers and humidifiers, are nothing more than a tool meant to accomplish a mundane task.
Still, even if you take little joy in the act of using them, there's something to be said for having an appliance that looks good. That's why refrigerators and laundry machines and vacuum cleaners and all sorts of other utilitarian machines these days look stylish enough to have come out of a sci-fi movie — and it's the reason that Infiniti's otherwise rather unremarkable compact crossover now wears an even more elegant skin in the form of the QX55.
The Infiniti QX55 is a compact coupe-y crossover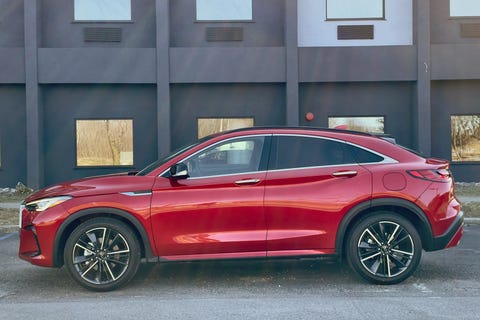 Infiniti's family tree has been through a tumultuous decade or so, and its naming system can be a bit tricky to parse, so you might need a little help understanding where this ride fits in the lineup. Never fear; Gear Patrol is here.
Basically, the QX55 is the trendy "four-door-coupe" versions of the QX50 compact crossover. The previous QX50 — also known as the EX37 earlier in life — was a bit of an odd duck in that it was basically an awkward-looking wagon version of the old G37 sedan; it was surprisingly fun to drive, but its oddball looks and strange market positioning meant it never sold in big numbers.
In late 2017, Infiniti revamped it from head to tail, reinventing the QX50 as a more conventional compact crossover. The big news was the presence of Nissan's new VC-T variable compression system that, ostensibly, offers better power and fuel economy — but the only people who cared about that were car nerds who weren't exactly interested in the product. Still, sales picked up based on the fact that, well, it was a good-looking, easy-to-drive SUV from a luxury brand at a decent price.
So, for 2021, Infiniti decided to resculpt the roofline to give it a sleeker look at the expense of a bit of cargo space and call the resulting spinoff the QX55. (In a bout of unfortunate timing, the carmaker is also in the midst of rolling out the new QX60 that uses the Nissan Pathfinder's larger chassis, which could result in a dash of confusion.)
It's a good-looking ride, if not a fun one to drive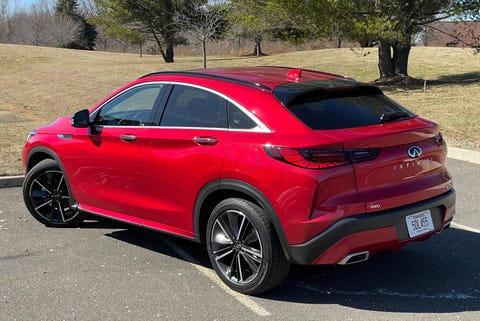 Once upon a time, a decade or two ago, Infiniti carved out a niche for itself as the Japanese equivalent of BMW — purveyors of luxury cars with a little added driving fun when compared to the domestic competition. But much as BMW seems to have lost the plot with many of its mainstream models, Infiniti has strayed from that path to court more mainstream buyers with a more sedate blend of driving characteristics.
In the case of the QX55, that means a turbocharged inline-four, a continuously variable automatic transmission and all-wheel-drive. The power output is adequate enough — 268 horses and 280 lb-ft — but the delivery leaves plenty to be desired. The clever variable compression system takes a beat to shift from efficient to max power, the turbocharger takes a beat to spool up, and the CVT takes a beat to do, well, whatever you ask of it; add up all those beats, and it feels like there's a loose connection between your right foot and the car, with inputs always taking a bit longer than you'd expect. It's a long way from involving — but for buyers who rarely use more than 40 percent of the gas pedal travel and switch on cruise control early and often, it'll probably go unnoticed.
Likewise, anyone who expects it to handle like the Mercedes-AMG GLC63 S Coupe it resembles will be sorely disappointed when the first turn comes. The QX55 makes no pretensions of being sporty in turns; it's happy to slide through them at normal traffic speeds, but pushing the limit brings no sense of involvement. Some of the issue, no doubt, falls to the Direct Adaptive Steering system found on my top-trim tester, which replaces the direct mechanical link between steering wheel and front tires with a drive-by-wire setup that translates your inputs into 1s and 0s and then sends them to a computer, which interprets them and tells the rest of the steering what to do. The system is certainly better than it once was — early Infinitis with it were notorious — but it's still a far cry from a conventional setup in terms of feel or feedback. Again, though: if you're driving the speed limit and using lane-keep assist all the time, odds are good you might never think twice about it.
Indeed, it might be a little too style-focused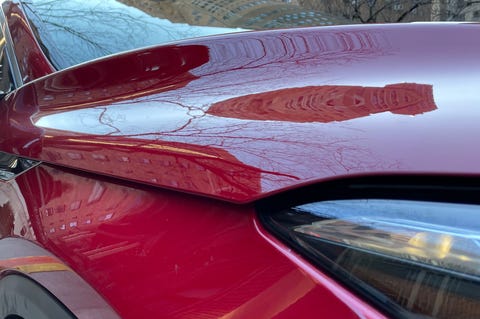 Indeed, in its efforts to distinguish the QX55 from the pack, Infiniti went a bit wild with some of the styling cues. The edges of the hood, for example, jut out over the sides of the wheel arches in a way that I thought was just an example of terrible fitment at first. It wasn't, thank goodness — but it does beg the question as to who thought such a look was a good idea.
Still, the overall appearance succeeds at making the QX55 stand out of the crowd of compact crossovers — which was, of course, the point. (My tester's red paint certainly helped in this regard; like the red Mazda uses, it looks wetter and more delightful in person than it does in pictures.) The carmaker likes to consider it an homage — or even a successor —to the likes of the bold FX crossovers of the early Aughts; it doesn't quite pull that off the way fans of those cars would probably like, but it does manage to be generally attractive.
The interior is comfortable, if familiar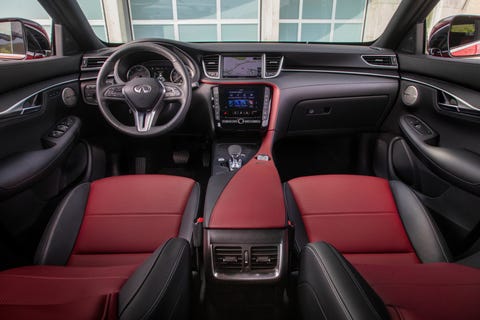 If the exterior is bold, the interior plays it safe, sticking largely to the basic Infiniti playbook in terms of materials, controls and design. The only real change to the QX50 up front is the addition of some asymmetric color elements, like the red strip that crosses the center console and loops around on the dash.
Move back, though, and you'll find that sleek roofline takes a toll. Headroom in the second row is down an inch and a half versus the QX50, while cargo space in back falls from 31.1 cubic feet to 26.9. Still, most of that is lost up high, where most people would be reticent to stack gear unless necessary; after all, once you start lobbing bags and so forth that high, you risk blocking rearward visibility. Just be sure you check to make sure your Costco loads will fit before you sign on the line.
Infiniti's aging infotainment system is saved by CarPlay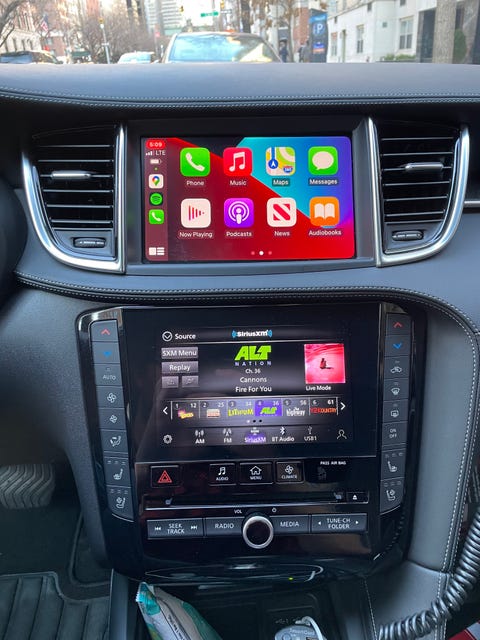 Infiniti's two-screen infotainment system has been around for well over a decade, and while the lower screen has received much-needed updates over the years, the top one — which is generally reserved for the nav system map — looks as low-rez and crude as it did in 2010.
Luckily, Infiniti has found a way to work around that: they've turned the top screen into the display for Apple CarPlay. Doing so completely revolutionizes the infotainment experience, enabling the car to display multiple important pieces of info — like, say, Google Maps directions and SiriusXM satellite radio info — simultaneously and clearly, something few cars these days can say. If our automobiles of tomorrow are going to be filled with multiple screens (as it seems they will), hopefully they'll take this tactic, rather than using them to show redundant (or meaningless) info.
2022 Infiniti QX55 Sensory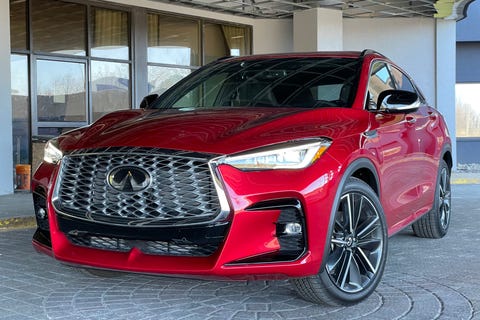 Base Price: $58,075
Powertrain: 2.0-liter turbocharged inline-four; continuously variable automatic; all-wheel-drive
Horsepower: 268
Torque: 280 lb-ft
EPA Fuel Economy: 22 mpg city, 28 mpg highway
Seats: 5
The Best Cars to Buy in 2021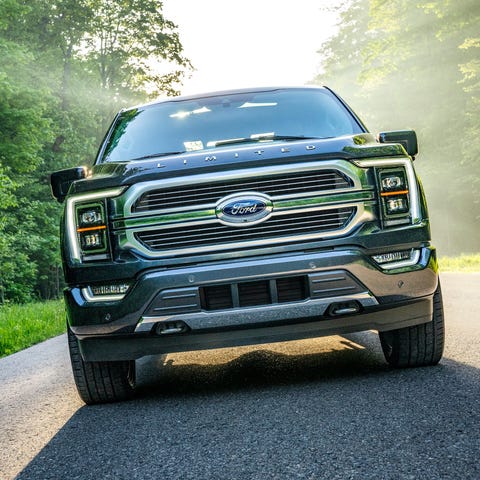 The results may surprise you.