The Sharp-Looking Hyundai Santa Fe Is a Damn Fine Family Car
In your 30s or 40s? Have fewer than three kids? We've found your car.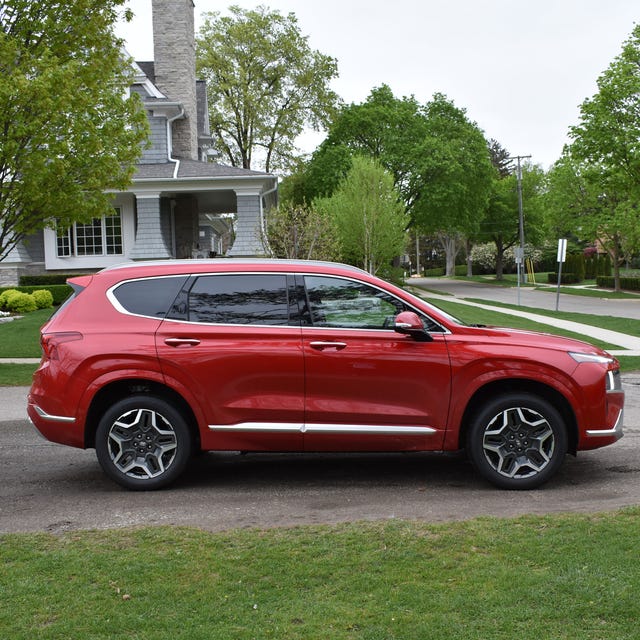 When it's not being spotted jumping draw bridges, the Hyundai Santa Fe seems like your standard, midsize crossover — the precise opposite of an enthusiast's car. But here's the thing: the Santa Fe owners I know swear by them. We have close family friends who are on their third, for example It's not Tacoma-level cultism, but there's a vibe about it.
Word of mouth made me curious to drive a Santa Fe — and I finally got my chance. Hyundai loaned me the new top-of-the-line, luxed-out Calligraphy trim for a week. I now understand the SUV's appeal — and not just because I'm in my 30s with two kids. The Hyundai Santa Fe looks stellar, drives well, and it doesn't make driving a practical family car feel like a sacrifice. Consider it a more manageable Palisade or Telluride.
Is the Hyundai Santa Fe new?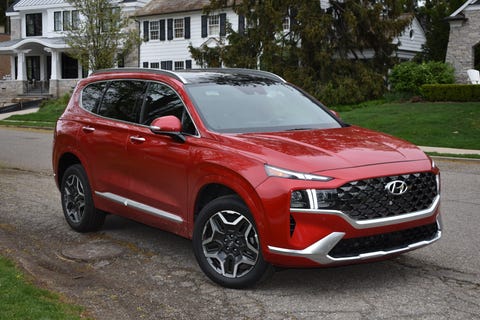 Yes. Technically, this is still the fourth-generation Santa Fe that has been kicking around since 2018. But Hyundai facelifted it comprehensively for 2021, to the point where it feels like a new car.

Santa Fe changes include a better-looking and bolder exterior with a prominent grille to match the rest of the Hyundai lineup, upgraded engine options and a host of safety and technological upgrades. The Santa Fe receives the new Calligraphy trim. And while I drove the straight gas version, a hybrid Santa Fe is also available, and a plug-in-hybrid is on the way.
Why is the Hyundai Santa Fe special?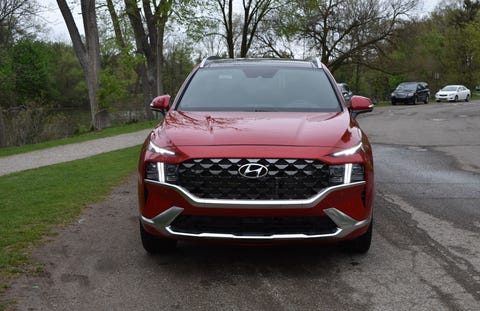 The Hyundai Santa Fe is not a car you lust over. It doesn't pose as an adventure vehicle with egregious cladding. It's what its buyers want: a simple, spacious and comfortable five-seater family car. On the low end, the Santa Fe offers substantial value; level up, and the Santa Fe performs and feels like a luxury car, without any pretension.
How does the Hyundai Santa Fe drive?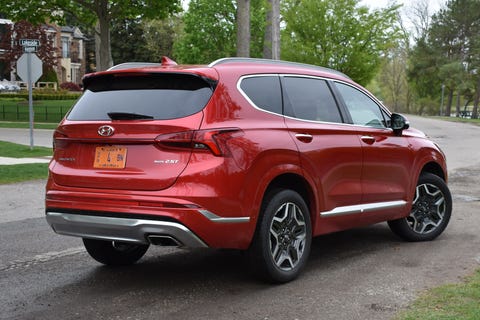 You'd be surprised how well. The Calligraphy trim comes with the more powerful 2.5-liter engine option. It's potent, with 277 hp — a +42 hp upgrade over the previous model — and 311 lb-ft of torque. And the power arrives smoothly thanks to Hyundai's eight-speed dual-clutch transmission.

The Santa Fe is quick, quiet and has a pleasant heft to its steering. It great for driving around town or cruising on highways...which is what one does in a Hyundai Santa Fe. It does not feel that far off from its corporate cousin, the 2.5T Genesis GV80.
One thing to note is my tester had 19-inch wheels, not the 20-inch ones the Calligraphy trim will eventually come with. The bigger rims will look more natural on the car, though they may affect the ride quality.
What's the Hyundai Santa Fe interior like?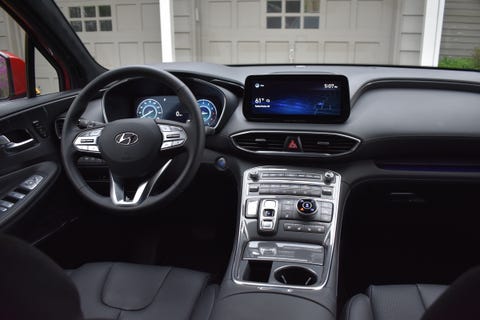 Enormous. Instead of cramming in a tiny third row, Hyundai gives you a huge trunk perfect for tossing in baby and toddler accoutrements. With the Calligraphy trim, the Santa Fe gets downright plush and cozy with quilted Nappa leather seats and an eco-suede headliner. Hyundai brought the Santa Fe into the future for 2021 with a new center stack and enhanced digital displays.
How much does the Hyundai Santa Fe cost?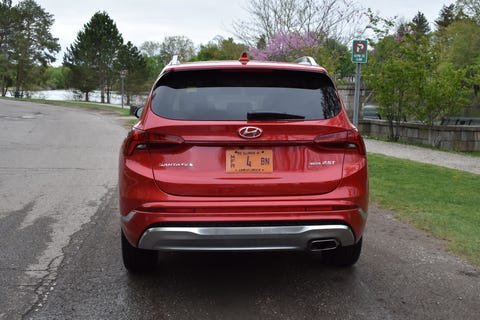 The Santa Fe starts at $27,000. The top-tier Calligraphy trim begins at $42,250, and it comes pretty much standard with everything except cargo upgrades and floormats. That may see a bit steep for a Santa Fe. Though I'd argue a fully-loaded Santa Fe for that price is a better choice than a stripped-down, base model luxury SUV.
What are some alternatives to the Santa Fe?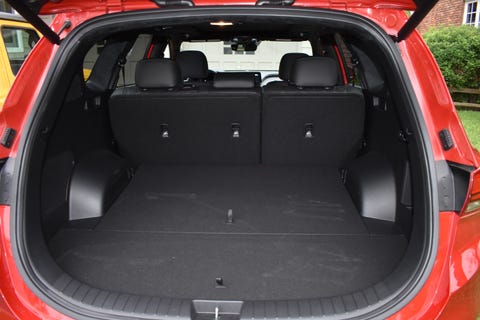 We're looking for midsize, defiantly two-row SUVs that slot below a larger midsize three-row SUV and start around $30,000. The two most similar options are probably the Honda Passport ($32,970) and another Hyundai Group offering, the new Kia Sorento ($29,390).
2021 Hyundai Santa Fe Calligraphy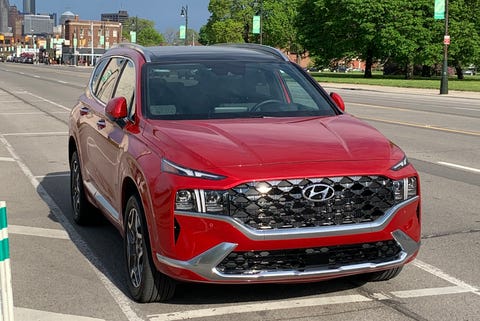 Powertrain: Turbocharged 2.5-liter inline-four; 8-speed automatic, all-wheel drive
Horsepower: 277
Torque: 311 lb-ft
EPA Fuel Economy: 21 mpg city, 28 mpg highway
Seats: 5