The Cadillac Escalade Could Be the Perfect Road Trip Vehicle. Here's Why
If you need to log long miles, it's hard to beat Cadillac's luxury mammoth.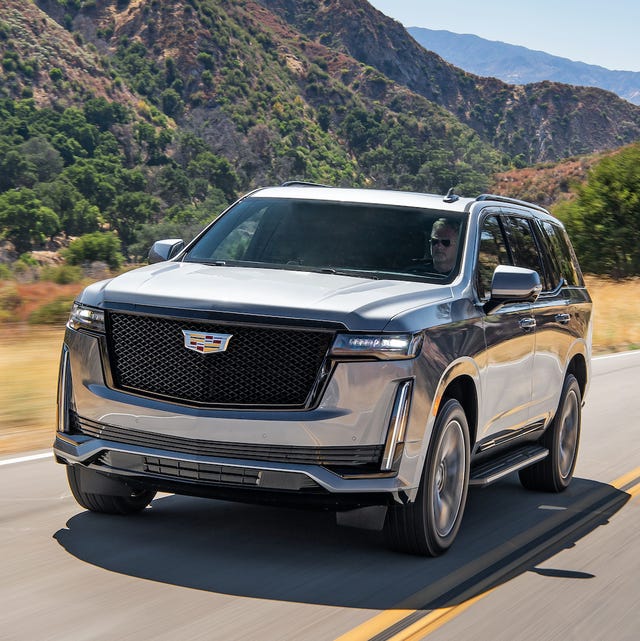 There are no hard and fast rules when it comes to determining what makes a vehicle particularly well-suited for road trips. Some would argue that it's all about comfort features; others would claim that maximum range is the most important value; others of a more philosophical bent would claim that, in the end, any vehicle is a good road trip ride so long as it gets you from A to B and you have a good time along the way.
All three groups have a point, sure. But if you know you're going to be logging many miles and long hours behind a vehicle, why wouldn't you want to make sure you have the best tool for the job? Something capable and spacious, powerful and resolute, able to make the drive more entertaining in ways both passive and active. Something — as I discovered after a week and a half behind the wheel, with a lot of driving in that stretch — like the Cadillac Escalade.
Reason Number 1: The Escalade rides and drives like a true luxury car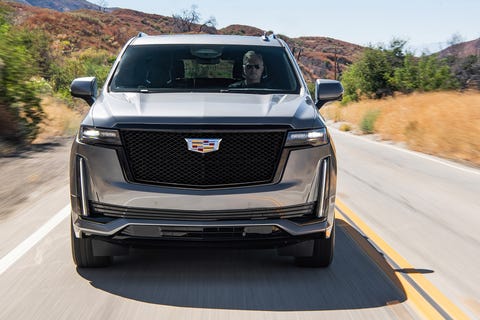 Before it fell into the string of minor identity crises that have defined it for much of the past two decades, Cadillac was known primarily for one thing: building large, very comfortable luxury cars. Vehicles with cavernous interiors, powerful V8 engines and smooth rides. Vehicles, in all honesty, very much like the current Escalade.
The new Escalade can be optioned with the same six-cylinder turbodiesel found in the Yukon Denali (and other GM full-size SUVs and pickup trucks), but unless you're planning a ton of towing near the 8,200-lb max capacity, you're better off with the delightful tried-and-true 6.2-liter V8 related to the one found in the C8 Corvette; it makes both ample power and a satisfying sound when pressed into action. And while it's no CTS-V, the Escalade handles corners better than you'd expect thanks to its combination of the new independent rear suspension, magnetic ride shocks, adaptive air suspension and electronic rear limited-slip diff — yet still delivers a comfortable ride, even on giant 22-inch wheels.
Reason Number 2: The Escalade also packs the benefits of an SUV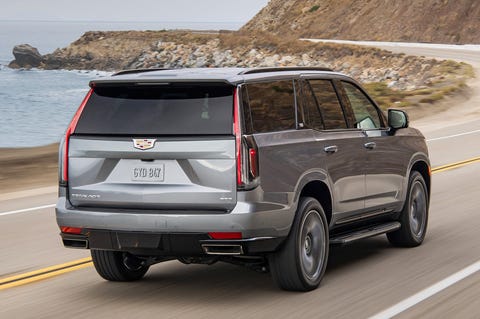 Unlike those Sevilles and Devilles and so forth of the past, though, Cadillac's current flagship also brings with it benefits like, say, a commanding view of the road, ample ground clearance for fording potholes and curbs, and available all-wheel-drive for added traction (or even full-time four-wheel-drive with low range, if you opt for the added capability that comes with the $600 Heavy-Duty Trailering Package).
Reason Number 3: The Escalade now has Super Cruise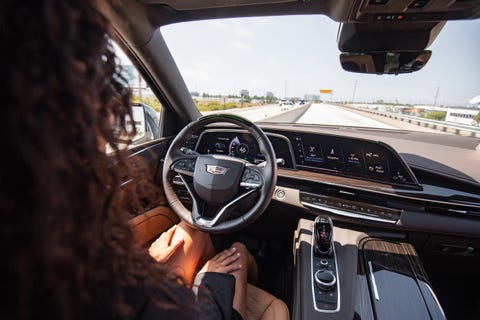 Yes, we've already written about Cadillac's implementation of its semi-autonomous driving aid in the Escalade — but that first test lasted a mere 24 hours in the middle of the work week, giving us the barest opportunity to put it through its paces. This time around, I had the Escalade for 10 days, during which I drove it to, around and back from Vermont — logging around 800 miles in total. With so much time in the car — most of it in the company of family — being able to click on Super Cruise and direct more of my neural load towards making conversation rather than piloting 65 tons of American pride down the highway at 75 mph. When driving solo, Super Cruise feels largely unnecessary, even boredom-inducing; when driving with other people, it lets you feel like part of the gang, rather than the aloof captain.
Also, it makes eating food on a road trip far, far easier.
Reason Number 4: This Cadillac boasts a killer stereo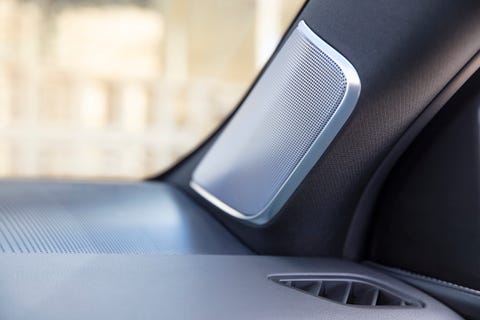 Buy a base Escalade, and you'll go home with an SUV packing 19 speakers, a subwoofer and a 14-channel system to back it all up. That's the AKG Studio setup. But if you really want to play ball, you need to go nuclear and opt for the optional AKG Studio Reference system. It packs 28 channels, three amplifiers, and a stunning 36 speakers — including ones in the driver and shotgun riders' headrests.
The result: one of the best audio experiences you're ever likely to experience, unless you're willing to spend enough money to buy a new CT4 on home stereo equipment and have an expert set up your listening room for acoustic perfection. In describing the setup, Cadillac drops the phrase "astonishingly crisp and immersive" to describe the bigger stereo; I only mention that here because, unlike most marketing-speak, it's spot-on on its description. Like the ELS system in the Acura MDX, it'll have you working out how to get lossless audio into your car.
Reason Number 5: The Escalade packs all sorts of other clever tech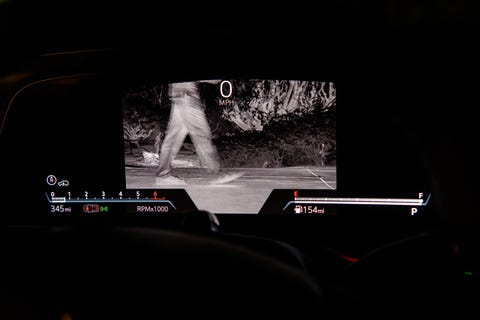 All that's just the tip of the technological iceberg, though. In addition, the Escalade comes with or offers: a three-screen OLED instrument panel that stretches a combined 38 inches across; a surround view system that uses four cameras to stitch together an overhead view of the vehicle for easier parking; augmented reality navigation that turns the instrument panel into an HD vision of the road; a rear-view mirror that can display a wide-angle video feed of what's behind so you don't have to worry about heads or cargo blocking your rear view; an infrared night-vision system that can spot people and animals, as well as show the world ahead in Predator-style vision; conversation-enhancing technology that uses the stereo to amplify the voices of passengers in parts of the cabin they can't be heard as easily; 12.6-inch touchscreen infotainment displays for the second row that can send navigation directions to the driver or change the stereo, as well as stream videos and games via USB, HDMI or Android screen mirroring; and, of course, OnStar.
Reason Number 6: There's a ton of cargo space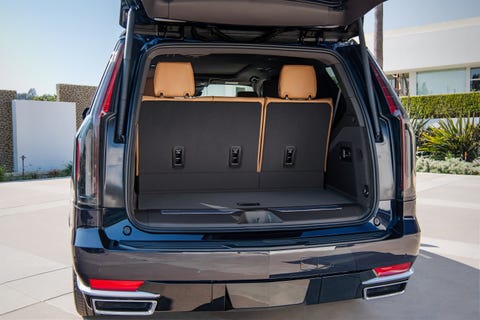 As has been the case since the 2003 model year, you can grab the Escalade in both L and XL sizes — think Tahoe/Suburban, or Yukon/Yukon XL. In the past, if you were planning on regularly using all three rows of seats, you'd probably want to opt for the longer variant; the shorter-wheelbase versions didn't pack much cargo space with all three rows upright.
With the arrival of the new model, though, the switch to independent rear suspension means there's far more space behind the third row of the shorter Escalade than before. It's enough for, say, a hiking backpack for every occupant with six people aboard, or for a week's worth of luggage for two.
Reason Number 7: Actually, there's just a ton of space, period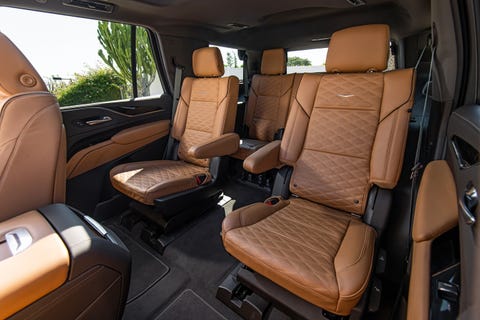 That suspension switch in back also means the third row has gone from an interrogation device to a decent place to spend time, even for adults. My six-foot-tall partner was able to sit back there comfortably, even for more than an hour.
Still, the second row seats are the superior choice for anyone unable or unwilling to call shotgun. (As you might suspect, given the Escalade's prevalence as a black car these days.) While not quite as nice as the front two seats, they're incredibly spacious (especially when slid all the way back) and very comfortable, even on long slogs — if, admittedly, with a bit more black plastic and hard trim surrounding them then you might find in the likes of a Mercedes-Benz GLS.
Still, if you're planning on taking a road trip, it's the Escalade's front-left seat that's the best of the litter. Indeed, for a long road trip, it's one of the best seats you can have in 2021.
The 2021 Cadillac Escalade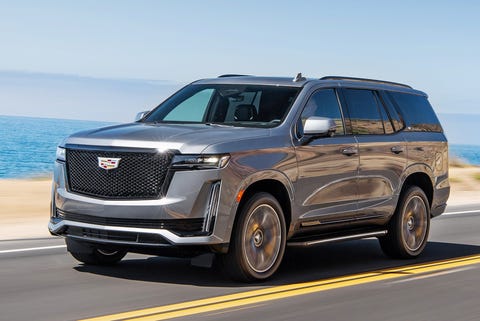 Base Price / Price as Tested: $77,840 / $109,005
Powertrain: 6.2-liter V8; 10-speed automatic; all-wheel-drive
Horsepower: 420
Torque: 460 lb-ft
Fuel Economy: 13 mpg city, 19 mpg highway
Seats: Six pretty well, seven in a pinch
The 16 Best Cars to Buy in 2021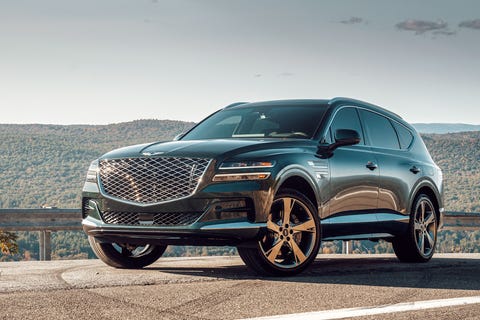 The results may surprise you.