The GMC Yukon Denali Is Perfect for Winter, Unless You Opt for the Diesel
GMC's big, luxurious SUV slays snow, but the turbodiesel doesn't make a strong case for itself.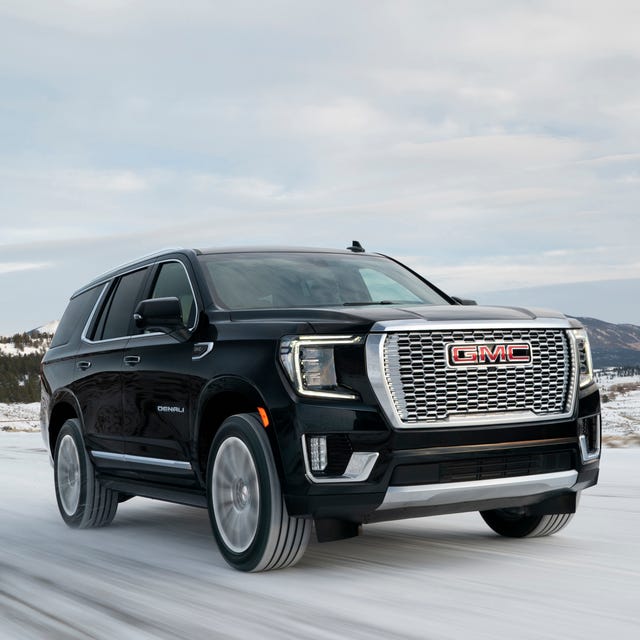 In recent years, the folks at GMC have managed to transform the Denali sub-brand into one of the more successful premium nameplates — and kept the GMC brand relevant in the process. These days, roughly one in four vehicles boasting the red block print logo sold are Denalis, with an average transaction price of more than $57,000 — higher than the average price of BMW, Jaguar or Audi.
But before it was on small crossovers and midsize pickup trucks and massive heavy-duty rigs, the Denali name debuted on the Yukon. Indeed, the Yukon Denali has served as the Cadillac Escalade's more reserved twin for more than two decades, ever since the days when a giant, luxurious SUV seemed rather ridiculous rather than a profit engine. While regular Yukons have grown fancier and Chevrolet has begun offering extra-fancy versions of the Tahoe and Suburban, the Escalade has continued to move upmarket, leaving room for the Yukon Denali to slide into a niche between them.
Among the surprises the latest generation of these giants brought to market, however, transcends any particular model. While most of the world is leaving diesel behind —thanks mostly to a flood of bad publicity dropped on it over the years — GM has brought a turbodiesel engine to its big SUVs. The 3.0-liter Duramax — also found in GM's full-size pickups — seems ideal for a giant sport-utility vehicle, in theory, with abundant torque down low and better gas mileage (so to speak) than the traditional V8.
But there's good on paper, and then there's good in practice. To find out how the new Yukon Denali handles the real world, I took a Duramax-powered version out for a long weekend to Vermont, to better put it through its paces. It impressed...for the most part.