This Tiny Camping Trailer Is Made for Outdoor Fun
The Winnebago Hike 100 is small enough to be towed by most SUVs, but packs all the features you need.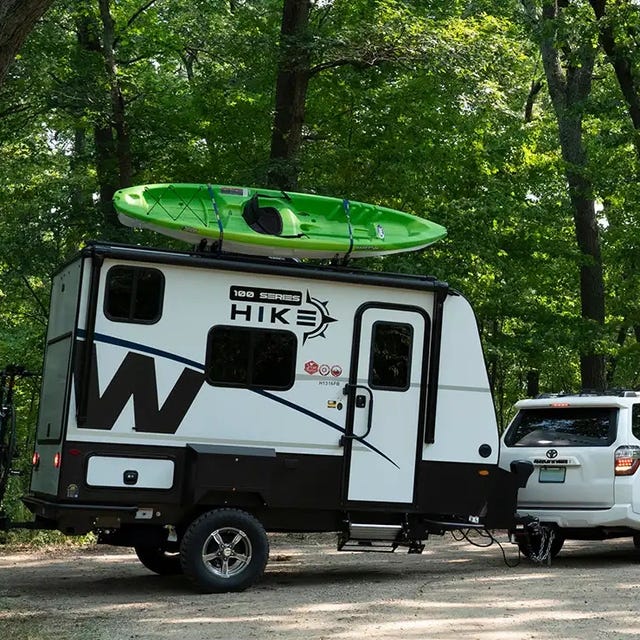 Let's be honest: if you clicked on this story (and you're reading these words, so you clearly did), odds are good that you've whittled away quite a few hours of your life thinking about camping trailer life. There's something endlessly appealing about the idea of gallivanting off to parts unknown with a little domicile behind you, the world open for exploration.
Of course, actual life with a trailer can be trickier: parking, purchasing and packing up your life inside all present various obstacles that you may not have expected. Winnebago's Hike 100 camping trailer, however, aims to lower the barrier to entry by packing all the most important comforts of home (and the cargo-carrying capacity needed to carry gear for outdoor fun) into a tidy, easy-to-haul package.
The Hike 100 is compact, but capable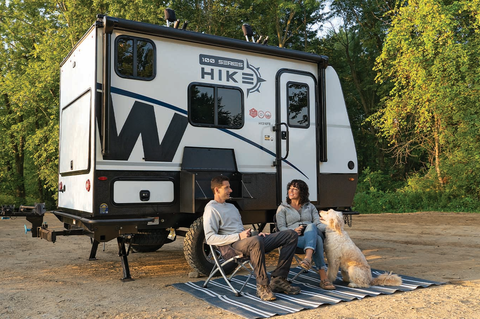 Families need not apply: as Winnebago's own pictures suggest, the Hike 100 is sized more for a couple (and maybe a dog or two) than for gaggles of adults and children. The trailer stretches less than 16 feet from stem to stern — shorter than many full-size pickup trucks. Plus, it's less than seven feet wide, which means your tow vehicle doesn't need special mirrors to see what's happening behind you.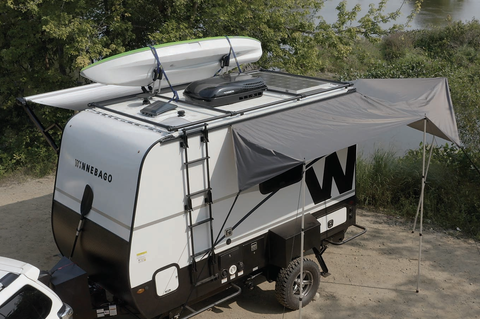 Of course, you buy a camping trailer like this not to live inside — if you want that, get an Airstream Classic — but to enjoy the great outdoors. To that end, the Hike 100 packs awnings on three sides that deliver coverage from sun and rain to more than 200 square feet of extra space around the trailer, shielding the outdoor kitchen nook, door and storage access points. The awnings also reconfigure to become a changing room or privacy partition for the outdoor shower, should you feel like cleaning off outside.
The Hike 100 also packs what Winnebago calls an "exoskeleton" — in other words, a series of mounting points to hold gear. Said exoskeleton is designed to work with Thule add-ons, making it easy to attach things like canoes, paddleboards, kayaks and so forth. Better yet, it's designed to allow you to haul gear without blocking the 190-watt solar panel on the roof.
The Hike 100's interior is compact, but comfy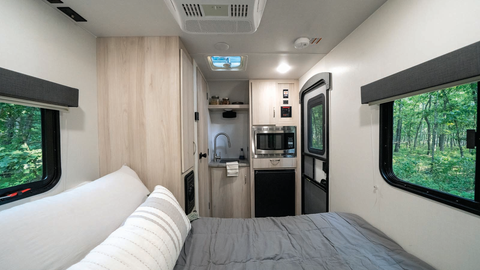 The Hike 100 offers five different interior layouts, but they all share certain characteristics: a small kitchenette with a fridge and microwave, a sink, a wet bath with shower and toilet and sleeping room for at least two people.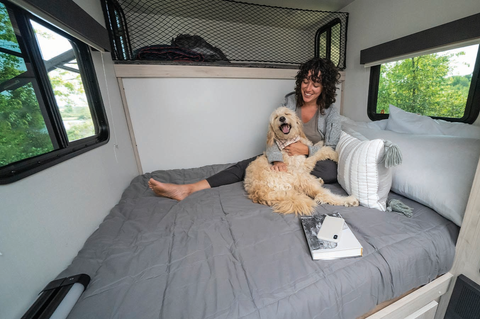 The layout seen here, the H1316FB, features an interior dominated by a queen-sized bed with a small loft bed / storage area above and behind. Other floor plans feature dining areas with drop-down beds, bunk bed / dinette combinations, couch / Murphy bed combos and loft bed / drop-down bed combinations — each of which also offers different cargo storage areas. (The one seen here, for example, has an outdoor-accessible storage area below the loft bed where an outdoor kitchen lives.)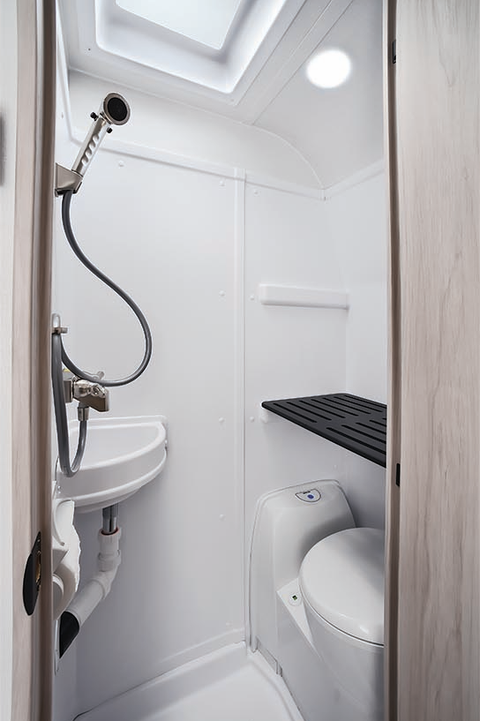 Like the kitchen sink, the wet bath (which doubles as a gear drying area) is fed from a 31-gallon freshwater tank; the water heater packs a six-gallon capacity, so both occupants should be able to score a decent hot shower. The gray water tank holds 25 gallons, while the dreaded black water tank holds just shy of five.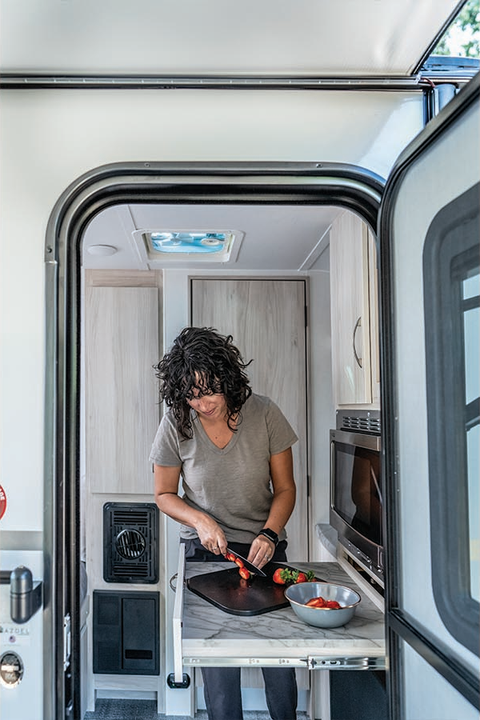 With no stove or oven (of the non-microwavable kind), the Hike 100 isn't exactly a chef's dream, but it still packs features designed to make meal prep as easy as possible — like, for example, a roll-out countertop. And thankfully, even tall folks don't need to fear working inside: the Hike 100 packs 77 inches of interior height.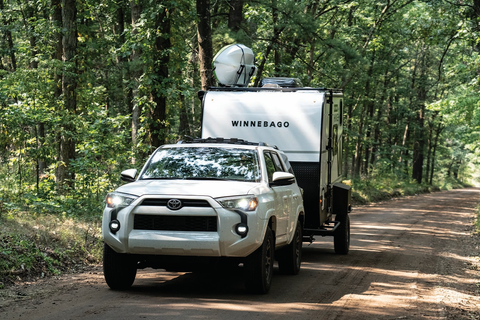 Winnebago hasn't released pricing for the Hike 100 yet, but with the larger Winnebago Hike starting at $29,605, we're guessing the new model will start around $25,000 when it hits dealerships as part of the company's 2022 lineup. We fully expect to see it be a staple of national park campsites by next summer.
Airstream and REI Partnered on a New Off-the-Grid Camping Trailer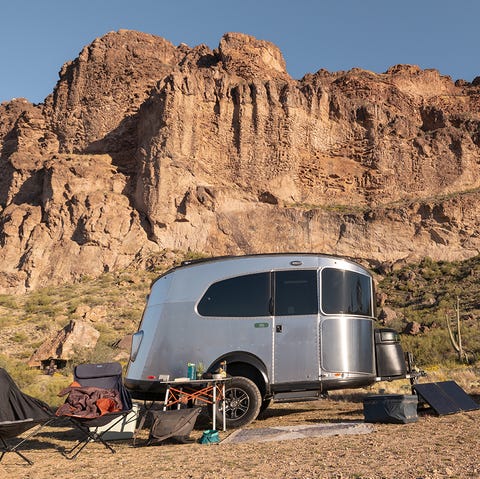 Sustainable construction, solar power and some sweet REI gear thrown in.
This content is created and maintained by a third party, and imported onto this page to help users provide their email addresses. You may be able to find more information about this and similar content at piano.io