The 2022 Jeep Grand Wagoneer Obsidian Is Made to Impress
Mighty fancy, mighty pricy and just plain mighty, the Grand Wagoneer makes a killer first (or second) impression.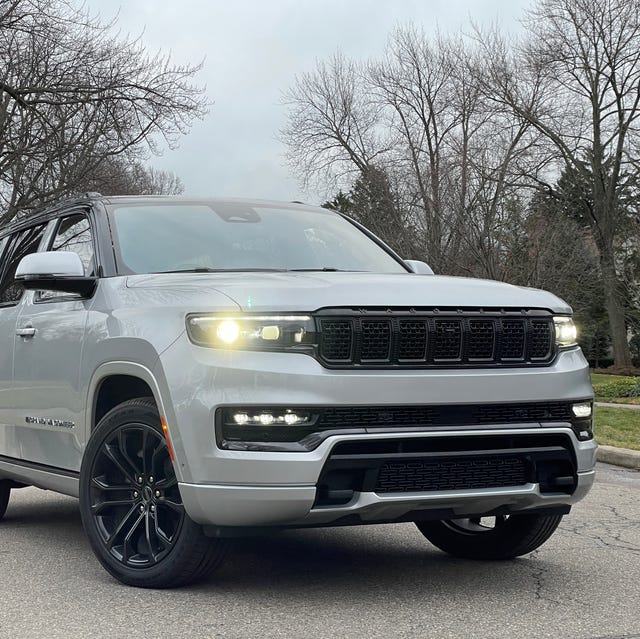 Turn on an NFL game (or whatever other form of mainstream network TV you still watch) anytime in the latter half of 2021, and odds are good it wouldn't be long until you caught one of those super-patriotic, quasi-jingoistic ads for the new Jeep Wagoneer / Grand Wagoneer twins. You know, the ones about how "the best things America makes are the things America makes out here" and how the flag on the passenger's side isn't backwards, it's "facing this way because it's moving forward just like the men and women who wear it on their uniforms."
But, like most SUVs, these all-American mega-Jeeps won't spend much of their lives climbing purple mountains majesty or crossing the sparkling sands of diamond deserts, let alone charging into battle with Stars and Stripes a-waiving. (Though, to be fair, I feel like Patton would have probably loved driving across Europe in one of these beasts.) No, most Wagoneers and Grand Wagoneers will spend their lives accomplishing more proletarian but no less important tasks: taking kids to and from school, bringing home Costco and Ikea loads large enough to qualify for C-17 airlift, taking long vacations to see long-awaited destinations (perhaps with a camping trailer in tow).
And, of course, driving to see family for the holidays. Which is exactly what I wound up using the Grand Wagoneer for.
The Grand Wagoneer's size is its strength (at least when you're not in a city)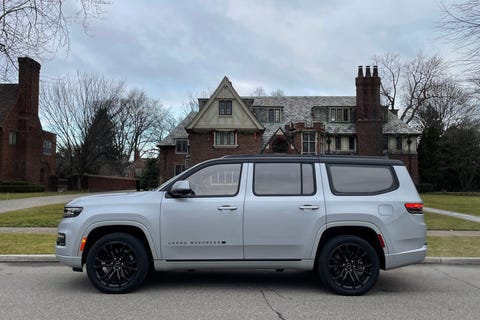 My first time 'round with the Wagoneer / Grand Wagoneer was spent traversing the urban jungle and suburban streets of the greater New York City area, where its full size-truck proportions felt like a detriment on many occasions. (It was awfully nice being able to both see over and intimidate my way through traffic, however.)
For the second go-round, however, I drove it through and around greater Detroit — a land largely more friendly to good-old-fashioned, large-and-in-charge American iron. On those wider lanes and straighter roads, this Canyonero feels just as home as I imagine it would driving past Monument Valley.
The pliant suspension makes for easy cruising; I even briefly felt nostalgic for my airline-avoiding 2020 road trips to and from Michigan, wishing for a moment that I'd driven the Grand Wagoneer there from New York rather than deal with hours of mask-wearing and the indignity of being folded into a seat meant for smaller men. And while the sky remained free of precipitate while I was there, believe me, knowing this giant Jeep's four-wheel-drive system and ample ground clearance would be capable of making sure we made it to my partners' folks house regardless of what nastiness the Midwest winter threw at us.
It's the Grand Wagoneer's interior that really sets it apart
My tester was the penultimate Obsidian trim, which somewhat awkwardly fits between the Series II and Series III trim levels. The differences between it and the other models are — perhaps unsurprisingly to linguists — largely characterized by black trim, both inside (on the headliner) and out (the grille and other otherwise-shiny trim, like the badges). The Series III packs ostensibly-nicer upholstery — it has quilted Palermo leather, versus just regular ol' Palermo leather — and standard 22-inch wheels, along with standard night vision and the option to add Level 2 highway driving assistance tech.
But regardless of whether you choose Series II, Obsidian or Series III, the cabin remains impressive. ("I really like this car," my partner's father — a former exec with a major automaker — said from the passenger's seat after a ride around town.) Even on the second time around, the array of screens still manages to wow, though the fact that key smartphone peripherals (the wireless charging pad, the USB port for CarPlay and Android Auto) sit behind the lower climate-and-seat touchscreen remains frustrating, especially when you forget to grab them on your way out of the car and have to turn it back on to retract the screen and grab them. The seats are comfortable as La-Z-Boys, and the massage function works better than in most cars. (Kudos to Jeep for having fun with it, too; I'm not sure having a massage mode called "Rock Climb" counts as an Easter egg, but it made me smile regardless).
As in the Ram 1500 Limited that inspired it, the attention to detail is
And the volume of interior space remains remarkable. We were able to execute a pre-Christmas party supply run just using the space behind the third row of seats; with them folded down and the SUV in four-seat configuration, we could have taken half a grocery store home with us.
It may not be eco-friendly, but it does its job well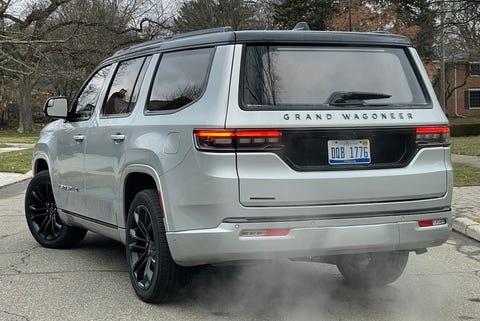 Granted, it's not perfect. Fuel economy remains a weakness, even for this class; based on my experiences with the Grand Wagoneer, owners will rarely, if ever, see gas mileage figures rise out of the teens, given this rig's mass, blockiness and very old-fashioned 6.4-liter V8, which has basically gone unchanged for a decade. At 15 mpg combined and with a need for premium gas, people in California will need to drop $100 in the tank every 300 miles.
Still, until the car world finally rolls out full-size EV SUVs in force — and serves up ample places to charge them on the go — a beast like this remains one of the best ways to carry four to six people across long distances and unexpected challenges, be they bad weather, bad roads, no roads, or whatever fresh hell 2022 and beyond choose to follow up 2020 and 2021 with.
Starting Price: $101,845
This content is created and maintained by a third party, and imported onto this page to help users provide their email addresses. You may be able to find more information about this and similar content at piano.io