Every product is carefully selected by our editors. If you buy from a link, we may earn a commission.
The Jeep Grand Wagoneer and Wagoneer Are Everything We Hoped
Jeep's new giant SUVs pack power, space, tech and luxury to spare.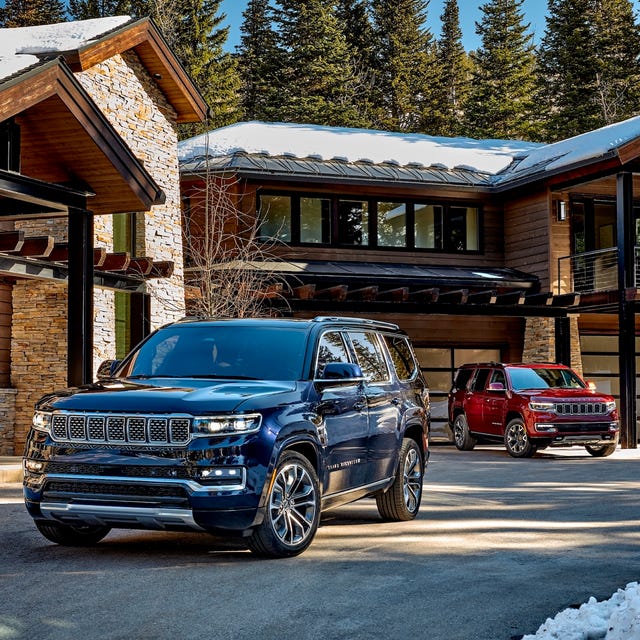 It's been more than a decade since Jeep offered a full-sized SUV. The previous version, the Commander, has gone largely forgotten into history; boxier than a Hummer and outfitted with the sort of garish interior common to premium Chrysler products of its time, it didn't have much going for it besides being large and in charge, and was discontinued in 2010 with little fanfare.
But before the Commander...there was the Wagoneer. From 1962 to 1991, the giant Jeep — which went by both Wagoneer and Grand Wagoneer at various points — was a staple of American roadways. Its popularity meant it could survive with few changes beneath the skin over its 29-year lifespan; indeed, it arguably helped create the demand for sport-utility vehicles that's been one of the driving forces of the U.S. passenger vehicle market for more than three decades now.
So here in 2021, when the time has come for Jeep to dive back into the world of full-size SUVs...is it any surprise it's reusing the Wagoneer name?
The Grand Wagoneer is Jeep's new king of the road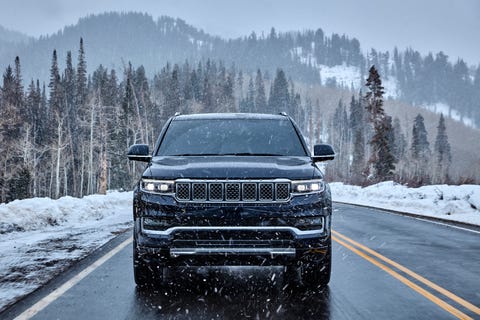 Well, off the road, too. The Grand Wagoneer sits at the very top of the Jeep lineup: the starter version, dubbed Grand Wagoneer Series I, starts at $88,995, including $2,000 destination fee; above that lie the $95,995 Series II, the $100,995 Obsidian, and the $105,995 Series III. Those prices line up fairly well with the spread offered by this rig's chief competitors, the Lincoln Navigator and Cadillac Escalade.
That thing got a Hemi? Indeed it does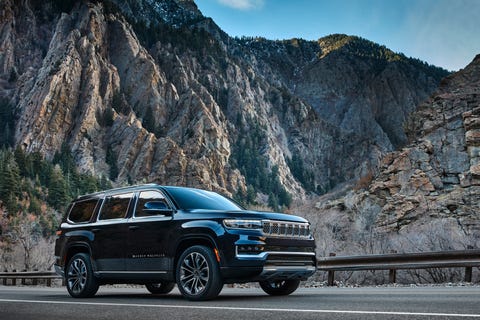 Anyone who recalls those obnoxious Dodge ads of the early Aughts should feel free to cite their catchphrase at Grand Wagoneer owners and know they'll receive a nodding response. Every Grand Wagoneer packs a 6.4-liter Hemi V8 making 471 horsepower and 455 lb-ft of torque, connect to an eight-speed automatic transmission.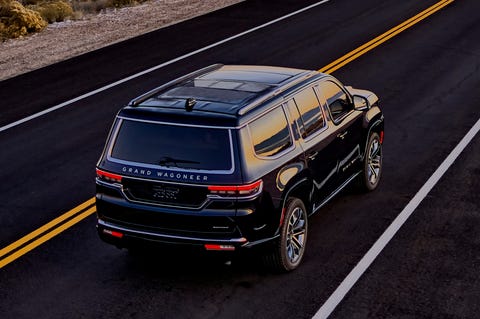 All Grand Wagoneers boast Jeep's Quadra-Drive II full-time four-wheel-drive, which adds an electronic limited-slip differential to the many, many other features found on the advanced system. As you'd expect of a fancy SUV these days, there are different drive modes for various terrain; the Selec-Terrain system offers Auto, Sport, Rock, Snow and Sand/Mud for the driver's pleasure.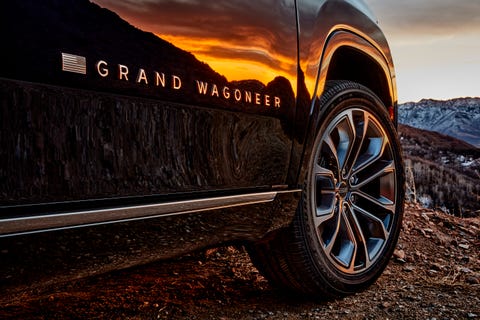 This is America, after all, and we like our rims big enough to make even our giant SUVs look proportionate by comparison. The Grand Wagoneer certainly delivers; whether you go for the aluminum ones or the polished version with black inserts, you'll score 22-inch wheels.
The distance between that Lee Greenwood lyric of a side logo and the ground can vary by as much as 3.6 inches, thanks to the standard Quadra-Lift air suspension. (We fully expect that to give the Grand Wagoneer the same sort of pleasant ride as we've found in Ram 1500 models with the air suspension, considering this Jeep shares much of its skeleton with that full-size pickup.)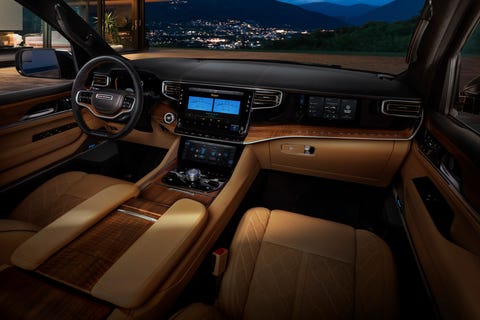 Odds are good you'll be hearing that from just about everyone who climbs aboard for the first time, considering just how luxurious the Grand Wagoneer's interior is. (You might also hear that since there's a distinct lack of Jeep logos on the vehicle, inside or out.)
In an homage to the wood-grain flanks of Grand Wagoneers of yore, the guts of the new model are laden with Satin American Walnut, while aluminum trim adds dashes of metallic accent across the cabin. Series I models have to make do with Nappa leather, while upper-trim versions offer quilted Palermo leather trim over the seats, door panels, instrument panel and elsewhere.
A McIntosh stereo as crisp as its namesake apple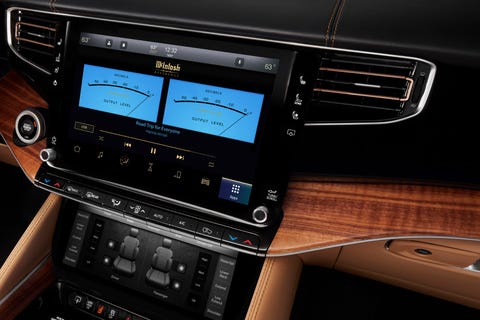 In fact, there are not one but two McIntosh stereos available in the new Grand Wagoneer. Series I and Series II models come standard with the 950-watt, 19-speaker MX950 system, which packs 17 channels and a 10-inch subwoofer. Optional on them but standard on the Obsidian and Series III is the MX1375 Reference Entertainment System, which packs 1,375 watts of power delivered across 24 channels to 23 speakers, including a 12-inch subwoofer.
While both stereos were developed specifically for the big Jeeps, however, only the MX1375 packs Adaptive 3D Surround Processing capabilities for maximum McIntosh effect.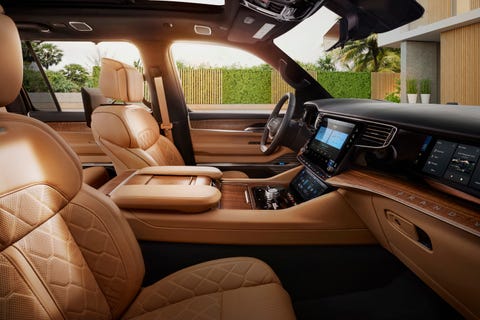 The Grand Wagoneer, along with the Wagoneer and Grand Cherokee L, marks Jeep's long-awaited play in the three-row SUV field, so it's not surprising that it offers seats for up to eight people. The front row, however, offers heated, ventilated and massaging 24-way power thrones, which makes it seem like the preferred place to watch the world go by from.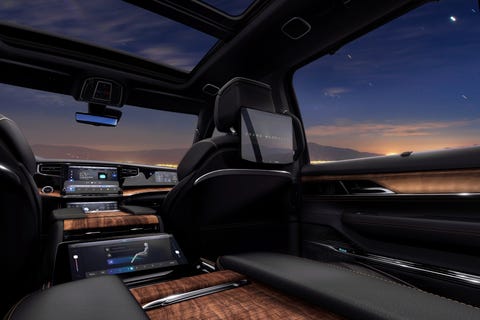 Then again, you could also make a pretty compelling argument for the second row, given that it offers standard captain's chairs — heated on all models, but heated and ventilated on Obsidian and Series III versions. That, and other climate concerns, can be handled using the 10.3-inch touchscreen between the two seats.
Each second-row occupant can also watch videos on individual 10.1-inch seat-back displays, if the Jeep comes with the Rear Seat Entertainment system. That includes the first vehicular integration of Amazon Fire TV, which serves up a bevy of content for the consuming.
Screens on screens on screens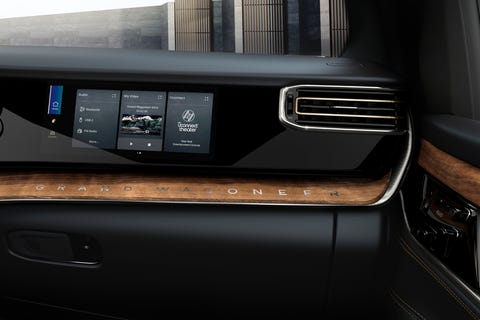 In fact, the Grand Wagoneer offers more screens than a Best Buy. Add up all the diagonals of the standard and optional displays, and you'll get a stunning 75 inches.
The passenger-side display technology once found in Ferraris and Porsches alone has now trickled down to Jeep, in the form of an available 10.3-inch touchscreen in the dashboard that let's the shotgun rider control the navigation system, peep the views from the exterior cameras or play entertainment, including Fire TV for Auto content.
These Are the 16 Best Cars to Buy in 2021
Kelley Blue Book has released their best cars to buy awards for 2021. The results may surprise you.
Seriously, so many screens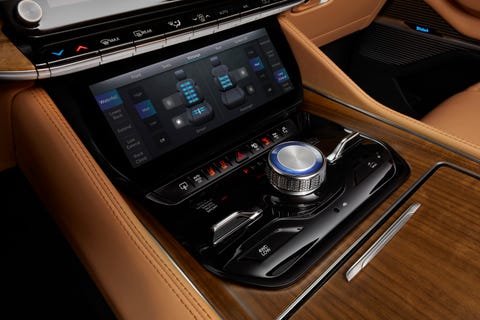 Up front, the driver gets their important information from a 12.3-inch digital instrument panel, while a 12-inch touchscreen running the latest version of the UConnect operating system handles infotainment concerns. Below that, in turn, lies a 10.3-inch touchscreen dedicates to handling the four-zone climate control.
The Jeep Wagoneer looks awfully similar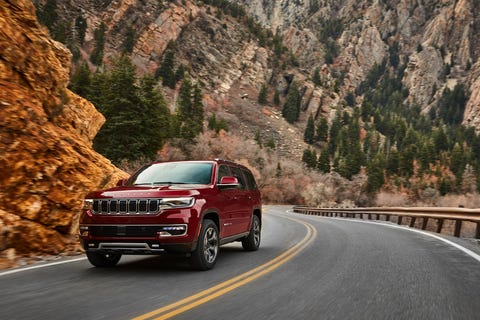 Yep, that red Jeep seen here is a plain old Wagoneer, not the Grand Wagoneer seen above in blue form. Notice much of a difference? Probably not. From the outside, the most noticeable variance is the lack of the word "GRAND" in grand font anywhere.
There's a Hemi here too, and it's a hybrid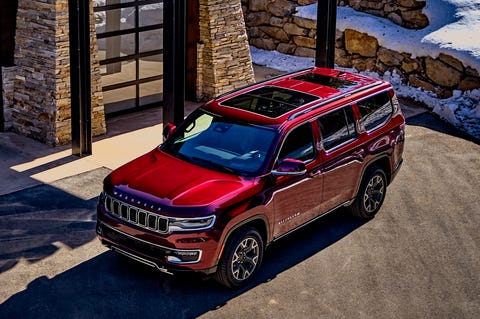 The Wagoneer is down a bit on power and displacement compared with its Grand sibling; it packs a 5.7-liter V8 that makes 392 horses and 404 lb-ft. The Wagoneer's Hemi, though, comes mated to a 49-volt mild hybrid system that helps smooth out the drive by adding torque at low engine speeds and making for more seamless start/stop and coasting functionality.

Your choice of four ways to drive the wheels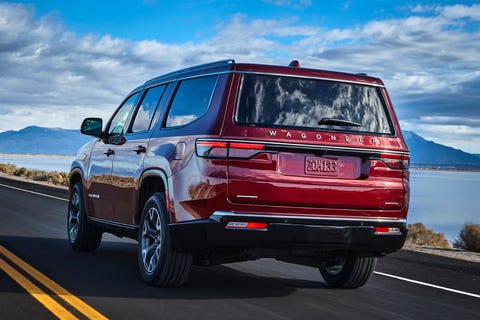 While coil springs are standard, the Grand Wagoneer's adaptive air suspension is available on both Series II and Series III Wagoneers, as well.
The entry-level Wagoneer Series I only comes in rear-wheel-drive, at least when it launches (after the other versions hit the streets). The Wagoneer Series II and II also come with 2WD as standard, but if you want 4WD, you'll find different options at hand. The Series II offers Quadra-Trac I all-wheel-drive, while the Series III packs Quadra-Trac II 4WD, which adds low range and hill descent control — and both offer the Grand Wagoneer's Quadra-Drive II if you tick the right option box.
There's also a box for the available Advanced All-Terrain Group, which isn't offered on the Grand Wagoneer. Opt for it, and the Wagoneer adds off-road wheels and tires, the air suspension, chrome tow hooks, an e-LSD, skid plates aplenty and, in the case of the Series II that doesn't offer it already — true 4WD with low range.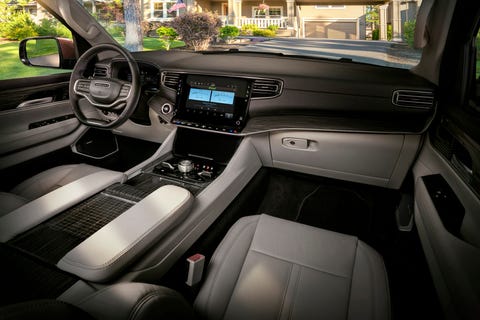 It may not be as nice as the Grand Wagoneer, but the lesser version is no penalty box inside. It's just as roomy as the Grand one, after all, and still packs plenty of tech — a 10.3-inch digital instrument panel, a 10.1-inch infotainment screen and a 10.3-inch touchscreen for the climate control are all standard. The regular Wagoneer offers Nappa leather trim as standard, as well.
Basic Wagoneers pack a nine-speaker Alpine stereo, but if you want a McIntosh system without going Grand, you can grab the lesser MX950 setup in the Series III as part of an option package.
Both big Jeeps are big on safety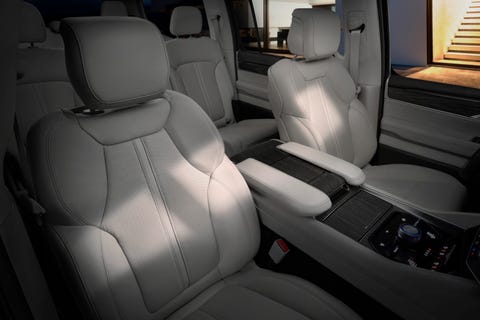 Wagoneer and Grand Wagoneer alike come loaded with safety features, active and passive alike. Pedestrian-, cyclist- and vehicle-detecting automatic emergency braking, active stop-and-go cruise control, lane keep assist, blind spot detection, rear cross path detection, rear parking sonar — all standard on both. And should worst come to worst, the big Jeep packs eight airbags...and, y'know, a giant pickup truck-based body.
If you want more driver assistance features, you can level up to 360-degree cameras, organism-detecting night vision, intersection collision prevention, drowsy driver detection and Level 2 driving assistance all come optional on Wagoneer and either standard or optional on Grand Wagoneer.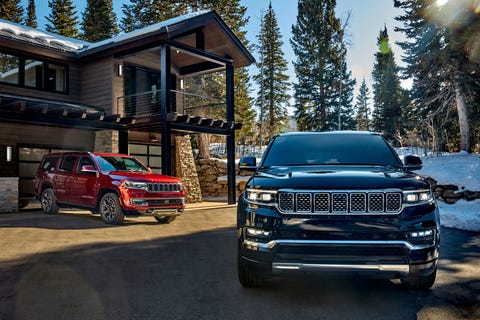 The Wagoneer starts at $59,995 for the 2WD-only Series I, but that won't be available at launch; if you want one of the first examples, you'll pay at least $69,995 for a Series II — or $72,995 for a four-wheel-drive example. 2WD and 4WD examples of the Series III each cost $5,000 more than the Series II versions.
Both Grand Wagoneer and Wagoneer will hit showrooms by the second half of the year, but if you already know you want one, you can walk your fingers over to Wagoneer.com and be connected with one of Jeep's new Wagoneer Client Services concierges (after putting down a $500 deposit, of course) to place your order.
The 11 Pieces of Gear You Absolutely Need for Car Camping
Car camping makes getting away easy as pie. These items will make it even tastier.