The 2022 Jeep Grand Wagoneer Is Made to Battle Monsters
The new Grand Wagoneer takes the fight to the Escalade and Navigator on their own turf.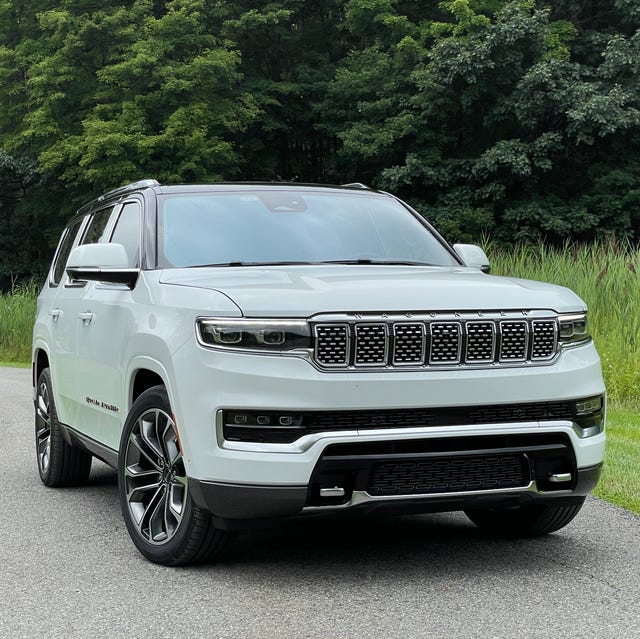 To fight monsters, we created monsters. That was the tagline of the delightfully silly film Pacific Rim, but it might as well have been the mission brief for Fiat Chrysler Automobiles (now Stellantis) when it came to creating the 2022 Wagoneer and Grand Wagoneer.
Ford, General Motors, Toyota, Nissan, Mercedes-Benz, BMW — full-size SUVs have been spawning forth from the abyss in ever-increasing numbers, growing more powerful with every new occurrence for years now. Yet FCA / Stellantis was without a line of direct defense against these family-hauling kaiju. Hemis be damned, Dodge Durangos and Jeep Grand Cherokees didn't pack the punch needed to battle these behemoths. To fight the monster SUVs, Stellantis needed to build a monster SUV.
Enter: the Wagoneer. Or rather, two of them: the regular Jeep Wagoneer, made to mix it up with comparatively prolechariot three-row sport-utes like the Chevy Tahoe, Ford Expedition and Toyota Sequoia; and the Grand Wagoneer flagship, which takes the same platform and outfits it with a luxury-car interior, a more powerful engine and enough brightwork to dazzle radar-guided missiles. It's the latter that we took for a spin around New York City and its environs for our first drive.
What is the Jeep Grand Wagoneer?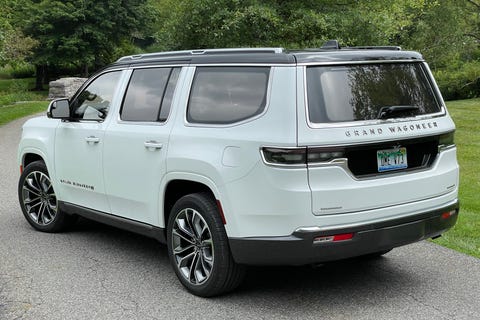 As mentioned, it's the luxury version of Jeep's full-size SUV. Its skeleton is a body-on-frame chassis that shares quite a bit with Ram's full-size pickup trucks; it's body, however, is certainly recognizable as a Jeep.
Good thing, too, as there isn't a single Jeep badge to be found on this beast of burden: not on the steering wheel, not on the dash, not on the hood or tailgate, not even on the window sticker or owners' manual. (You even have to dig deep to find them on Jeep's website.) The presence of the American flag emblem on each of the front doors means that, looking at the passenger's side, the vehicle's name would seemingly read as "United States Grand Wagoneer" — an affiliation Jeep probably would be happy to assume.
Stellantis is working hard to make the Wagoneer / Grand Wagoneer stand as something of a subtle sub-brand without going full Genesis; for now, though, expect there to be some questions, both from buyers seeking to buy one (they'll have to find a Certified Wagoneer Ambassador at their local dealership) and from passers-by who, like the gentleman who hollered at me from his car while I was parked at a rest stop, want to know exactly what this Jeep-that-doesn't-say-Jeep is.

What's new about the Grand Wagoneer?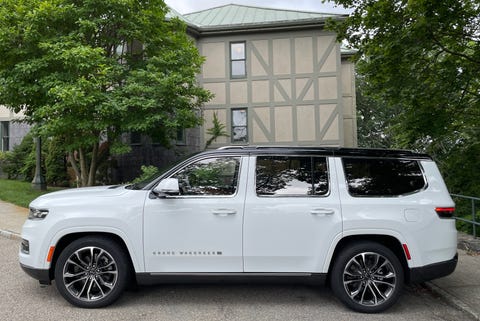 Basically everything. Jeep hasn't been even close to the full-size SUV space since the Commander went extinct in 2010, but that Grand Cherokee-based unibody ride was a far cry from the sturdy, trucklike rigs made by GM and Ford; indeed, in hindsight, it's almost easier to think of it as predecessor to the Grand Cherokee L than an intermediate between the new Wagoneer/Grand Wagoneer and their namesakes that died off in 1991.
In taking the fight to the other big sport-utes, Jeep chose a design that hides the mighty footprint of this beast. Where the GM and Ford full-sizers seem to lean into their size, even exaggerate it with their style, the Jeeps try to downplay it a little. Which means you don't really realize they're the same size as Tahoes and Expeditions until you find yourself staring eye to eye with their drivers.
There are a few details to the design that don't gel to my eyes — the way the belt line rises to meet the D-pillar feels like an attempt to trick people into thinking of the Mercedes-Benz GLS, and the standard black roof means that the rear view brings to mind Abe Lincoln's stovepipe hat — but generally, it's a look that manages to be fresh and rewarding to the eye (the grille, for example, is a wonderfully detailed piece of work) while still remaining subconsciously familiar.
What's the Grand Wagoneer like inside?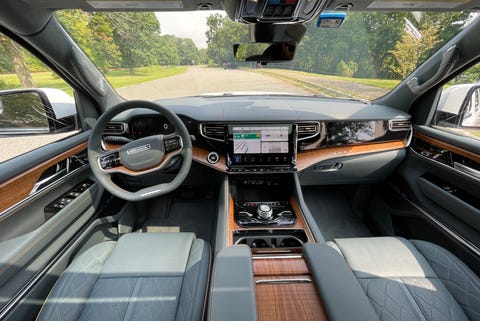 Opulent doesn't seem like too strong a word. Neither does class-leading (okay, fine, that's a two-word hyphenate) — at least, based on the top-of-the-line Series III model I tested. The leather and wood would make an Escalade blush with their color and quality; it looks more like the sort of thing you'd get if you tasked the folks from Audi with creating an American SUV's insides. Blue leather isn't often my thing, but the blue agave-inspired cowhide of my tester was unexpectedly tasteful.
In terms of comfort, it's more or less tied with the likes of its American rivals — which is to say, about as comfy as a motor vehicle can be. The seats are adjustable in nigh-infinite ways, and supple and supportive enough to keep you happy longer than the gas tank (or your bladder) will support. And should you find yourself getting sore somehow, the excellent front seat massagers will happily work out potential knots before they form.
Fans of screens will be torn between this and the Escalade; while the Cadillac's curved 38-inch OLED display is more elegant, the Grand Wagoneer's sheer onslaught of glass panels simply overwhelms. There are no fewer than three touchscreens for the infotainment and climate control mounted up front, including the passenger's-side display — an idea pioneered by Ferrari but scaled up here to even allow the shotgun rider to watch videos while on the move. (And don't forget about the climate control touchscreen and optional dual video monitors for the second row.)
Of course, no review of the Grand Wagoneer would be complete without at least a passing mention of its McIntosh stereo — which, in the case of the Series III, means the top-of-the-line the 24-channel MX1375 Reference Entertainment System that delivers 1,375 watts to 23 speakers. Much like the top-shelf setups found in vehicles like the Escalade and Acura MDX, it's good enough that it's hard to appreciate just how good it is while using sources like, say, satellite radio; it demands the highest-quality audio for max effect.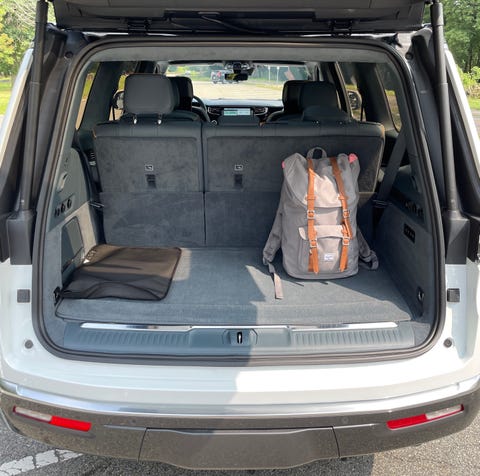 It's incredibly spacious in there, to boot. (I may have quoted Bart Simpson's "Wow, this is roomy" insight about the famous fictional Canyonero when I first climbed aboard.) Plenty of three-row SUVs stretch the limits of the term by offering third rows that eat up basically all the cargo space, deliver basically no usable legroom, or both. The Grand Wagoneer? Quite the opposite.
Doing the old "sit behind myself" test — in which I set all the seats so that they're comfortable for my lanky six-foot-four frame — I was stunned to find that I could fit comfortably in all three rows. Granted, the third row wasn't exactly first-class accomodations, but I had enough space to wiggle my legs about, and thanks to the secondary glass roof panel in back, I didn't feel claustrophobic, either. Add in the USB-C ports back there to keep third-row occupants distracted by their phones, and you could easily fit six people my height in the Grand Wagoneer for several hours at a time.
The picture above? That's the cargo space behind the third row, with my fairly large backpack for scale. If I had to guess, you could easily fit at least half a dozen carry-on bags back there. Fold down the third row, and there's enough cargo space to hold an apartment worth of IKEA flat-pack furniture; fold down the second and third rows, and there's enough space for even people my height to stretch out and sleep.
Like the exterior, the insides aren't flawless. The turn signal stalk is the same plastic unit found in basically every other Jeep; I wouldn't have thought twice about it were it not for the fact that it feels so much cheaper than everything else your fingers touch inside. And the power-folding climate control screen that doubles as the cover for the phone storage area, annoyingly, doesn't operate when the car is on accessory power – which means that, if you forget to grab your phone out of its designated slot before you turn the car off (as I did twice), you have to turn the Grand Wagoneer back on in order to recover it. Still, overall, it's an exceptional effort — exactly the sort of thing you'd expect if the folks who created the Ram 1500 Limited's delightful guts were given a bigger budget to work with.
What's the Grand Wagoneer like to drive?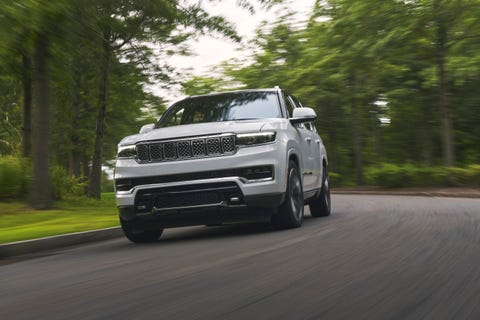 Unexceptionally nice. Not that that's an insult; rather, it means the engineers did a great job of making the experience unobtrusive. It's a Jeep, and it's a family-hauling luxury SUV; the driving experience is meant to be easy, not fun.
You could certainly get away thinking it was smaller than it is from behind the wheel; it never feels unwieldy or overly large. The 6.4-liter V8's 471 horses and 455 lb-ft of torque give a decent amount of oomph, even though they have around 6,400 pounds of SUV to push around before you even put one soul aboard; it's not going to win many drag races, but it should be quick enough to dash from 0 to 60 mph in under six seconds. (One small treat: the supple roar coming from the tailpipes when you hammer it.)
The standard air suspension helps this heavy beast ride smoothly; that said, there's still a bit more noise and vibration coming through than I'd have expected. My guess: don't blame the shocks and dampers, blame the 22-inch wheels, whose mighty diameter means the tires have to live with thinner sidewalls that transmit more of any impact into the cabin.
How much does the Grand Wagoneer cost?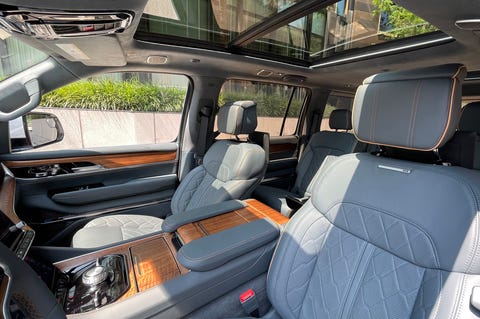 Well, it does have Grand in the name, so don't be surprised that it ain't cheap. The Grand Wagoneer comes in four trim levels, known as Series I, Series II, Obsidian and Series III; the "basic" (but still very well-equipped) Series I starts at $88,995 after destination, while the top-shelf Series III goes for $105,995, with the other two falling in-between. My loaded Series III tester — equipped with the heavy-duty towing package, the rear-seat entertainment system and pricier wheels — rang up the register at one Andrew Jackson short of $110,000.

What are the main alternatives to the Grand Wagoneer?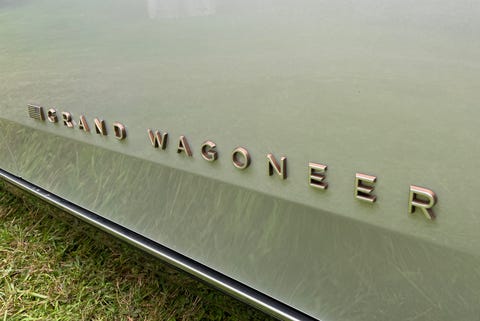 If that sounds like a lot of money for a Jeep...well, you're probably starting to understand why Stellantis doesn't put any Jeep badges on this thing. Stacked against the competition, however, it fits in pretty well. A four-wheel-drive Cadillac Escalade starts at $80,840, and runs up past $117K with all the boxes checked; a 4WD Lincoln Navigator starts at $81,315, and pushes up to around $105K with every option. If a five-grand difference is enough to break the bank for you, you probably shouldn't be shopping cheap-house-priced SUVs.
The big question is, though — is the Grand Wagoneer worth buying over the likes of its domestic foes? Well, the Cadillac and Lincoln are perhaps a bit more fun to drive, should you be the odd sort who prioritizes that above all else in their three-row luxury SUV. On the flipside, the Grand Wagoneer certainly looks more luxurious inside, which could give it a leg up with some. But all three offer roughly equivalent levels of space, comfort and capability.
Ultimately, deciding between the three biggest American luxury SUVs will come down to personal preference; each offers a slightly different vision of what a giant fancy sport-ute should be, while doing all the things people ask of such beasts. That might make it sound as though Jeep failed by not delivering a knockout punch, but that's hardly the case. Kaiju don't fall easily; Jeep simply managed to build the jaeger it needed to go toe-to-toe with them.
The 2022 Jeep Grand Wagoneer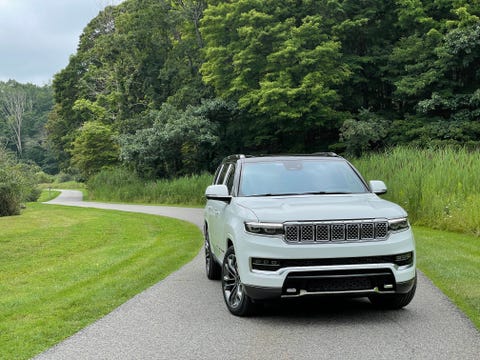 Base Price / Price as Tested: $88,995 / $109,980
Powertrain: 6.4-liter V8; eight-speed automatic; four-wheel-drive
Horsepower: 471
Torque: 455 lb-ft
EPA Fuel Economy: 13 mpg city, 18 mpg highway
Seats: Seven to eight
Is the Cadillac Escalade the Perfect Road Trip Vehicle?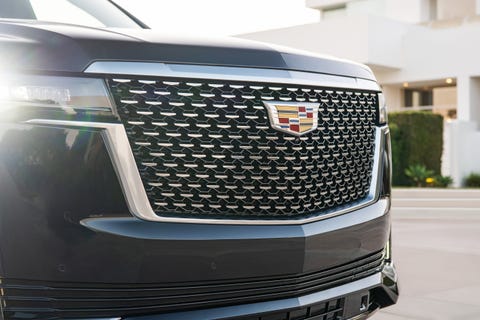 If you need to log long miles, it's hard to beat Cadillac's luxury mammoth.