Toyota's New GR Corolla Is the Hot Hatch We've Always Deserved
All the things we like about Toyotas, combined with all we love about hot hatchbacks.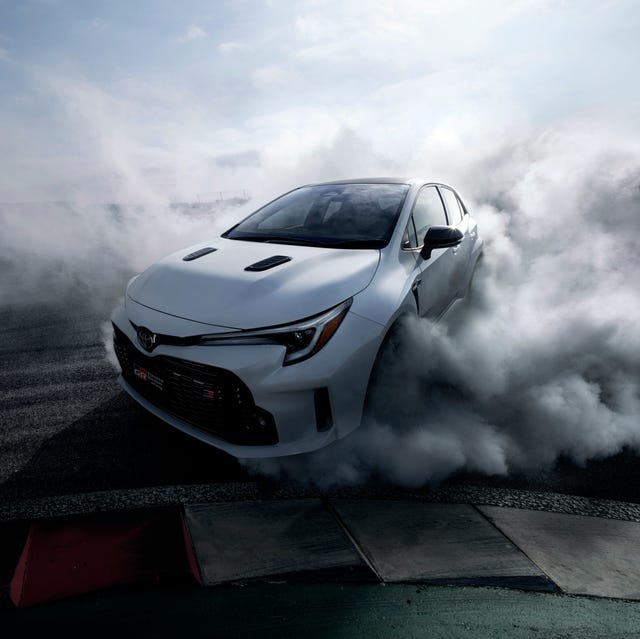 Toyota has never really been one for the hot hatch category — at least, not as we currently know it in America. Oh, sure, the AE86 Corolla of the '80s came in liftback form, but it was more pint-sized sports car than spicy hatchback. No, hot hatches and their ilk — cars like the Honda Civic Type R, the Subaru WRX and STI, the Ford Focus RS and Fiesta ST, the dearly departed Mitsubishi Lancer Evo — take pride in their proletarian roots, making no secret that they're over-the-top versions of the cars favored by budget-conscious buyers. Indeed, that's part of their appeal: all the convenience of a small hatchback, just with a ton of added yeehaw.
But Toyota, for all its recent full-court press into performance and driving fun, has left its lineup free of such a car. The GR 86 and Supra are there on the affordable end of the sports car spectrum, sure, but neither is all that practical — at least, compared to a five-seat car with a hatch. The regular Corolla does offer a six-speed stick, to its credit, but that's about the sportiest part of it; otherwise, it's simply a very solid, dependable little car.
That all changes today, however. Meet the 2023 Toyota GR Corolla.
The 2023 GR Corolla packs a wallop of performance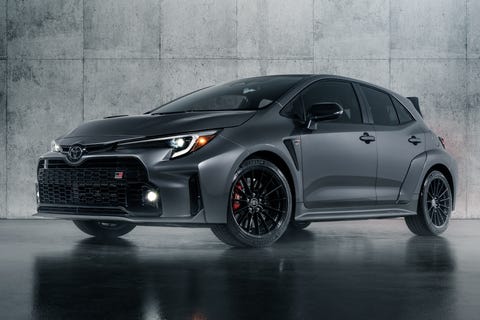 Name aside, any hot hatch is ultimately defined by its powertrain, and the GR Corolla has what it takes to battle the big dogs. Under its sloping hood lies an engine making 300 horsepower and 273 lb-ft of torque — the latter available starting as early as 3,000 rpm.
That power then heads to a six-speed manual gearbox with rev-matching, before being routed to all four wheels courtesy of what Toyota calls "the GR-FOUR All-Wheel-Drive system." Most notably, the new AWD setup enables drivers to choose how they want to divy the power up between the axles; while it defaults to a 40/60 front/rear torque split, with the twist of a knob, drivers can choose to send 70 percent of the power to the tail end — or switch to an even 50/50 power split.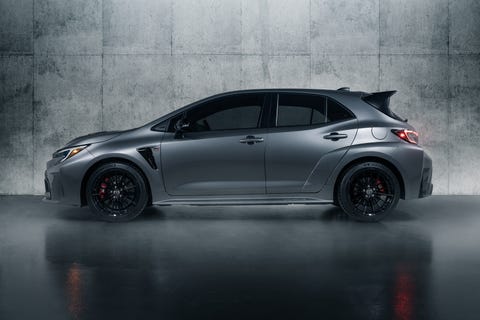 Opt for the Circuit Edition seen here — which Toyota claims will only be available for 2023, although we have a feeling it'll stick around in one form or another down the road — and you also get front and rear limited-slip differentials, to make the most of the grip in turns at both ends. Base models (called the GR Corolla Core) use open diffs, unless you opt for the Performance Package.
The GR Corolla looks the hot hatch part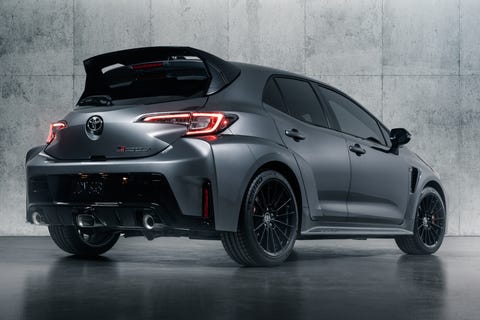 A true hot hatch needs to distinguish itself from its more basic brethren at a glance, and the GR Corolla certainly satisfies there. 18-inch wheels wearing Michelin Pilot Sport tires sit over 14-inch front brakes and 11.7-inch rear ones, with aggressively flared fenders over all four corners. Wind is managed through a series of aerodynamic channels in the largely-aluminum body work, from the canards up front to the spoiler in the rear. Out back, a tri-tip exhaust system lets the engine sing its song loud and proud.
The GR Corolla makes big power from a small engine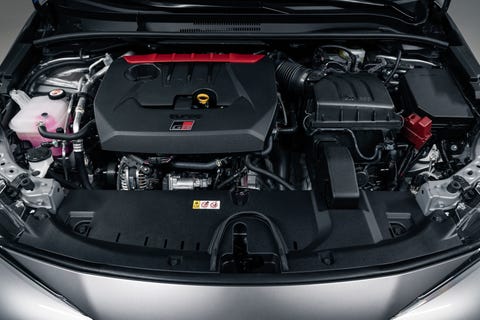 With marquee horsepower and torque figures like it has, you might expect the GR Corolla to be packing as many as six cylinders under the hood — or at the very least, four pistons and a big snail of a turbocharger. You'd be right about the turbo, but off on the cylinder count: the 2023 GR Corolla actually makes its power from a 1.6-liter three-cylinder engine. It's the same engine found in the much-loved (and very much unavailable in America) GR Yaris.
This Toyota is still livable inside, in spite of its hot hatch nature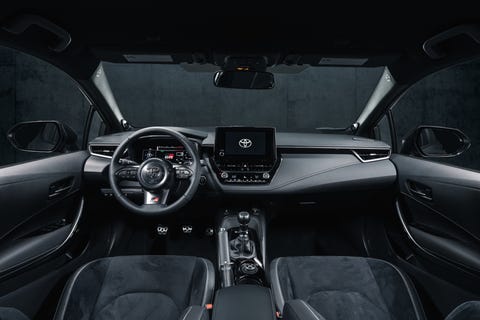 It may pack a delightful amount of pop, but the GR Corolla is still a Toyota above all else, so it's safe, too. Every example comes with the blend of pedestrian- and car-capable pre-collision detection, active cruise control, lane departure warning, blind spot warning and automatic high beams, among many other safety features.
Of course, there are also concessions made to the car's zippy nature. The throw of the shifter is shorter for snappier moves, and the instrument panel can show all sorts of GR-exclusive info, such as current 4WD mode and turbo pressure. And the parking brake, blessedly, remains of the good-old-fashioned, drift-tastic manual pull-type variety.
Choose the base model, and you'll find cloth sport seats inside; spring for the fancier Circuit trim, however, and you'll get faux leather and suede-trimmed sport seats, as well as automatic climate control, one-touch power windows, heated seats and steering wheel and a wireless smartphone charger, among other features. All versions do get an 8.0-inch touchscreen infotainment system with Apple CarPlay and Android Auto, however.
GR Corolla pricing remains a mystery, but we're hoping for a bargain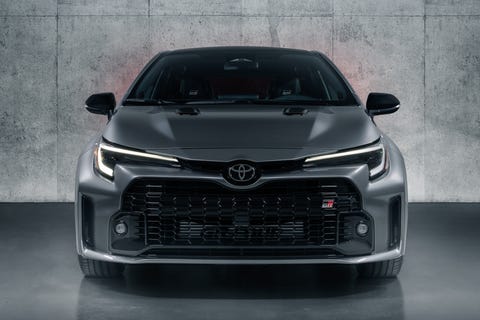 Read between the lines here, and it becomes clear that Toyota seems interested in making sure that the base-model GR Corolla is, well, very much a base model — one that only comes with the basic necessities. While Toyota hasn't revealed pricing for the hot hatch yet, that has us hopeful that the company plans to offer the GR Corolla at a very aggressive base price — presumably for both marketing purposes and to offer a good base platform for tuners who would just rip out most of the fancy frippery anyway.
Toyota says we'll find out pricing later this year, before the GR Corolla goes on sale (obviously). No matter what they choose to charge for it, however, we're excited to see it on the streets — and who knows, maybe in our driveways.
The Best Cars You Can Buy in 2022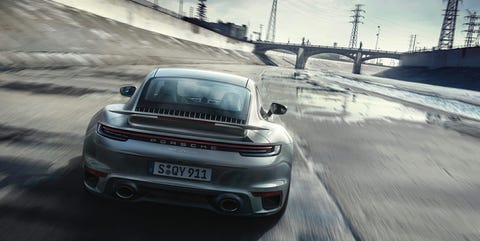 Looking for a great new ride? Start looking here.