The 2022 Audi S5 Sportback Is Unexpectedly Delightful
A strong utility outfielder in the sport sedan game.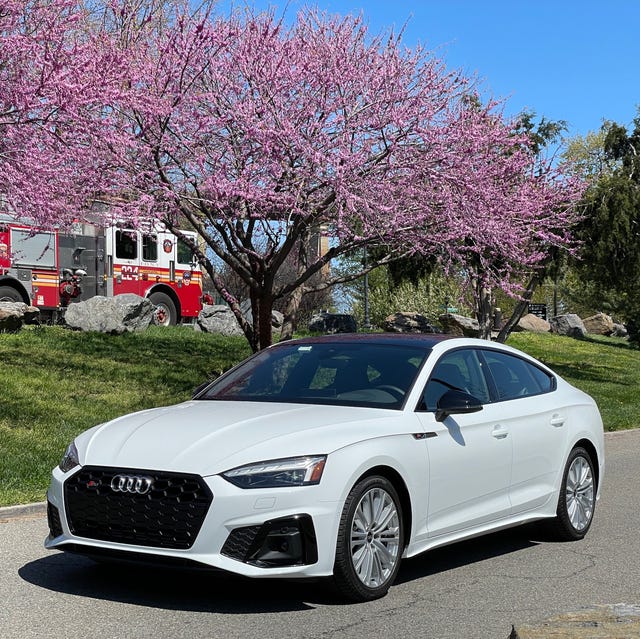 The first really quick car I ever drove in my career as a car writer was a car very much like the Audi S5 Sportback. As a matter of fact, it was an Audi S4 — the more traditional-looking twin of this Sportback — equipped with a dual-clutch gearbox and a 329-horsepower supercharged V6 — and to my young self, it felt insanely rapid and absolutely brilliant.
This was back in 2010, however, when Audi was just launching the predecessor generation to the B9-generation A4/A5/S4/S5 you came here to read about. 12 years may feel like an eternity in the automotive world — at least, the 12 particular years between then and now certainly does — but Audi's compact sport sedan duo hasn't changed all that much in that time. There's still a forced-induction V6 under the hood, although it's gone from a supercharged to turbocharged; it still, of course, boasts all-wheel-drive; and while the interior has evolved, today's car still feels closely related to that one from more than a decade ago inside, from the design and layout of the radio to the pebbled leather of the three-point steering wheel.
So here, a dozen years and one and a half generations of car later, I find myself once again piloting a compact Audi sport sedan around New York City. And, as it turns out, even scrubbed clean of nostalgia, it's a damn nice car.
The S5 Sportback is just powerful enough for the real world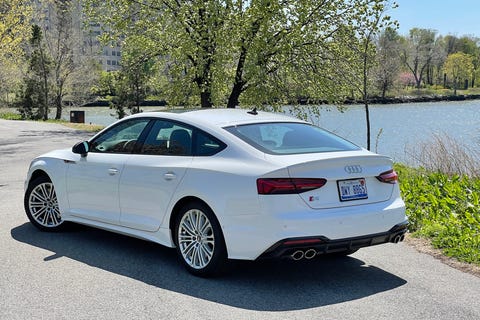 The 0-60-mph sprint takes four and a half seconds, according to Audi; in the real world, you probably won't close in on that unless you fire off a launch control start, as the single turbo takes a bit longer to fire up than the twin-turbo units found in the S6 and S7. Still, once the engine revs close to — or better yet, past — 3,000 rpm, the S5 bolts forward like a scared mare. The eight-speed automatic is of the traditional torque converter variety, but you'd never guess based on how quickly it snaps off downshifts when on the boil. Unless your (hopefully) imaginary pursuers are driving something with serious sports car credentials, odds are good you can outrun them in this Audi.

The S5 Sportback boasts a quartet of drive modes (comfort, auto, dynamic and individual, for the record), but without an adaptive suspension to change up the ride firmness, there's little point to using them. Ignore those modes; the only change you need to make when you want to drive briskly is to click the shift lever back into Sport, which adjusts the shift map from lethargic fuel-saving to quick-to-downshift boy racer.
Even if the suspension could be firmed up, though, it wouldn't really fit the character of the car. The S5 isn't meant to be a track machine — buy an RS 3 or RS 5 if you want that — but the gentle body roll in turns makes it feel even quicker (and more fun) than it already is. Plus, the ride is pleasantly smooth even over battered urban roadways. All told, the S5 Sportback's balance of performance may not stand out on the spec sheet, but it's more than plenty for fun on the street.
The Audi S5 Sportback excels at being stylish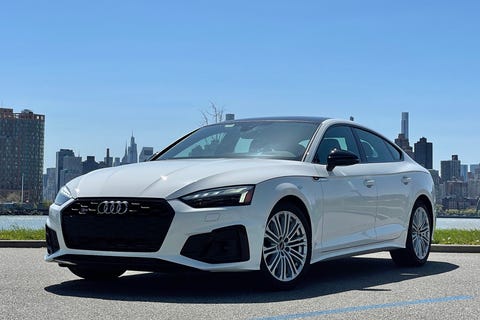 Of course, you could have all those things for a few thousand dollars less by opting for the 2022 Audi S4. Doing so would be reasonable, even prudent, if one can call buying a sport sedan that. But compared to the Sportback, the S4 looks, well, dour. The sedan only stands out from the army of Corollas and Civics and Camrys by virtue of some silver accents on its faux front air vents; the hatchback, on the other hand, is a truly elegant shape, with the intimation of power beneath its bulging hood and of speed in its sweetly flowing roofline.
Those looks make it a standout amongst its competitors, too. The latest generation of the BMW 4 Series Gran Coupe suffers from the same need of rhinoplasty that affects the M3 and M4; Mercedes-Benz doesn't offer any sort of "four-door coupe" variant of the C-Class, and the regular sedan looks clean, but not nearly as sporty. The Lexus IS 500 F Sport Performance is more powerful and avant-garde to the S5 Sportback's elegance, but it feels half a size smaller inside, and
Perhaps the closest, most appealing alternative is the Cadillac CT5-V, which also offers AWD and is priced closely to the Audi, both for entry-level and fully-equipped versions. It's a dynamic, compelling car — one, in all honesty, I would likely choose over the Audi with my hard-earned bucks. But I'd feel a bit insecure about it every time I saw an S5 Sportback pass me by.
2022 Audi S5 Sportback
Base Price / Price as Tested: $55,945 / $65,745
Powertrain: 3.0-liter turbocharged V6; eight-speed automatic; all-wheel-drive
Horsepower: 349
Torque: 369 lb-ft
EPA Fuel Economy: 21 mpg city, 30 mpg highway
Seats: Five
The Electric Cars We're Most Excited to Drive in the Future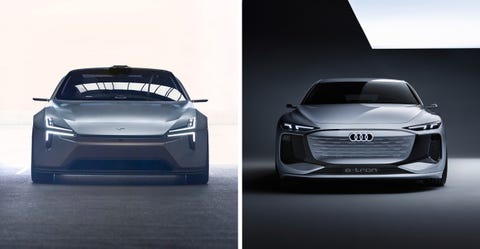 The next few years will be packed with new EVs. These are the ones that have us jazzed the most.
This content is created and maintained by a third party, and imported onto this page to help users provide their email addresses. You may be able to find more information about this and similar content at piano.io