2023 Toyota Crown Review: A Weird, Flashy, Easy-to-Enter Avalon
Meet the hot new Toyota that younger empty nesters hopefully can't wait to get their hands on.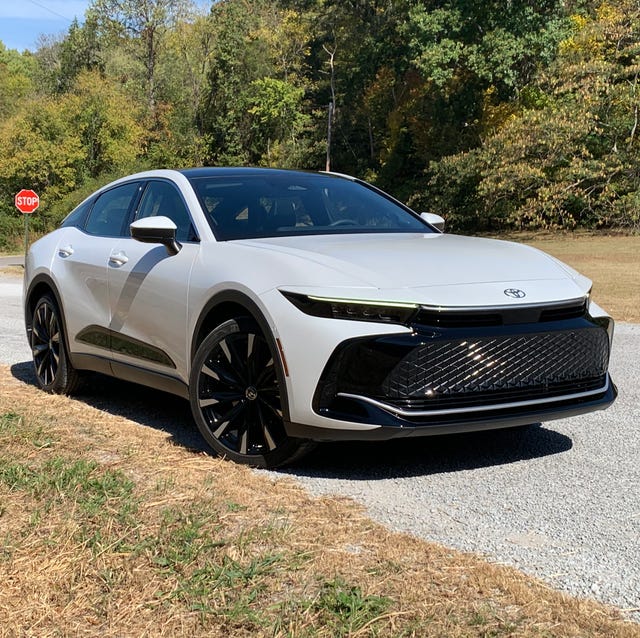 The Crown sedan is Toyota's longest-running nameplate, dating back to 1955. And it — not the Land Cruiser — was the first Toyota imported to the United States. But you can be forgiven for never having heard of it, as Toyota has kept it out of the American market for the last 50 years. But now — for the first time since Don Henley had a witchy woman to tell you about — the Crown is returning. The question, though, is is why.
Toyota recently dropped the Avalon, the sort of droopy, full-size dad sedan mainstream Americans no longer buy, from its lineup, and with the Crown, the brand is replacing it with an automotive enigma. The Crown is a sedan, but with a sportback silhouette and selling points one would typically associate with an SUV. The Crown uses new electrified powertrains — but not particularly efficiently. The Crown is premium, but carries Toyota, not Lexus, badging. Altogether, the Crown feels both futuristic and — at a time when other manufacturers are coming out with cool EVs — behind the times.
Toyota brought me to Nashville, home of country music and all the modern luxury condos, to discover what the Crown was about. And after testing it for a day, I still don't have much clarity. For all the changes, the Crown still leaves more or less the same impression as the Avalon: quite pleasant to drive, yet not really what most Americans spending close to $50,000 on a car in 2022 want to buy.
The 2023 Toyota Crown Platinum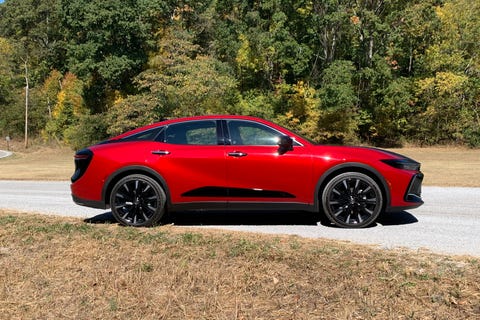 Pros: Quiet interior. Comfortable ride. Easy to get in and out of.
Cons: Base powertrain sounds agricultural. Two-tone paint job isn't a great look.
Powertrain: turbocharged 2.4-liter inline-four hybrid; six-speed automatic; AWD
Horsepower: 340
Torque: 400 lb-ft
EPA Fuel Economy: 29 mpg city, 32 mpg highway
Seats: 5

What the heck is the Toyota Crown?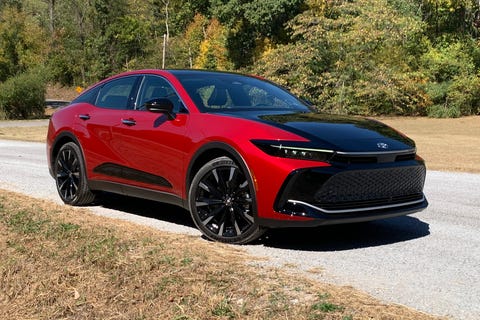 Toyota does not shy away from the s-word: despite the trendy sloping roofline, they unabashedly call the Crown a premium full-size sedan.
But Toyota says the Crown "pushes the limits of the word sedan" by incorporating features people appreciate about SUVs, like standard all-wheel drive and a seat height that provides "a smooth transition" from sitting to standing. And in somewhat of a departure for sedans and SUVs of this size, it only comes with hybrid powertrains.
There are actually two, very different Toyota Crowns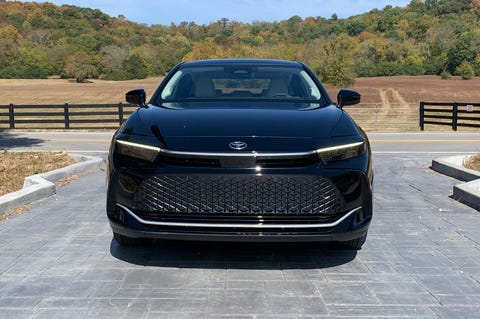 XLE and Limited Crowns come with what the brand is now calling the "Toyota Hybrid System." Unique model tuning aside, it's essentially the 2.5-liter hybrid powertrain Toyota uses in the Camry, RAV4, Highlander and Sienna. The THS output — 236 horsepower — is not so impressive. The efficiency — 41 mpg combined in EPA testing — is a bit more so.
Platinum Crowns get the new Hybrid Max powertrain. It's a turbocharged 2.4-liter hybrid, essentially the same setup from the new Lexus RX 500h. It puts out 340 hp and 400 lb-ft of torque. It ditches the CVT for a driver-friendly six-speed automatic transmission with paddle shifters. It accelerates the Crown from 0-60 mph in 5.7 seconds, about two seconds quicker than the THS Crown. And it still earns a reasonable 30 mpg combined.
How does the Toyota Crown drive?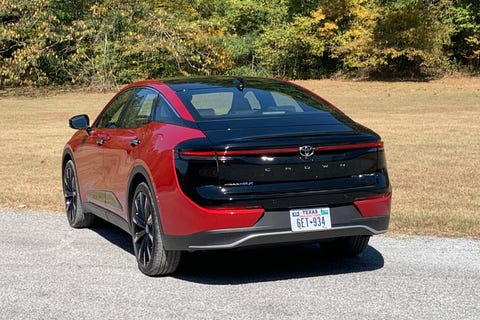 Toyota directed us to a golf course outside of Nashville, where I spent a day driving several variants of Crown on a 30-minute loop of curvy back roads, stately homes and one gentleman selling ammunition out of his pickup truck along the roadside. We avoided the suffocating Nashville traffic...though traffic is where the Crown's qualities would have stood out more.
Like the departing Avalon, the Crown is inveterately pleasant for everyday driving. The acoustic glass delivers the promised quietness. The soft-tuned suspension, even on the Platinum's giant 21-inch wheels, keeps road bumps out of the cabin. If you're measured with your inputs with both versions, your drive will be mostly smooth sailing.
The Hybrid Max powertrain is smoother and more powerful than the Toyota hybrid I was used to. And having 400 lb-ft of torque on tap absolves a lot of sins, even if it does come with a bit of a lag. We don't know what's happening with the next 4Runner or Tacoma yet, but I hope that powertrain will be offered in them.
The THS setup, as it is in other vehicles, is fine. It's fit for purpose and adequately powerful when cruising, but it becomes progressively more depressing the harder you hit the gas pedal. A hill at the start of our route that the Hybrid Max gamely powered up elicited an immediate and heartfelt groan from the THS and CVT. But hey, it gets 11 more miles out of every gallon of gas.
The Crown is not particularly fun to drive with vigor. It handles its prodigious weight — it's 800 pounds heavier than a Camry, and approaching a 4Runner in mass — well. And it takes a direct line through corners. But Toyota doesn't give you a sport seat, so you go sloshing around the cabin. And Toyota's Proactive Driving Assist steps in to kindly but firmly slow your roll, which can get annoying if you drive like a car journalist.
What's the Toyota Crown's interior like?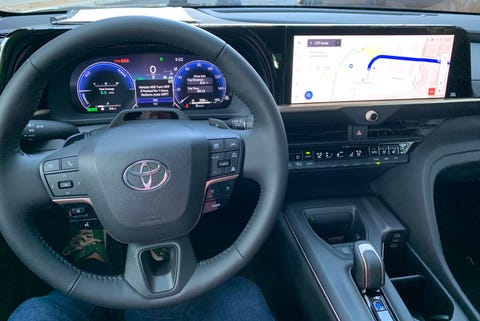 The Crown sticks to the Toyota playbook. Limited and Platinum trim Crowns get leather seats. Toyota's fancy new infotainment system is present. But the design and materials quality beyond that is basic, boring and Toyota-like; if you want fancy, buy a Lexus.
The seat height does provide a relatively ergonomic transition from standing compared to a low-slung sedan. The rear window seats feel spacious. I'm 5'11" and sat behind myself with ample head and leg room. The middle seat sits higher and feels more cramped.
How much does the Toyota Crown cost?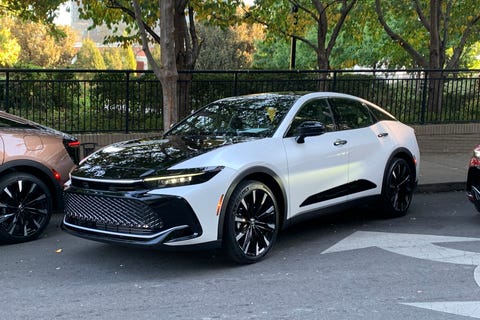 Toyota just revealed the pricing for the Crown. It starts at $39,950 MSRP for the XLE trim. The Limited begins at $45,550 MSRP and the Platinum at $52,350 MSRP. Tack a mandatory $1,095 destination and handling fee to get your starting price.
Options added to our press vehicles were mostly paint-related. Limited and XLE trim Crowns had $425 for additional paint colors. Some Platinums were equipped with a (in my opinion) not particularly fetching black "bi-tone" paint option for $550. Avoiding that is a great way to save $550.
What are some Toyota Crown alternatives?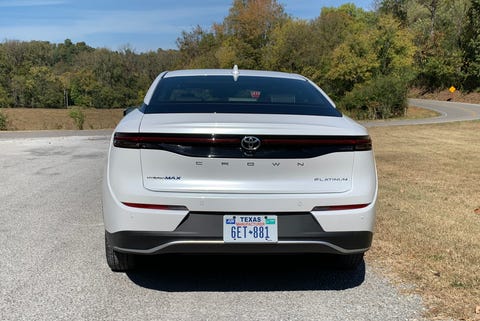 This is a tough one. There isn't anything like the Crown on the market. The full-size sedans that still exist are in the luxury realm. Toyota suggested the Nissan Maxima ($38,140) and Kia Stinger ($36,590) as rivals, while acknowledging that wasn't a great answer. I'd add the Volkswagen Arteon ($42,350) into that discussion as well. None of those are hybrid. And not so auspiciously, all three may be off the market by 2024.
And if you're looking for a sleek, luxurious hybrid sedan in the
$40,000 to $50,000 range, Toyota's luxury arm also offers the Lexus ES hybrid ($43,690), which earns 44 mpg combined.
The Toyota Crown: The Verdict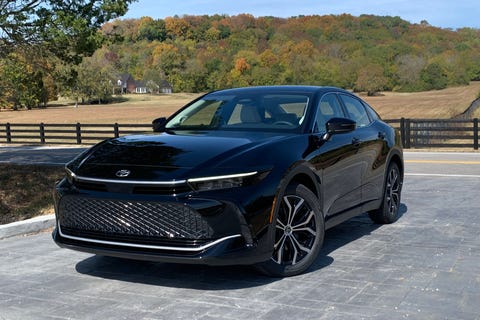 I think the Crown's positioning precludes a lot of potential buyers. Young people will be priced out. Still moderately young people will buy a crossover for more space. Older buyers will opt for a crossover for the ride height. That leaves you with Toyota's description of the Crown buyer as "the younger side of empty nesters." And we're narrowing that still further to people who would like a hybrid but won't go for a cool, similarly priced EV. Importing the Crown over from Japan feels like Toyota's best response to the Avalon having too many buyers to abandon, but too few to justify the investment to revamp it.
The Crown may be more important as a preview of Toyota things to come. That could be a more potent and fuel-efficient hybrid powertrain for presently thirsty off-roaders. That could be some of the more SUV-like features on the next-gen Camry. Or it could be the more SUV-like variant of the Crown.
The 2024 Toyota 4Runner: What You Need to Know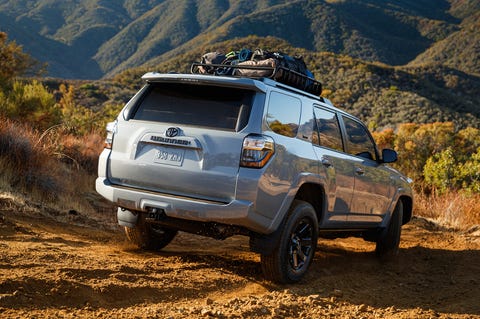 The 4Runner is due for a redesign. Here's what to expect.