Every product is carefully selected by our editors. If you buy from a link, we may earn a commission.
The Best Motorcycle Boots for Every Style of Rider
Protect your feet in style.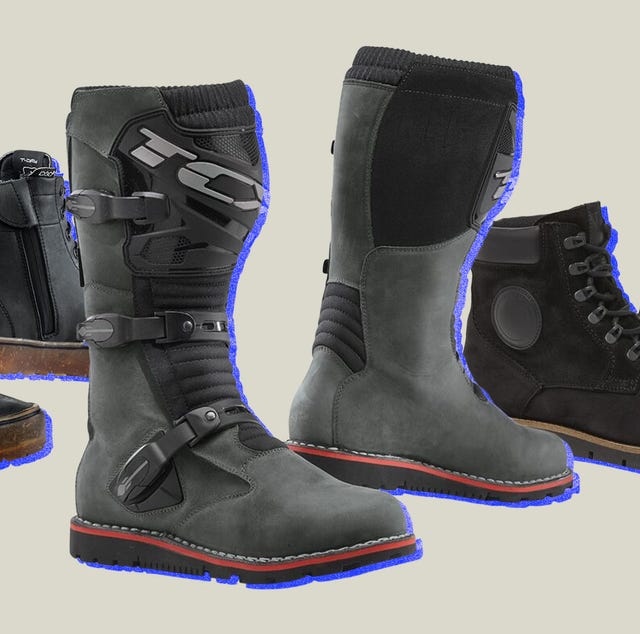 You know how a pair of Chucks are pretty cool looking and also about the least comfortable basketball sneaker you could actually ball in? That's the issue with moto boots that are all show and no go. Kind of like motorcycle jackets, moto boots tend to steal the style cues of the genre, minus the actual reinforcement that will keep you in one piece. If you actually ride, rather than just want to look like you do, you should shop for protective and functional features, regardless of the kind of riding you do. Your feet and legs will be safer and also, crucially, way more comfortable as well because the real deal will support your muscles and joints.
What to Look for When Buying Motorcycle Boots
Armor: Even the lightest weight, most low-key-looking boots should have legit armoring designed to reduce harm in a slide. Canvas sneaks might look dope, but they won't prevent a rolled ankle, and if you dump a 400-pound moto on your foot wearing sneakers, you might as well be in flip-flops. Please, please, please, never ride in sandals.
Replaceable Parts and Construction: You can find cheaper analogs for some of the boots we've chosen. But replaceable parts and construction features that let you do things like resoling the boot will help you spend less in the long run.
Shaped Toe: You use your feet a lot while riding a motorcycle. Having a shaped toe that is less bulky will make it easier to do things like shift gears.
Type of Riding: The more you intend to ride off-road, the more you should also be looking for a boot that protects your lower leg, with a taller shin and calf section, so you don't have to wear additional armor. Depending on where you live and when and where you intend to ride, you might want waterproofing as well.
Ventilation: No one likes sweaty feet. The best boots will have some form of ventilation or air induction.