Every product is carefully selected by our editors. If you buy from a link, we may earn a commission.
Upgrade Your Car to Amazon Alexa for 66% Less Than Normal
The Anker Roav Viva turns your 12-volt power port into a two-USB phone charger and brings Amazon Alexa into your car. And right now, it's marked down to $27.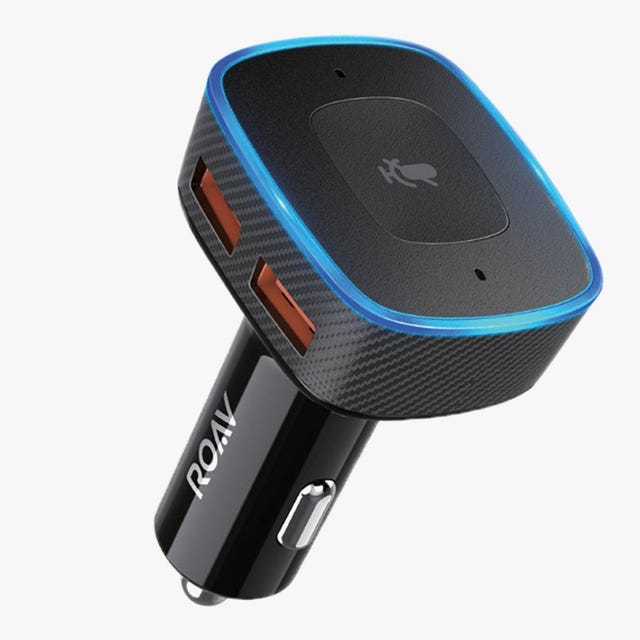 Modern vehicles are adding technology features so quickly, it can be hard to keep up. And unless you're like Steve Jobs and swap your car out for a new one every six months (seriously —he did it to take advantage of a California loophole that would keep him from having to put license plates on his SL55 AMG), odds are good your sedan, sports car, SUV or pickup truck doesn't have all the latest and greatest silicon-based convenience features automakers have on offer.
Still, don't lose hope; there are ways to bring modern, advanced tech to even the oldest rides. 12-volt power ports have been a feature of cars for a century — they first began appearing in the mid-1920s — and one of them is all it takes to bring fast smartphone charging and the voice control powers of Amazon Alexa to your car.
The Anker Roav Viva connects with your phone and uses its data connection to sync up with your Alexa account, enabling you to use its built-in microphones to dial the phone, change the temperature in your house with an Alexa-connected thermostat, play music, or do all sorts of other things. It also offers two quick-charging USB ports, so all that won't drain your phone's battery.
The best part? The Roav Viva is an incredible bargain right now. Normally, buying one at B&H will set you back $80, but right now, it can be yours for $27 — just one-third of the normal price.