Every product is carefully selected by our editors. If you buy from a link, we may earn a commission.
The 8 Best Coffee Makers You Can Buy in 2021
The best coffee maker is the one that fits your kitchen, budget and style, but never compromises on excellent coffee.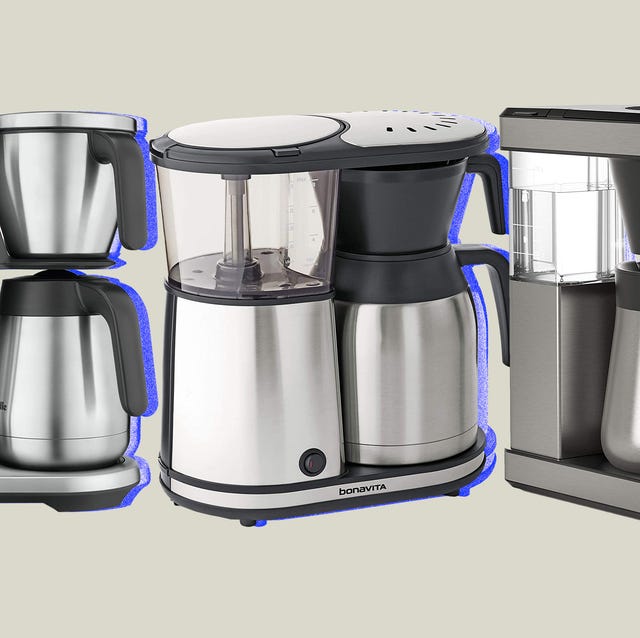 In the world of coffee brewing, pour-over, cold brew, French press and Aeropress get all the buzz. Yet, for the vast majority of people, these methods of making coffee are not ideal — at least not for those grueling minutes between sleep and getting out the door every morning. Much to the chagrin of coffee purists, the mighty drip coffee maker is still most coffee drinkers' preferred choice due to speed and convenience.
In the past decade or so, a thousand and one companies have pushed their way into market, though very few have the intention (let alone the ability) to manufacture coffee brewers that make truly good coffee. We tested what most experts consider the world's best drip coffee makers, comparing size, speed, price and performance, to identify which machines to buy (and avoid) in 2021.
Not quite what you're looking for? Read our guides cold brew coffee makers, camping coffee makers, French presses and pour-overs.
Best Overall Coffee Maker
Oxo 8-Cup Coffee Maker
The newest coffee maker from Oxo brews coffee just as well as its 9-cup predecessor, with the additional ability to serve a single cup of coffee (anywhere between 10 ounces to 20 ounces) or a whole carafe. By using a Kalita-like adapter, the 8-cup brews a pour-over quality cup of coffee without the need for environment-harming coffee pods.
The SCA-approved machine's metallic body and clean lines look good on the countertop, too, while eating up a small amount of space relative to most quality-focused coffee makers. The double-walled thermal carafe eliminates the need for a warming plate, which can degrade coffee quality as it sits on the heater. For the money, you get one of the most versatile, reliable and powerful coffee makers on the market. If you're looking for excellent coffee, just get this.
Brews delicious coffee
Can make a single-serving cup of coffee without coffee pods
Easy to use
Non-removable water tank
No programmability
Minimal splashing may occur when brewing in a too-short mug
Best Upgrade Coffee Maker
Breville Precision Brewer
Breville's prime directive is to make the most powerful, versatile, impressive version of whatever it decides to put together. Its coffee maker, though somewhat large, is as customizable as coffee makers get. The build quality is exceptional, standing out in a space filled with mostly plastic components.
Lightning-fast brew times, presets that are actually useful and unmatched versatility, for starters. The Precision Pro can brew with flat-bottom filters, cone filters and it even has a pour-over attachment (you can literally put your pour-over device under the shower head). It can brew cold brew coffee, brew coffee to the exactingGold Cup standard
and it's the only coffee maker we know of that allows you to customize options like flow rate and bloom time. If you or someone you know is keen on experimenting with coffee, there is no better coffee maker.
Programmable, which means you can have coffee as soon as you wake up
Fast brew times
Has preset coffee settings
Non-removable water tank
Takes up a lot of counter space
Best Budget Coffee Maker
Bonavita BV1900TS 8-Cup
Bonavita makes one thing: specialty coffee equipment. This model earned the mark of approval of the Specialty Coffee Association — specialty coffee's most important trade organization — and it brews quickly and evenly. It's also dead simple to operate. It makes coffee that's well-bodied but not overbearing, and it's small and cheap enough to work for almost everybody.
This brewer makes pots of coffee that are excellent for the vast majority of coffee drinkers, and it offers a gateway into more complex brewing ideas. The coffee it makes isn't as light as most of the higher end machines, but it's not as oppressively dark as with cheaper models. An identical coffee maker is available as a programmable version for a few dollars more, but programmable coffee makers (unless they have built-in grinders) can't account for the loss of freshness.
Quick and even brewing
Small profile
Drippy shower head
Awkward construction of having the filter basket sitting on the carafe is a pain point
Best Designed Coffee Maker
Technivorm Moccamaster KBG
Technivorm's Moccamaster has remained among the absolute best coffee makers in the world since it was invented in 1969. Thanks to a special copper heating system, it's one of the fastest brewers, and it is lauded for its consistently outstanding pots of coffee. It's uniquely able to disassemble, meaning you can pull it apart for cleaning or troubleshooting yourself (Technivorm's customer service is one of the best we've encountered).
There are many Moccamaster models, but this is the one that we recommend most. This model uses a glass carafe and electric hot plate instead of the typical steel carafe. The glass makes it simpler to tell how much coffee is left and is much easier to clean (it's difficult to see inside steel carafes). Thanks to a copper-based heating element, all Moccamasters are lightning quick to heat and brew coffee — we clocked in a full 10 cups of brewing in just over five minutes.
Superb customer service
Glass carafe is nice and practical
Quick to heat and brew
Filter basket feels cheap
Glass carafe is thin; feels fragile
Best Single-Serve Coffee Maker
Ninja Specialty Coffee Maker
Ninja's Specialty Coffee Maker is like having a barista on call, with the ability to brew four different types of coffee: hot and iced, as well as concentrated and super-concentrated, the latter of which mimics espresso-style coffee.
Other than above average brew speed and consistently good extractions, this is a machine has many, many features. The Ninja brewer's ancillary functions, thankfully, don't cloud these basic functions. The best of the lot is the pull-out milk frother, which elevates a simple cup of coffee into something more comforting. Brewing single-serve is the cherry on top.
Simple to use
Single-serve coffee without the use of pods
Removable water reservoir
Looks too robotic
Permanent filter requires more attentive cleaning
Best Programmable Coffee Maker
Braun Multiserve Programmable Brewer
The easy-to-use Braun Multiserve Programmable Brewer doubles as a single-serve and multi-serve coffee maker. The pod-free coffee maker lets you choose the strength of your coffee ranging from light to bold, with the Gold standard nailing the SCA's guidelines for a Golden Cup.
It does the basics very well, but its greatest strength is versatility. It brews pots large and small with consistency and its integrated iced coffee brewing function is new to the space are clever and well-executed. The machine allows you to brew directly over ice cubes, mimicking Japanese iced coffee brewing and creating a pleasant, sweeter cold coffee experience. The detachable water reservoir is also appreciated for filling and cleaning.
A more affordable programmable coffee maker
Detachable water reservoir
Keeps track of how long coffee's been sitting out
The sci-fi look leaves something to be desired
Permanent filter is annoying
Best-Looking Coffee Maker
Oxo Brew 9-Cup Coffee Maker
Before Oxo released the 8-cup Coffee Maker, its 9-Cup brewer was our favorite machine from the brand. The cup it brews is just as good as its smaller counterpart, adding a few bells and whistles that somehow don't overwhelm the overall look of the machine.
The sleek and streamlined 9-Cup has a look that's similar to other machines on this look, but the backlit LED interface is so much cleaner and nicer to use. The machine uses Oxo's iconic Rainmaker shower head to ensure even extraction that results in a more balanced cup of coffee. Use the dial to set your brewer to get coffee going before you're even out of bed, and this will be your best friend every morning.
Rainmaker shower head ensures even and proper extraction
Simple to use
Sleek design
Non-removable water reservoir
Can be drippy
Best Smart Coffee Maker
GE Cafe Coffee Maker
GE's entry into the coffee maker game is the beautiful Cafe brewer, which quickly earned praise for its looks and SCA certification. Unlike most other coffee makers, the Cafe coffee maker is available in more than one finish — white, stainless steel and black — and there's something deeply satisfying about the copper accents.
The brewer itself is speedy in getting from bean to brew, and users can adjust the strength and temperature of their coffee. This is a smart device, which means you have remote control of how it works, and with Amazon Alexa and Google Assistant compatibility, you can tell your machine to get your coffee going.
Available in multiple finishes
Makes a lot of coffee (10 cups)
What Makes a Good Coffee Maker?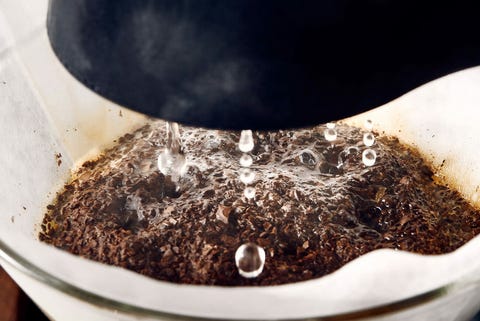 Speed
Speedy coffee makers make batch-brewed joe more convenient, but there's more to it than that. The SCA's rigorous certification program, which has long separated the best coffee brewers from those that cut corners, only accepts brew times of four to eight minutes, and those aren't made-up numbers. Coffee brewed any quicker than four minutes will be under-extracted (weak) and over eight minutes will be over-extracted (bitter).
Temperature
Because the higher water temperature is the agent that extracts and dissolves coffee solids and oils from coffee grounds, brewing temperature is one of the best indicators of a machine that could make a decent cup of coffee. According to the Gold Cup standard, coffee should be brewed between 195 and 205 degrees Fahrenheit. Brew at a lower temperature and coffee and risk under extraction (weak, sour coffee), or brew above 205 and you're bumping up against boiling water, which will dissolve more coffee than is preferable (heavy, extra-bitter).
Maintenance
Often ignored when considering a new purchase is how simple the upkeep is. Because coffee makers are working with hot water, an ideal breeding ground for mold and limescale, it's doubly important. Making sure the machine and as many components as possible can be disassembled and cleaned is of the utmost importance to both performance and health.
Price
This guide might look different if we completely ignored the role cost plays in the buying equation. But, seeing as not everyone is willing to spend multiple hundreds of dollars on a machine, excluding price as a primary factor is a fantasy. At the same time, the quality of the machine can't be sacrificed to save $30, because extra-cheap machines will catch up to you in the form of leaky brew baskets, worn-out buttons, inconsistent extraction and so on.
This content is created and maintained by a third party, and imported onto this page to help users provide their email addresses. You may be able to find more information about this and similar content at piano.io