Every product is carefully selected by our editors. If you buy from a link, we may earn a commission.
The 13 Best Kitchen Knives You Can Buy in 2022
After years of testing, these are the kitchen knives worth spending your money on.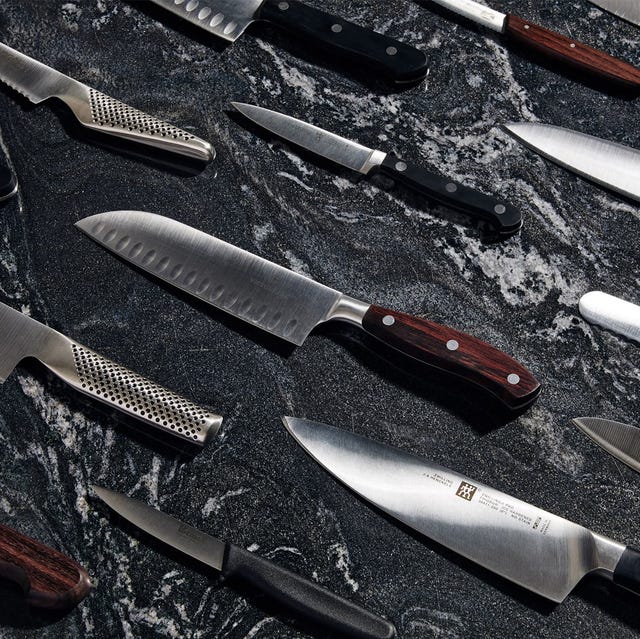 Looking for more knife knowledge? Check out our guides to Japanese kitchen knife styles, rubber cutting boards and the difference between Japanese and German knife styles.
There is no absolute best kitchen knife for every person. Different budgets, grip styles and aesthetic tastes, not to mention a dozen other micro-decisions, all determine which knife is best for the task at hand.
This guide aims to identify which kitchen knives are best out of the box, hold up the longest and generally offer more value for your dollar. We also and hope it helps you remove overpriced, unnecessarily bulky knife block sets from the pool of options. But first, our top recs for the most useful kitchen knives available in 2022. Weighing balance, price, materials, craftsmanship and necessity, we've narrowed your choice down to 13 chef's knives — here's where the chips fell.
Kitchen Knives 101
What is the best steel for a kitchen knife?
All steel has carbon in it. Stainless steel just happens to have less carbon in it than carbon steel. What makes stainless steel different is the addition of chromium, which gives the material its signature "stainless" status. Carbon steel, on the other hand, contains much more carbon. The more carbon in the knife, the harder it is. Hardness is measured on the Rockwell scale. The harder the knife, the stronger it is. Carbon steel knives are notoriously sharp because of their strength, but also hard to sharpen. They are also more prone to corroding and rust. Stainless steel knives may not be as sharp as carbon steel knives, but if you sharpen it properly, you may not even notice a difference. And while stainless steel is easier to maintain, especially when it comes to rust-resistance, it's stain-less and not stain-free.
Do I need a full-tang knife?
Tang refers to the the blade that extends into the knife handle and can either stop partway, making it partial tang knife, or extend fully throughout the handle, making it a full tang knife. Full tang knives are more properly balanced because there is metal throughout the blade. Partial knives tend to be cheaper because the entire knife isn't made of metal. Then there's the exception of Japanese knives, which often feature a partial tang. Japanese knives use a wooden wa handle, which emphasize the blade-forward balance. These are better for those who are more comfortable with their knife skills.
What is the difference between cheap and expensive knives?
Knife prices can vary from dirt cheap to outrageously expensive. It comes down to construction — like if it's forged or stamped — and what kind of materials it's made out of. If you're an amateur home cook, a cheap knife is a great place to start for learning basic and essential knife skills, but a nicer blade makes quicker work of mise en place. If you're already adept at using a kitchen knife, it's worth the extra cost to get a knife that can further your skills in the kitchen, but many professional cooks use dirt-cheap knives. The point: you can get the job done with cheap or expensive knives, just focus on quality.
What is the difference between Japanese and German knives?
In general terms, kitchen knifes fall into Japanese knife styles or German knife styles. Japanese knives tend to be thinner, sharper and harder to maintain than their German counterparts. German knives, more often than not, are more user-friendly and have a more universal appeal because of their multi-purpose nature. Japanese knives can be singular in their uses, and at the cost of having a sharper blade is the greater attention required for maintenance and care.
The Best Kitchen Knives of 2022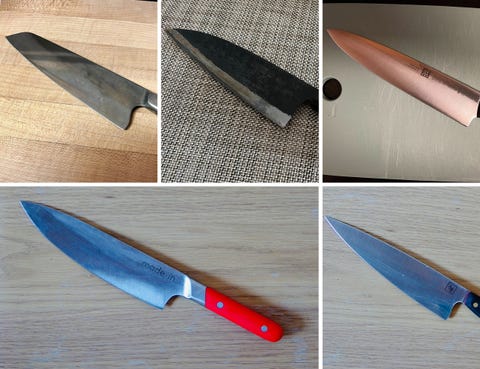 All of our testers were equipped with kitchen knives to hack, chop and slice their way to their findings. We judged their sharpness from straight out of the box to how it fared after long-term usage. Besides sharpness, we judged kitchen knives based on how they felt in hand (did they feel sturdy and durable?), how they felt to use after long bouts of cutting and how easy they were to hone and resharpen. Another important factor for judging kitchen knives was price. Higher price tags don't necessarily mean a knife is better, so for the blades that cost a pretty penny, we wanted to make sure their usage and longevity were worth the price.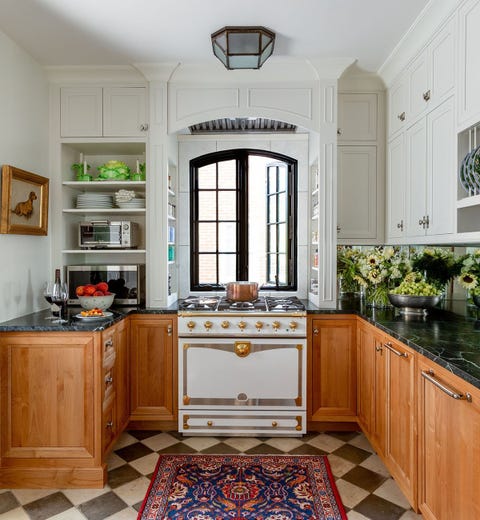 This content is created and maintained by a third party, and imported onto this page to help users provide their email addresses. You may be able to find more information about this and similar content at piano.io