Every product is carefully selected by our editors. If you buy from a link, we may earn a commission.
The Best Hard Kombuchas to Drink in 2022
Put down the hard seltzer and go for a hard kombucha this winter.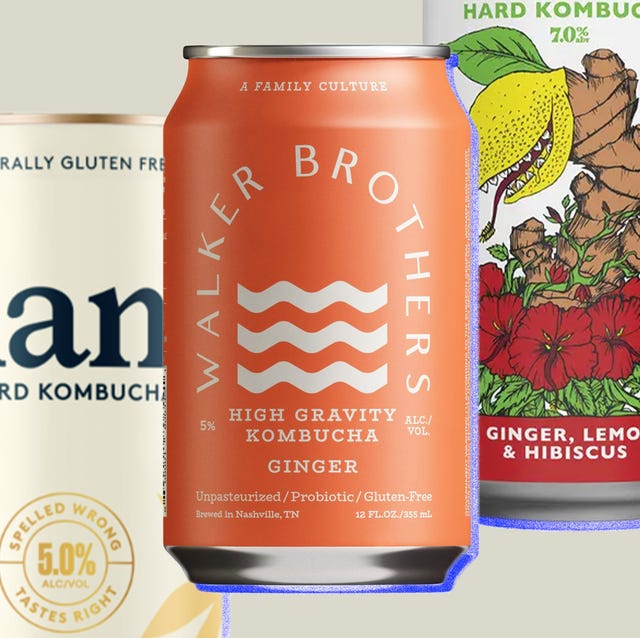 Health nuts have been on a kombucha kick for a minute now. The fermented tea drink is an effervescent and slightly sweet probiotic food that supposedly aids in digestion, weight loss and immune system support. If you've ever had kombucha, you might have noticed something interesting on the label: It contains just a hint of booze. The alcohol in your grocery store kombucha is small enough to not get you drunk, but if you're looking for some kombucha that will get you buzzed, there is a category of hard kombuchas you'll love.
Hard kombucha has a sour-sweet flavor not dissimilar from a gosé, and they can be low in alcohol, like hard seltzer, or even super boozy, like a wine. In an age where people are looking for other alternatives to beer, hard kombucha is there to save the day (or night). To get from kombucha to hard kombucha, brewers give their booch a second round of fermentation to produce alcohol. The world of hard kombucha is an exciting product category to explore. Hard kombuchas can be brewed with ingredients like tropical fruits or even hops you'd find in beer. So if you're already a fan of kombucha and want to try the hard stuff or you're looking to expand your horizons, here are the six best kombuchas to drink right now.
The Best Hard Kombuchas of 2022