Every product is carefully selected by our editors. If you buy from a link, we may earn a commission.
Hate Beer? These Are the Best Hard Seltzers to Take Its Place
Get ready to pack the cooler.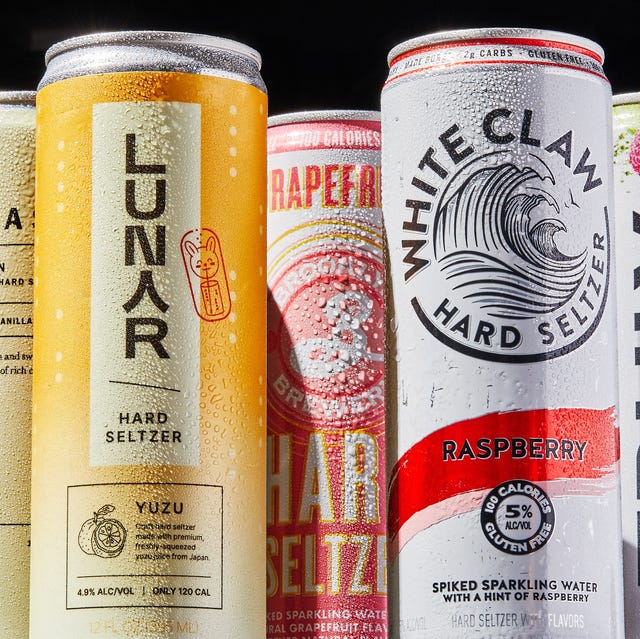 If you've been to a social gathering in the last couple of years, you would have noticed the fridge is filled with a new type of alcohol: hard seltzer. Actually, if you've been anywhere lately — a grocery store, bar, corner store — you'll know that hard seltzer isn't just having a moment: It's a full-on beverage takeover.
The numbers don't lie. When leading hard seltzer brand White Claw took the world by storm in 2019, the hard seltzer market was valued at $4.4 billion, according to business consulting firm Grand View Research. By 2027, the market is expected to hit $14.5 billion. White Claw sparked the hard seltzer boom in more ways than one; besides making hard seltzer an industry to bet on, White Claw also opened the flood gates to new hard seltzer flavors and brands.

"Last year, we tracked hundreds of new SKUs from both new and existing brands innovating across flavor," Brandy Rand, COO of the Americas at IWSR Drinks Market Analysis, says. "There are dozens of brands launching monthly, a lot coming from craft brewers and craft distillers."
For the latter, the entry into the hard seltzer category is often a case of "if you can't beat them, join them." Celebrities are even putting their faces on hard seltzers now. In such a crowded market, you're bound to find a bunch of duds, so we found the 15 best hard seltzers worth the fridge space.

What Is Hard Seltzer?
Unlike bourbon, tequila or Champagne, hard seltzer isn't legally defined.
Rand says the IWSR defines hard seltzers as being composed of a blend of carbonated water and alcohol, in some cases with added fruit flavor. "It is typically malt-based but can also be wine- or spirit-based, with typical alcohol-by-volume between is 4 and 6 percent, but with potential ranges from 3.5 percent to over 12 percent."
Another trend of hard seltzers is that they're marketed as "healthier" alternative to beer, wine and mixed drinks because they have fewer calories and less or no sugar.
Why Is Hard Seltzer So Popular?
The rise in hard seltzer's popularity can't be pinned down to one thing, and that's probably why it's so popular. If you've ever had a hard seltzer, you'll get the appeal. They're easy to drink, they don't usually taste like alcohol and they can easily get a party started (i.e. people are going to get drunk). And most importantly, they're practically beloved by everyone.
"This is what has made the category so strong – its appeal across all demographics. There's no such thing as one type of hard seltzer drinker – they are all ages, male and female," Rand says. "Hard seltzers are the most universally appealing alcohol category out there right now. We see people adding hard seltzers to their repertoire across various occasions, whether they are a beer, wine or spirits drinker."
And the wide variety of flavors make it easy to find a hard seltzer for every taste preference. Besides typical fruit flavors, some brands are expanding to iced teas, punches and lemonades. The really creative ones are utilizing much-hyped flavors like exotic fruits and botanicals. Rand says that cherry and berry flavors seem to be the most popular, as are tropical options.
Will Hard Seltzer's Popularity Ever Go Away?
Everyone and their moms rushed to get in the hard seltzer game. Even craft brewers who were adamant about never entering the space have caved. Don't expect to see its popularity dwindle, though as Rand mentions, a slowdown is bound to happen, especially in a category that's had such immense growth. "Right now hard seltzers are growing at triple-digits, but a slowdown to double-digits is still far outpacing competitive category performance in many cases," Rand says.
"Consumers still indicate a high demand for hard seltzers – it's a new category and it's here to stay," Rand says. "We may start to see underperforming brands vacate the category, but the staying power of hard seltzers is evident for the future."
The Best Hard Seltzers of 2022