Every product is carefully selected by our editors. If you buy from a link, we may earn a commission.
The 15 Best Hard Seltzers to Get the Party Started
Get ready to pack the cooler.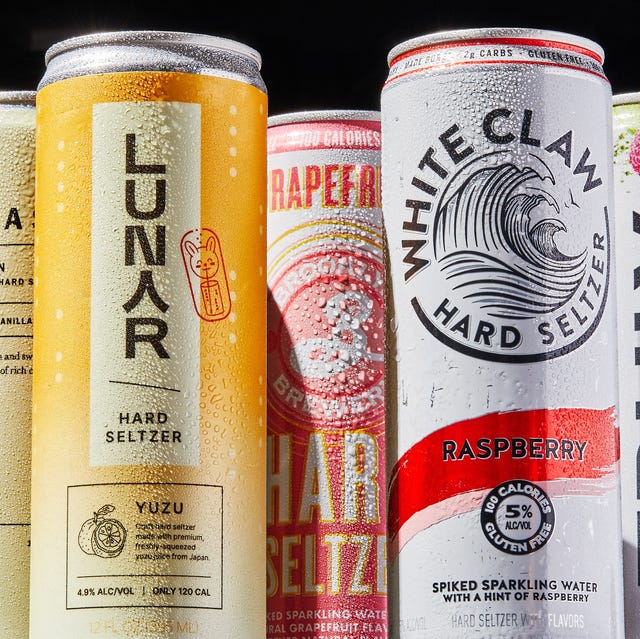 If you've been to a social gathering in the last couple years, you would have noticed the fridge is filled with a new type of alcohol: hard seltzer. Actually, if you've been anywhere lately — a grocery store, bar, corner store — you'll know that hard seltzer isn't just having a moment: It's a full-on beverage takeover.
The numbers don't lie. When leading hard seltzer brand White Claw took the world by storm in 2019, the hard seltzer market was valued at $4.4 billion, according to business consulting firm Grand View Research. By 2027, the market is expected to hit $14.5 billion. White Claw sparked the hard seltzer boom in more ways than one; besides making hard seltzer an industry to bet on, White Claw also opened the flood gates to new hard seltzer flavors and brands.

"Last year, we tracked hundreds of new SKUs from both new and existing brands innovating across flavor," Brandy Rand, COO of the Americas at IWSR Drinks Market Analysis, says. "There are dozens of brands launching monthly, a lot coming from craft brewers and craft distillers."
For the latter, the entry into the hard seltzer category is often a case of "if you can't beat them, join them." Celebrities are even putting their faces on hard seltzers now. In such a crowded market, you're bound to find a bunch of duds, so we found the 15 best hard seltzers worth the fridge space.

What Is Hard Seltzer?
Unlike bourbon, tequila or Champagne, hard seltzer isn't legally defined.
Rand says the IWSR defines hard seltzers as being composed of a blend of carbonated water and alcohol, in some cases with added fruit flavor. "It is typically malt-based but can also be wine- or spirit-based, with typical alcohol-by-volume between is 4 and 6 percent, but with potential ranges from 3.5 percent to over 12 percent."
Another trend of hard seltzers is that they're marketed as "healthier" alternative to beer, wine and mixed drinks because they have fewer calories and less or no sugar.
Why Is Hard Seltzer So Popular?
The rise in hard seltzer's popularity can't be pinned down to one thing, and that's probably why it's so popular. If you've ever had a hard seltzer, you'll get the appeal. They're easy to drink, they don't usually taste like alcohol and they can easily get a party started (i.e. people are going to get drunk). And most importantly, they're practically beloved by everyone.
"This is what has made the category so strong – its appeal across all demographics. There's no such thing as one type of hard seltzer drinker – they are all ages, male and female," Rand says. "Hard seltzers are the most universally appealing alcohol category out there right now. We see people adding hard seltzers to their repertoire across various occasions, whether they are a beer, wine or spirits drinker."
And the wide variety of flavors make it easy to find a hard seltzer for every taste preference. Besides typical fruit flavors, some brands are expanding to iced teas, punches and lemonades. The really creative ones are utilizing much-hyped flavors like exotic fruits and botanicals. Rand says that cherry and berry flavors seem to be the most popular, as are tropical options.
Will Hard Seltzer's Popularity Ever Go Away?
Everyone and their moms rushed to get in the hard seltzer game. Even craft brewers who were adamant about never entering the space have caved. Don't expect to see its popularity dwindle, though as Rand mentions, a slowdown is bound to happen, especially in a category that's had such immense growth. "Right now hard seltzers are growing at triple-digits, but a slowdown to double-digits is still far outpacing competitive category performance in many cases," Rand says.
"Consumers still indicate a high demand for hard seltzers – it's a new category and it's here to stay," Rand says. "We may start to see underperforming brands vacate the category, but the staying power of hard seltzers is evident for the future."
The Best Hard Seltzers of 2021
The hard seltzer that, arguably, started it all (the hype, not just the memes). White Claw is not the best hard seltzer around, but it deserves points for its effect on the industry and for literally changing the palates of the whole world. It may not be your first choice if you're looking to get some hard seltzer in your body, but if you have a can in your hand, it has to be White Claw Wednesday.
Calories: 100
ABV: 5%
Topo Chico is best known for its sparkling mineral water, a cult-favorite in the category. It only made sense when Topo Chico announced it would get into hard seltzers. It manages to retain the mineral water flavor that made Topo Chico famous while adding refreshing flavors like strawberry guava and lemon lime to the mix.
Calories: 100
ABV: 4.7%
People have been known to call White Claw and Truly the Coca-Cola and Pepsi of the hard seltzer world. Each has its own dedicated fanbase, and it's a ride-or-die kind of brand loyalty. Truly brings a whole plethora of flavors to the table — like various berry flavors and citrus options — while also expanding on the hard seltzer that made the Boston Beer Company-owned brand famous. You can also find Truly Lemonade, Iced Tea and Punch, each appealing to different kinds of drinkers.
Calories: 100
ABV: 5%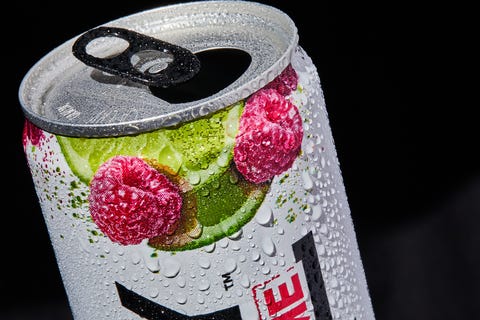 Amass is known for its botanicals-first approach to spirit making, like with its gin and vodka, and it brought that same mindset when it came to making hard seltzers. Just a few ingredients you can expect include extracts of star anise, jasmine and hibiscus, making these taste like mixologist-made cocktails instead of straightforward hard seltzers.
Calories: 110
ABV: 5%
Brooklyn Brewery is a powerhouse when it comes to craft beer, so its entry into hard seltzers came as a surprise. Let's just say it's as good as you'd expect. The flavors are pretty standard — grapefruit, lemon cloudberry. black cherry apricot and mango — but the drinkability is exceptional. There's no nasty boozy aftertaste, and it doesn't feel like you're ingesting hard fructose corn syrup.
Calories: 100
ABV: 5%
The hard seltzer aisle is dominated by the same flavors — how many cherry hard seltzers can one person want? Lunar, an Asian-American-founded hard seltzer brand, brings some finesse to hard seltzer by utilizing flavors that are predominant in Asian cultures (think yuzu and lychee). Lunar is made with real fruit juices, and if you're lucky, you can grab one of their collaboration hard seltzers, which really solidifies the brand's place on this list.
Calories: 130
ABV: 4.5-4.9%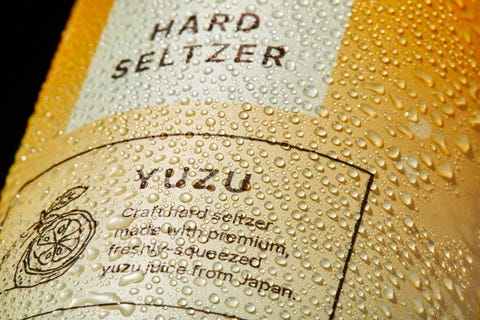 Volley blurs the line between hard seltzer and canned cocktail, because it's actually a tequila soda. It's just as refreshing to drink as a hard seltzer, has just as few calories and no added sugar. Volley's available flavors complement the tequila-dominant taste, and we're big fans of the ginger.
Calories: 110
ABV: 5.25%
Take a sip of Willie's Superbrew, and you'll know why it's one of the best fruited hard seltzers — because Willie's uses actual fruit juices, and it lets you know just how much is in each can. Willie's tastes surprisingly fresh (for a hard seltzer), making it way too easy to crush a few of these in one sitting. And just as an added bonus to drinking Willie's, the brand donates 3 percent of its profits every year to an environmental cause.
Calories: 110
ABV: 4.5%
The folks at Oskar Blues, a leader in the craft beer movement, make a damn good hard seltzer under the name Wild Basin. The hard seltzer brand makes great use of its location along the St. Vrain River in Colorado by harnessing the fresh, crisp water and putting it into Wild Basin. To give back to nature, Wild Basin donates a portion of sales to causes that help clean beaches and rivers.
Calories: 100
ABV: 5%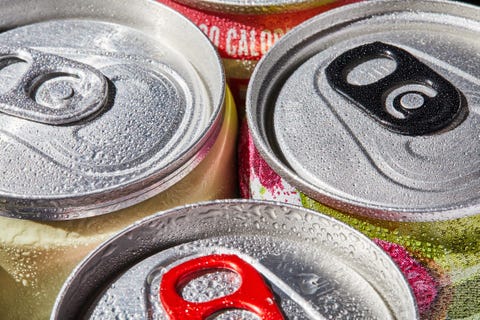 Mike's Hard Lemonade Seltzer
Mike's Hard Lemonade is just fine – it tastes like really sweet lemonade that gets you drunk. Mike's Hard Lemonade Seltzer is where it's at. The 100-calorie drink isn't as sweet as its non-seltzer counterpart, and the flavors are shockingly good. Like, this-could-be-from-a-state-fair good.
Calories: 100
ABV: 5%
Like Volley, High Noon is a seltzer mixed with a spirit, in this case: vodka. Because it's made with vodka, High Noon is noticeably cleaner in taste, as if you're drinking actual seltzer. The addition of real fruit juice makes this one of the most refreshing hard seltzers on this list, and we just wish there were more flavors.
Calories: 100
ABV: 4.5%
Hard seltzer is not healthy (though it's peddled as a healthier option than, say, beer), so it's pretty shocking what separates Vizzy from other hard seltzers, which is the addition of antioxidants and vitamin C. Don't drink Vizzy thinking you're getting your daily dose of vitamins, because at the end of the day you're still drinking alcohol.
Calories: 100
ABV: 5%
Travis Scott is a rapper, and he also happens to have a hard seltzer brand called Cacti — and it's surprisingly good. While the word "agave" is thrown in there, it's not actually made with tequila. Rather Cacti is a hard seltzer mixed with agave syrup, but that doesn't take away from its overall drinkability. There's definitely a lot of hype (a word not typically associated with hard seltzers) because of Scott's involvement, but on its own, it's a quality hard seltzer available in pineapple, lime and strawberry.
Calories: 150
ABV: 7%
Maha is one of the few 100-percent organic hard seltzers, and it even touts itself as "designed for a balanced lifestyle." The drinks contain a blend of vitamins and minerals, like potassium, calcium and magnesium, though don't mistake this as a health beverage. The drink itself is easy to sip, with flavors including tangerine yuzu, black cherry and raspberry.
Calories: 110
ABV: 4.2%
Bon V!V hard seltzers start with purified water and champagne yeasts, that is then mixed with any variety of fruit flavors. It has the classic flavors like black cherry and mango, but it also has some tasty blends like raspberry dragonfruit and clementine hibiscus.
Calories: 90
ABV: 4.5%
This content is created and maintained by a third party, and imported onto this page to help users provide their email addresses. You may be able to find more information about this and similar content at piano.io