Every product is carefully selected by our editors. If you buy from a link, we may earn a commission.
I Know What a Towel Is, but What the Hell Is a Bath Sheet?
No, they're not just like bed sheets for the bathroom.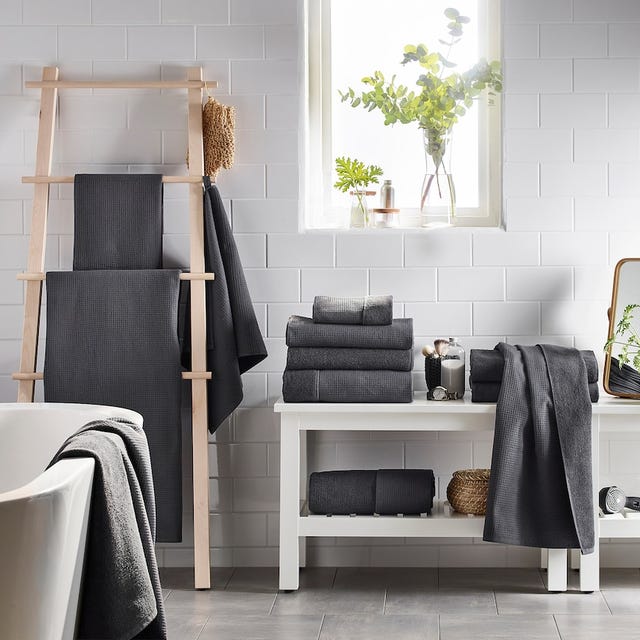 I own a bath towel. I think a majority of people reading this own a bath towel — you know, the thing you use to dry yourself after you've taken a shower or a bath. Then I learned about the bath sheet. And now I need everyone to know what a bath sheet is, which is essentially a super-sized bath towel. In order from smallest to largest in the bath linens realm it's: face towel (or washcloth), hand towel, bath towel then bath sheet. I'm not sure how I hadn't heard of the existence of bath sheets before, but I wasn't the only one in the dark. Judging by the near-6,000 likes on this tweet asking, "'What the hell is a "bath sheet?'" I figured it was time to enlighten us all. So now that you know about the existence of bath sheets, here's how they compare to the more ubiquitous bath towel — plus, a few bath sheets to buy to get yourself acquainted.
What's the difference between a bath towel and a bath sheet?
The difference between a bath towel and sheet is purely about size. That's it. A bath towel can usually measure around 28 inches by 56 inches, while a bath sheet usually comes in at 40 inches by 70 inches. For you math nerds, a bath sheet can be around 50 percent bigger than a towel.
Who should buy a bath sheet?
If you've gotten this far in life not annoyed with your bath towel, then you probably don't need a bath sheet. But if you've had some issues with bath towels, like questioning why it wasn't any bigger then you can probably use a bath sheet. You might want one if you have ever tied a towel around your waist and complained it was too tight or if, for some reason, you reach for more than one towel at a time. Some see bath sheets as a luxury item, so there's always that reason to buy one, too.