Every product is carefully selected by our editors. If you buy from a link, we may earn a commission.
Everything You Need to Know About Bubbler Pipes
It's the best of both worlds.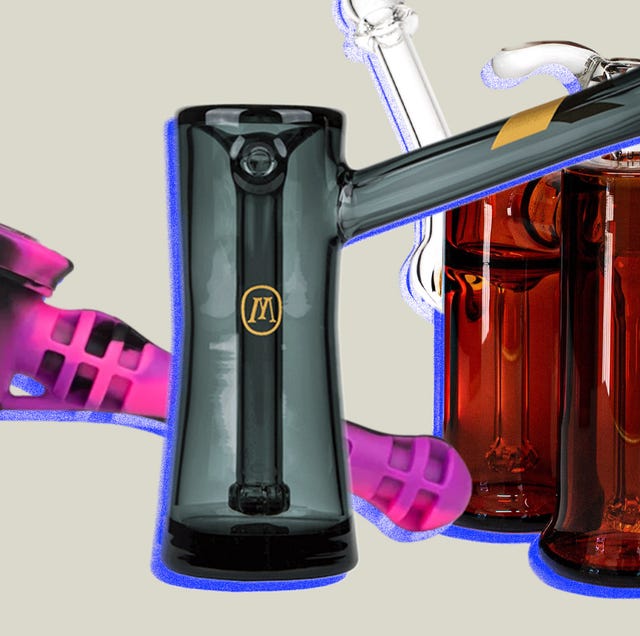 Looking for more weed content? Check out our guides to bongs, vapes, and rolling papers, too.
Glass pieces stand as some of the fastest vehicles for getting stoned. Additionally, thanks to creative, skilled glassblowers, they can be standalone art pieces in your home. Such is the case with the bubbler — imagine if a bong and a pipe had a baby. Thanks to its size and water filtration ability, you can consider it the Goldilocks of toking: just right for any occasion and user.
What Is a Bubbler?
Like bongs, bubblers have a mouthpiece, bowl, stem and a water chamber. Unlike bongs — and more like pipes — bubblers usually have a fixed, non-removable mouthpiece, along with a carb.
There are many different varieties of bubbler:
Hammer: Resembles a hammer, as the name suggests. Stable, design allows it to rest on a flat surface without rolling around.
Sherlock: Resembles Sherlock Holmes' tobacco pipe. Looks like a hammer bubbler, but is curved into an "S" shape.
Sidecar: Features a stem and mouthpiece that adhere to the side of the water chamber. Designed to solve the problem of water splash-back.
Pendant: Smaller than the other types. features a little hole/ring so it can be attached to a chain.
Concentrate: Designed for smoking concentrates and oils instead of flower. Works just like a dab rig, but is more compact.
Double bubblers: Comes with two chambers instead of one; also known as dual percolator. Filters the smoke twice, allowing for an extra-clean and cool hit of flavor.
History of Bubblers
Although it's not clear when the bubbler was invented, glass pipes have a rich history. According to the American Glassblowers Society, the earliest use of glass was by the Egyptians, who used it to glaze tiles, make figures and create beads. Glassblowing was developed during the Hellenistic Period, around 30 B.C. by the Romans, but glass pipes were only patented in 1977. Glassblower Bob Snodgrass is credited with developing the techniques used to make glass pipes while touring with the Grateful Dead in the 1970s and '80s.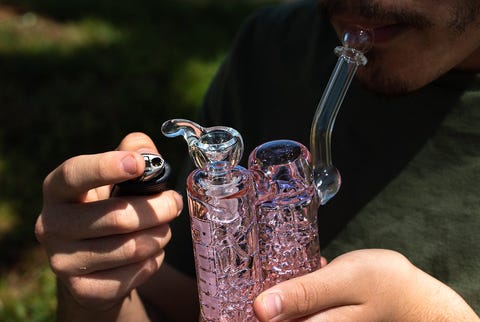 Try out a bubbler if you:
Want the portability of hand pipes with the water filtration capabilities of bongs.
Want smoother hits compared to hand pipes.
Are a novice smoker and want something durable, light and easy to use.
Back away from the bubbler if you:
Want something that's easy to clean — bubblers are often more difficult to clean than bongs or pipes, and also require more regular cleaning as well.
Are looking for customization. What you see is what you get with a bubbler.
Has a smaller bowl than a bong (which is an advantage to some).
Best Overall Bubbler
Marley Natural Smoked Glass Bubbler
The one-piece glass bubbler is beautifully symmetrical, sleek and perfectly proportioned — you'll have a hard time putting this one away. Its extended straight neck mouthpiece allows the vapor to cool before inhalation, and works as a splash guard to prevent water from entering your mouth.
Best Splurge Bubbler
Purr Smoking 14 mm Double Chamber Bubbler
The bubbler allows for peak versatility, thanks to a 14 millimeter ground joint that allows you to switch between a bowl or a banger. Its dual water chamber means you can pull smooth, huge hits cough-free. On the website, you can choose between five kinds of bowls or bangers, six colors and an optional accessory upgrade. The works? You get it with Purr.
Best Budget Bubbler
Eyce Hammer
This silicone bubbler water pipe features a large, snap-in glass bowl that pops out for easy cleaning, hidden storage in the base, a steel poker and a tool holder. The water bubble chamber has an ice chamber, allowing you to cool down your vapor for even easier inhalation. And, you can turn it into a rig for concentrates with the right accessories.
Best Double Duty Bubbler
Higher Standards Heavy Duty Riggler
This "riggler" — a portmanteau of rig and bubbler — features borosilicate glass that's seven millimeters thick, and comes with a quartz banger and glass bowl to consume your dry herbs or concentrates. The Riggler also comes with a double-sided concentrate tool with silicone grips, a sturdy base and sports an easy-to-clean construction.
Best Maple Bubbler for the Cherished Canuck in Your Life
Canada Puffin Arctic Bubbler
"For an experience as cool as the Arctic," says the tagline on the Canada Puffin product page for this bubbler. It's cool indeed, thanks to its authentic Canadian maple wood base and a nine-slit showerhead percolator that delivers excellent filtration. Timbits, maple syrup and Drake not included.
Best Colorful Bubbler
Grav Hammer Bubbler-Colored Accents
Whatever your favorite color may be, there's a good chance you'll find it with this bubbler from Grav, which comes in 10 different colors. Its fission downstem diffuses smoke through water, and its feet stabilize the bubbler between uses.
Best Pipe Bubbler
Monsoon Spill-Proof Glass Bubbler Water Pipe
Monsoon's bubbler water pipe is spill-roof thanks to strategic hole placement in the glass mechanism that allows smoke to bubble through water, but prevents water from escaping until it's cleaning time. The reviews speak nothing but the utmost praise for this USA-made pipe — users say it's "a true travel bong," "quite the impressive piece" and "my enjoyment of this product was cut short since mine was stolen from me by my ex only a week after having it… I will be ordering again soon!"
Best Earth-Friendly Bubbler
Elevate Drift Bubbler
This bubbler's pieces and parts (minus the silicon ring) are recyclable or biodegradable, including the packaging. Designed and assembled in Denver, this bubbler also combines modern lines with an elegant aesthetic.
Best Celebrity Bubbler
Snoop Dogg Pounds Lightship Handheld Bubbler
There are only a few celebrities with cannabis lifestyle brands and smoke weed who I trust; Snoop Dogg is one of them. His name is attached, so it must be Snoop approved. The flat angled bottoms on the mouthpiece and bowl ensure that it won't fall over when placed on a flat surface. And, it features a left side carb hole for more control over your hits.
Best Three-in-One Bubbler
Cali Crusher Hydra 3-in-1 Modular Bubbler
Made of glass wrapped in a metal shield with a polycarbonate main chamber, the Hydra was designed to last. It's also versatile: You can use it as a bubbler, a spoon or a one-hitter. Its patented Quicklock technology makes cleaning and assembly a breeze; the magnetic lid make it great for travel.
The 10 Best Weed Vapes for a Better High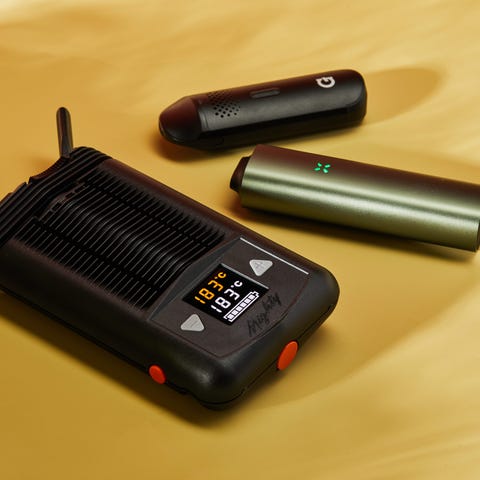 Getting smoked out doesn't mean you have to spark up.
This content is created and maintained by a third party, and imported onto this page to help users provide their email addresses. You may be able to find more information about this and similar content at piano.io