Every product is carefully selected by our editors. If you buy from a link, we may earn a commission.
The 12 Best Weed Vapes for a Better High
Getting smoked out doesn't mean you have to spark up.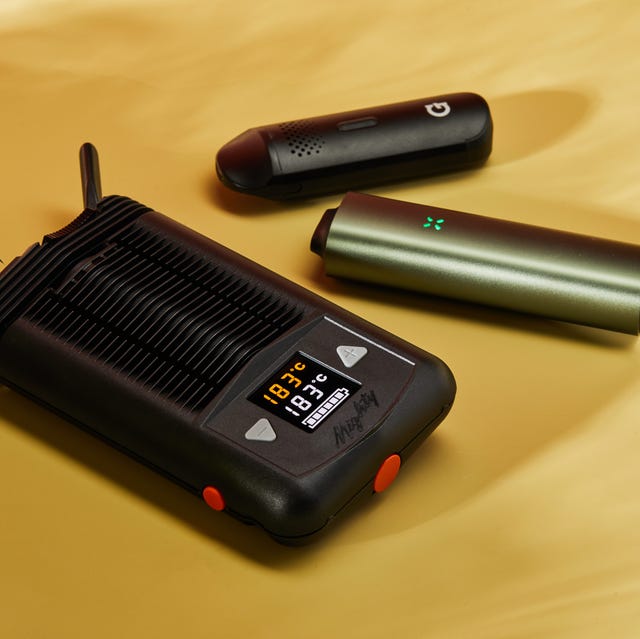 Looking for more vetted cannabis recommendations? Check out our guides to the best rolling papers, bongs, storage containers and grinders.
With the number of states legalizing cannabis increasing — and the number of medical marijuana patients going up — it's never been easier to access the healing properties of cannabis. However, ripping a bong or hitting from a pipe can draw unsavory reactions, whether from pesky landlords who would catch a whiff from an open window or roommates who can't take the lingering smell (no matter how much air freshener you use). Vaporizers offer a level of discreteness. Even better, vaporizing weed can get you higher while using less product. We tested an assortment of weed vaporizers — some are compatible with flower, some are compatible with concentrates, some are compatible with both — to identify the ones that are worth your green and the ones that will wreck your green. These 12 weed vaporizers represent the former.
Weed Vapes 101
Is vaporizing weed healthier than smoking it?
Probably. According to Mitch Earleywine, professor of psychology at the University at Albany, SUNY, and author of Understanding Marijuana, data from his lab shows that switching to vaporizing decreases respiratory irritation and increases lung volume in heavy users. And, compared to using oil vape pens that work with a 510 thread battery and a cartridge, there are proven health benefits to ingesting cannabis via herbal and concentrate vaporizers. However, Earleywine says to keep the temperature low to prevent lung irritation."Those who are careful not to overheat the plant are bound to see respiratory irritation improve in as little as a month," he says. "Those who crank up the temp likely do not benefit."
Is vaping safe?
Besides purchasing from reputable brands, Earleywine says to "start low and go slow" to prevent getting so high that you start thinking too much about climate change.
"Users suggest that they are accustomed to smoking and knowing the magnitude of the effects fairly quickly, often within a minute," he says. "In contrast, they describe vaporized cannabis as 'a creeper,' in the sense that the subjective effects get larger over the first 15 minutes or so. Many claim their first use of the vaporizer led them to 'over-medicate,' so to speak."
There are also significant ethical considerations to ingesting cannabis. BIPOC are still disproportionately affected by petty drug crimes while states legalize marijuana. Work toward restorative justice by making regular donations to mutual aid groups that help incarcerated people, or organizations like the Last Prisoner Project, which works to permanently reverse the injustice toward those who have suffered criminal convictions due to the War on Drugs. Additionally, you should support companies that donate to or have cannabis criminal justice reform initiatives in place.
How does vaporizing weed work?
Unlike bongs, pipes and joints, which use a direct flame as the means of releasing the cannabinoids in marijuana, convection and conduction vaporizers use heat.
Conduction vaporizers use direct heat contact to release the cannabinoids in marijuna. However, the direct heat means that there's a possibility you could burn your weed. These devices tend to be cheaper, portable, heat up faster and tend to be easier to use.
Convection vaporizers, on the other hand, use the transfer of heat — think of it like cooking something in the oven — to heat up the cannabis. Instead of directly heating the weed, heating elements in convection vaporizers heat the air, which is forced around and through the herb. Convection vaporizers tend to be more expensive and less portable than their conduction counterparts, but provide better vapor quality and flavor along with even heating.
Hybrid vaporizers use both convection and conduction.
The Best Weed Vapes of 2022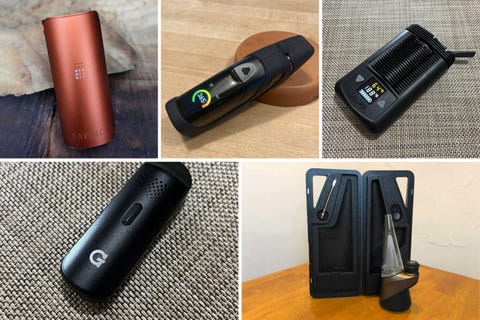 After scouring the internet for weed vape enthusiast websites and the general weed vape community, we found a handful of vapes we wanted to get in hand and test. Of those we got in hand, we paid close attention to the build, ease of use, design and quality of vapor. A few factors we had to look out for was whether it took dry herbs, concentrate or both, as well as whether it used convection, conduction or hybrid heating. Battery life is important to the overall rating of a weed vape, but we found that despite all of these vapes' overall excellence, the battery was always a pain point whether it didn't last very long or it took a while to charge. This list will continue to change and be updated as new weed vape models hit the market.
Best Overall Weed Vape
Pax 3
Unrivaled 10-year warranty
Dabs hit better than competitive options
Can dial in exact temperature to target certain terpenes
App only works on Android and web
Concentrate attachments awkwardly jut out from the bottom
The Pax 3 can do it all. Its single-button design makes it easy to use for beginners, and the custom-temperature capabilities with the Android app (sorry, iPhone stans) allow for weed heads to heat a strain to an exact temperature to target certain terpenes. I would recommend getting the complete kit, which includes the concentrate chamber ($50 on its own) and other useful goodies — I like using the half-pack lid when I don't want to consume an entire full bowl. Although I don't love that the concentrate attachment juts out from the bottom of the device, the dabs hit better than other vaporizers with concentrate capabilities that I tested. You essentially get two devices in one with the complete kit. And, its 10-year warranty — one of the best in the market — gives you peace of mind.
Takes: dry herb, concentrate
Type of heating: conduction
Best Splurge Weed Vape
Storz and Bickel Mighty
Pocket-sized device with maximum power
Precision temperature control
Self-cooling mouthpiece
Huge splurge purchase
Awkward to load
You want the Storz & Bickel experience in the palm of your hand? Look no further than the Mighty. The battery-powered Mighty uses a combination of full hot air convection heating and additional conduction, which ensures an efficient vaporization from the first draw. Like the Volcano Hybrid, it has an LED screen for precise temperature control. It has 500 reviews and is rated at five stars for a very good reason.
Takes: dry herb, concentrate
Type of heating: hybrid
Best Budget Weed Vape
G Pen Dash
Small and portable
Easy to use
Lacks full temperature control; uses three preset temperature settings
You're guaranteed to be satisfied if you purchase any G Pen vaporizer for your flower. However, the G Pen Dash — Grenco Science's newest addition to its portfolio of dry herb vaporizers — is an excellent option for beginners purchasing their first vape, or for those looking for something simple and discreet that gets the job done. The controls are easy (press the main button five times to turn on and off, and press it three times to change between three heat options) and the buzzy haptics, combined with the aluminum alloy body, give it a nice feel in the palm of your hand.
Takes: dry herb
Type of heating: conduction
Best-Looking Weed Vape
Magic Flight Launch Box
Easy to use
Made with high-quality materials and eco-conscious
Heat control takes some getting used to
The Launch Box, much like vinyl records and cassettes, gives a slow, analog feel in a world filled with fancy digital tech. And, much like its name suggests, it will send you to the moon. There's so much more to love about it than that, however. It's made by local artisans in San Diego, California, and is sourced from natural and renewable materials. The quote on the back of the Launch Box, along with the company mission, is absolutely inspiring — the former almost made me cry upon opening the box. It's a conversation piece, it provides a completely different experience compared to other vaporizers on the market and it can get you high. What more could you want from an object in your home?
Takes: dry herb
Type of heating: conduction
Easiest-to-Use Weed Vape
Arizer Solo 2 Vaporizer
Fast heating
Precise temperature control
Fully customizable vaping experience
"Vapor the way you like it without the need for apps or gimmicks," reads the product listing for the Solo II. Using the Solo II mirrors that phrase: the Solo II is tanky, frill-less and delivers clean, smooth vapor thanks to its hybrid heating system. I personally wouldn't use the Solo II outside of my house because of the glass tube, but it can be done. Make sure to use the included stainless steel filter screens, or you will accidentally breathe in a small fleck of cannabis, just like I did.
Takes: dry herb
Type of heating: hybrid
Best Tabletop Weed Vape
Storz & Bickel Volcano Hybrid
Comes with two attachments: balloons and a whip
Quick heating
Precise temperature control
"Building something for the flashy look doesn't give you the best experience," says Andy Lytwynec, vice president of global company vape business at Canopy Growth, which owns Storz & Bickel. That's absolutely true with the Volcano Hybrid: Although the Volcano resembles a Subaru Outback, it's considered the Rolls Royce of cannabis ingestion. While testing the Volcano Hybrid, I only wrote "I am so upsettingly stoned" in my notes. The Hybrid differs from the Volcano Classic with the inclusion of a digital display with custom temperature settings, the addition of a hookah-like tube for more casual consumption when you don't want to use one of the famous bags and app capabilities for Android users. Having a Volcano is a stoner flex, and there's a reason why.
Takes: dry herb, concentrate
Type of heating: hybrid
Best Portable Weed Vape
G Pen Roam
Good for dabbing on the go
Smooth vapor
Doesn't work with dry herbs
The Roam is perfect for dabbing on the go, or if you're just very clumsy and don't want to break a concentrate vaporizer that's primarily made of glass. It's compact, spill-proof, heats up fast, has a great LED screen and comes with a sturdy travel case. Plus, it's incredibly easy to use. This was the first product I tested and I had never used a concentrate vaporizer before, let alone hit a dab. The included shovel-like dab tool also rocks, rivaling all other included dab tools with concentrate vaporizers.
Takes: concentrate
Type of heating: convection
Best Affordable Portable Weed Vape
XVape Starry
Discreet to use and portable
Swappable rechargeable batteries
There's so much to love about the Starry: it's incredibly portable, is made of quality materials and the price is absolutely unmatched. It's one of the best conduction vapes under $100. Additionally, it comes with a concentrate cup that fits perfectly into the flower chamber, allowing you to enjoy a dab if you want. My favorite feature is the 5- or 10-minute shutdown timer so I know when it's going to turn off automatically. And, with an anodized aluminum body, magnetic lid enclosure and ceramic zirconia mouthpiece, it feels luxurious without breaking the bank.
Takes: dry herb, concentrate
Type of heating: conduction
Best Smart Weed Vape
Puffco Peak Pro
Easy to clean
App compatibility offers maximum control
Unlike the original Puffco Peak, the Peak Pro has a sensor in the concentrate chamber that communicates with the device, keeping the temperature at where it needs to be regardless of how much you inhale or how much concentrate you put in, giving a controlled and consistent dab experience. The app allows for setting a custom temperature outside of the four pre-programed heat settings, the ability to save custom heat profiles and flashy functionalities like LED customization (although the Stealth mode is useful for public dabbing). If you'd like a dabbing contraption that fits in your pocket, the Peak Plus ($90) is a great option. For an in-depth look, read our review of the Puffco Peak Pro.
Takes: concentrate
Type of heating: conduction
Best Compact Weed Vape
Zeus Arc GT
Excellent vapor quality
Comes with cleaning supplies
Preset temperatures
Slow to heat up
Engineered in Germany, the Zeus Arc GT features an accelerometer, built-in multi-tool, three temperature cycles, a long micro USB charger (which I personally appreciated after charging many devices with ridiculously short chargers) and upgradeable firmware. The device has a nice, luxurious weight to it, and the bowl is decently sized. And, if you want to prevent any coughing, the Zeus Arc Iceborn ($35) is an excellent add-on that uses ice filtration to cool down and improve vapor quality.
Takes: dry herb
Type of heating: conduction
Best Weed Vape for Lightweights
Davinci Miqro
Pleasant vaping experience
Made of few plastic components
Easy to clean
Small and weak battery
Occasional charging issues
Davinci's Miqro is a small-but-mighty weep vape for those who aren't looking to take bong-sized rips on the daily. With its easy-to-use design and well-built body, the Miqro is the weed vape we find ourselves grabbing for the quick dog walk or late-night stroll. The vape actually makes vapor taste good to the point that you actually start to get cravings for certain terpenes. You'll need to charge this thing pretty frequently, but you can always buy an inexpensive second battery to go on a vaping marathon.
Takes: dry herb
Type of heating: conduction
Best Hybrid Weed Vape
G Pen Elite II Vaporizer
Heats up quickly
Can program specific temperatures
Standby mode saves battery when not in active use
Subpar battery life
Doesn't take concentrates
Instead of choosing a conduction vape or a convection vape, go for a hybrid, which brings the best of both words — conduction heat is applied directly to the dried herb, and convection heat circulates hot air to avoid burning. And if you're going for a hybrid, opt for G Pen's Elite II. Too many hybrid vapes are bulky and unsightly, but the Elite II manages to be portable and discreet. We liked how quickly it heats up so you can get to vaping right away. With its easily controllable interface, you can target specific temperatures for a variety of terpenes, which is a huge plus.
Takes: dry herb
Type of heating: hybrid
The 10 Best Weed Grinders to Crush the Daily Grind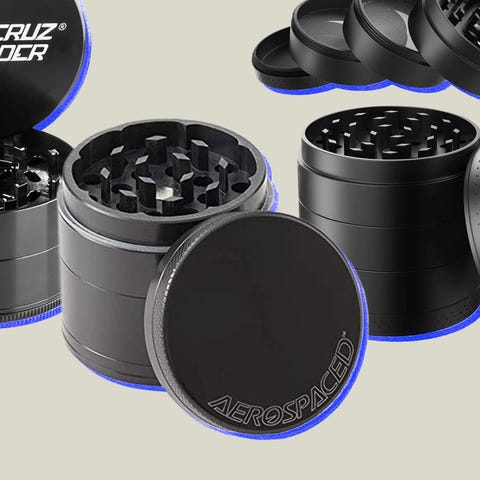 Weeding out the competition to find the grinders actually worth your bud.
This content is created and maintained by a third party, and imported onto this page to help users provide their email addresses. You may be able to find more information about this and similar content at piano.io