Every product is carefully selected by our editors. If you buy from a link, we may earn a commission.
The Best Office Chairs to Make Working Feel Less Like Work
Everything you need to know to find an office chair best suited to your needs, including ergonomics, price, aesthetics and features.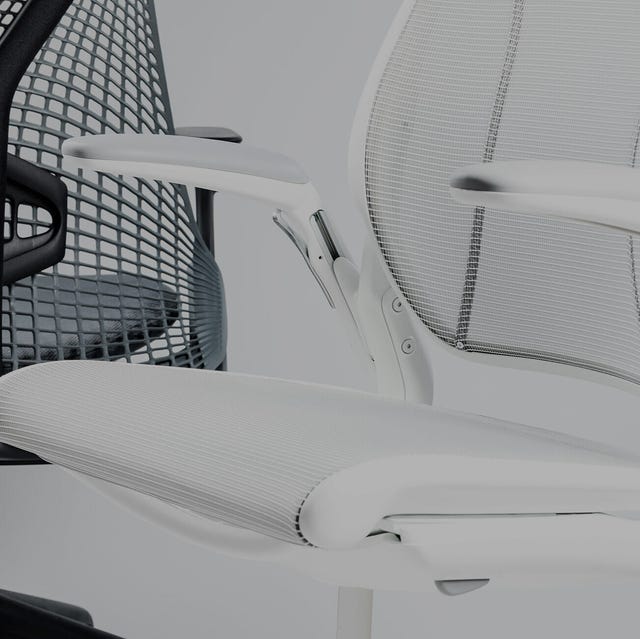 Long has the doom of sitting been forecasted. Published papers aplenty have argued that a stationary life is shorter and trouble-ridden, and the primary workarounds are many — standing desks, frequent breaks, stretching, taking walks and so on. But none address the simple fact that, sometimes, to get shit done, we simply need to plant ourselves in a chair and get after it.
Luckily, a number of companies are working to beat each other at building the best office chairs, even though they all know it's not possible. No one chair is the best for everyone, so take our guide with plenty of salt. If you can, go to stores and showrooms in your area and sit down, lean back, lean forward, pull levers and ask questions about everything — your back, muscles, various joints and brain will thank you.
What to Look For in an Office Chair
Adjustability
Every office chair should have some amount of adjustability because each chair needs to be able to accommodate different types of people, whether it's for height or weight. At a minimum, an office chair should have adjustable height. But if that's all the chair offers, it's probably not the best chair for you (or anyone). Look to see what other points of adjustability a chair has such as adjustable armrests, back height, tilt position and seat depth. Keep in mind that the more adjustable a chair is, the higher in price it's likely to be.
Lumbar Support
Lumbar refers to the part of the spine that's located in your lower back region. If you have lower back pain (or even if you don't), you'll definitely want to look for a chair with lumbar support. This usually refers to some sort of horizontal attachment — whether it's a cushion or piece of stiff plastic — on your chair that helps provide support to your lumbar region. The lumbar support should be adjustable so you can tailor it to where you need to focus extra lower back support.
Materials
From leather to fabric, office chairs can be made of practically anything. Upholstered chairs are generally cheaper, but harder to clean than their leather counterparts. Also, brands keep inventing new innovative materials that provide better support and breathability than more classic materials.
Office Chair Brands to Know
Humanscale
An extreme and praise-worthy focus on sustainable, eco-friendly design and gorgeous aesthetics come together with research-backed ergonomics at Humanscale. A through-line can be seen in all Humanscale's more recent products — simplicity. Simplicity urged forward by the late American industrial designer Niels Diffrient in his partnership with Humanscale, which yielded two of the most notable and respected chairs ever — the Freedom and Diffrient World.
Herman Miller
Herman Miller is the company behind many of the most iconic pieces in the era of mid-century modern but its catalog has far more to offer than famous lounge chairs. When Herman Miller released the Aeron office chair, it instantly became the, or at least one of the best makers of office seating the world over. The American brand's most notable office chairs are likely the Aeron, Embody and the newly released Cosm, a fully passive ergonomic chair with a few unique-unto-itself features.
Steelcase
Where Herman Miller and others work in a variety of furniture areas, Steelcase narrows its gaze to furniture with a performance and sustainability bend. The 105-year-old company is unrelenting in its focus on research-guided design, and it is most known for the Gesture, Leap and its auto-adjusting (and fairly new) SILQ.
Knoll
Like Herman Miller, Knoll was (and has become again) mid-century royalty. Also like Herman Miller, it didn't fall off the face of the earth. Knoll still peddles high-end, luxurious home furniture aplenty, but its office seating, the Generation line in particular, is a revelation. Ergonomic, good looking and sold at price points low and high, Knoll covers the spectrum of what you need now and in the future.
The Best Office Chairs of 2022
This content is created and maintained by a third party, and imported onto this page to help users provide their email addresses. You may be able to find more information about this and similar content at piano.io