Every product is carefully selected by our editors. If you buy from a link, we may earn a commission.
Yeti Kicks off Spring with New Products and Color Updates
The first of multiple planned releases for the outdoor juggernaut, this week's drop includes a variety of new gear.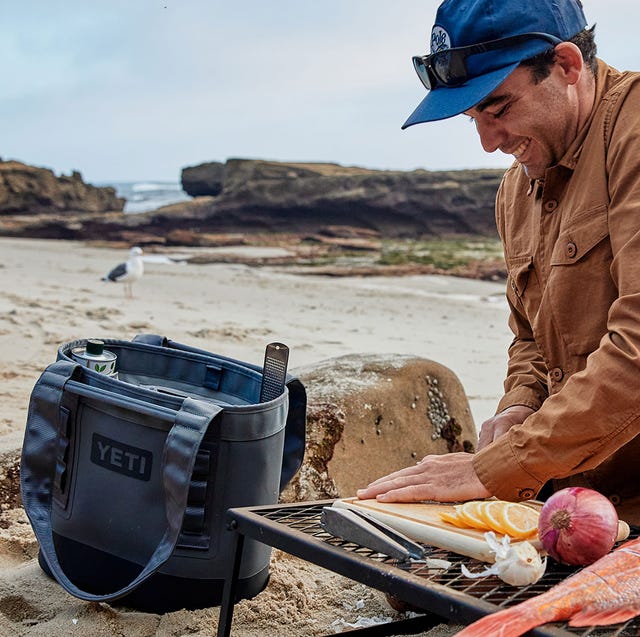 Since its founding in 2006, Yeti has been the premier cooler and outdoor product manufacturer, becoming as synonymous with food preservation as Kleenex is with runny noses. With the regularity of the rising sun, Yeti tends to show up on "best of" lists across the internet, whether we're talking travel gear, food and beverage containers or durable totes. There's excitement each time the brand releases new product, and things tend to sell out fast.
This spring, Yeti is releasing a bevy of new and exciting product updates, including new colorways, sizes and features. The first installment, which dropped this week, revealed updates to a few of the brand's core lines and two new spring colorways, Bimini and Offshore (inspired by the Bahamas and the depths of offshore seas, respectively). We've got our eyes on the Camino 20 Carryall and the always classic Roadie 24 Hard Cooler in brand-new Bimini, as well as the revamped Hopper M30.

One size smaller than the popular Camino 35, this 20-liter carryall boasts the same hard-working features as its bigger sibling (and comes in a bright and tropical new colorway). This tote is ideal for offshore adventures, lake and beach-side hangs or trips to the gym, thanks to its deployable dividers, waterproof material and welded construction. The Camino 20 can hold sweaty gym clothes, muddy shoes or groceries with ease (but remember, even though this little guy is tough, it's not insulated, and shouldn't be used as a cooler). When you're done, simply hose it out and let it air dry, and you're ready for your next adventure.
Yeti Hopper M30 Soft Cooler
We're eyeing the Hopper M30 for this summer, thanks to some key updates. Yeti took consumer feedback seriously, and revamped the Hopper to make it more efficient than ever. A new magnetic closure system makes it easier than ever to load up and go without worrying about your gear. On top of the new MagShield Access, Yeti also layered on a couple quick-release buckles for extra protection.
If you're worried about losing items in the cavernous 30-liter interior, the HitchPoint system on the exterior of the bag allows you to strap whatever extra accessories you need quick access to with ease, so you can stay organized on the go.
Yeti Roadie 24 Hard Cooler
Sometimes, all an item needs is a new proverbial coat of paint to take it from so-so to standout. Such is the case with Yeti's Roadie 24 Hard Cooler, which boasts all the same technical specs that make it indispensable on road trips, days on the boat and even grocery runs, but ups the ante with Yeti's new spring colorway, Bimini.
Inspired by the tropical tastes and textures of the Bahamas, the Bimini hue will undoubtedly put a smile on your face every time you use this cooler. And with 10 percent lighter weight, a 20 percent boost in capacity and 30 percent better thermal regulation than its predecessor, the good vibes are almost guaranteed to continue.
This content is created and maintained by a third party, and imported onto this page to help users provide their email addresses. You may be able to find more information about this and similar content at piano.io