Every product is carefully selected by our editors. If you buy from a link, we may earn a commission.
The 10 Best Soft Coolers to Rule Summer in 2022
Need a battle-tested go-bag bag for your nosh that doesn't greenhouse the goods? Start here.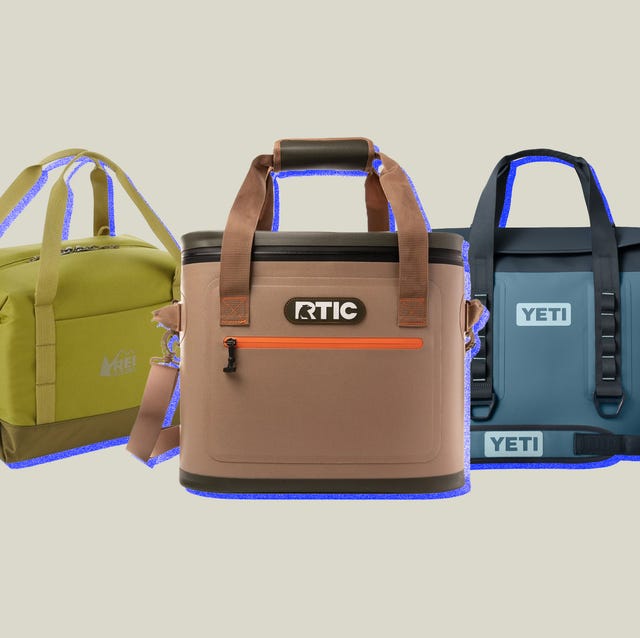 When ranked among the best coolers, soft coolers might be the next great sandbaggers of the outdoors. Seemingly flexible and vulnerable — once the squall, whitewater rapids, tree branches and creatures arrive — these so-called 'softies' ride out the proverbial storm while keeping the moveable feast safe, chilled and cushioned. MVPs.
Compared to the hard-shelled coolers of RTIC and Yeti, soft ice chests lack some glacial retention, animal proofness and stackability but make up by being lightweight, cacheable and crushable. And soft cooler is a misnomer given many are substantial enough to pyramid other gear or tumble off the truck bed. While rigid coolers occasionally have wheels for smooth transport, soft coolers are easier to single-handedly grab over the shoulder versus heavier options.
So whether you are river rafting, SUPing from beach to beach, park BBQing, road tripping to ski volcanoes or trailhead tailgating, these coolers are stout enough to answer the call. Based on our own testing, this guide shares beta on the top choices for soft coolers that keep the goodies cold and portable. Check out all the need-to-know details, from volume and rigidness to ice retention, plus key features to help you pick the best soft cooler for your next adventure.
Soft Shell vs. Hard Shell Coolers: What's the Difference?
While both of these types of coolers are designed, in concept, to do the same thing — i.e. keep their contents cold for an extended period — there are some pretty important differences between them. The most obvious, for starters, is that hard shell coolers are far more rigid than their soft shell counterparts. Take, for instance, Yeti's Roadie 24. This cooler is so rigid and strong that you can actually sit on it without any fear of it collapsing under you, even if you're a larger person. By contrast, soft shell coolers cannot typically support more than a few pounds atop them.
While that seems like a leg-up for hard shell coolers, it does come with downsides. Hard shell coolers don't offer any give, meaning they can't expand or collapse, nor can they shimmy into spaces that might be a little too tight. Soft shell coolers, by contrast often do offer all of those features. And some – like Carhartt's Insulated 40 Can Cooler Backpack Tote — have so little structure that they can actually collapse quite easily between uses. That makes them, generally speaking, easier to store and transport. And that's a pretty great trade-off for anyone limited on space.
It's also worth noting that hard shell coolers typically offer better insulation overall, but that doesn't mean that soft coolers are left in the dirt. If they're made right, they can be nearly as effective at insulating over time. For instance, multiple versions of RTIC's hard and soft coolers can keep ice frozen for literal days at a time. Typically, soft coolers that have less structure to them also offer lesser insulation, but the space-saving trade-off may still be worth it to many, and hard shell coolers make up for their lack of flexibility by offering the best insulation around.
Finally, while both of these cooler types can work with any kind of ice — be that bulk cubes or ice packs — bulk ice tends to work better with hard shell coolers (which often come with a handy drain to empty the water once you're done) and soft coolers jive better with ice packs that won't melt into a sloshy puddle at the end of your adventures.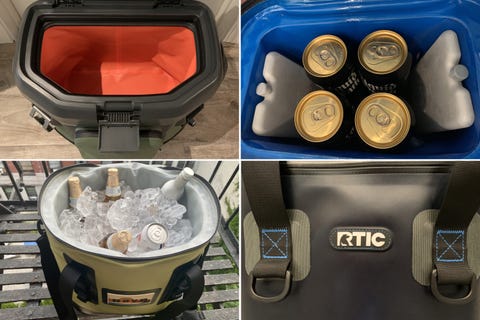 There are a number of things to look for when shopping for a soft cooler, including capacity, packability, portability and — perhaps most importantly — ice retention and insulation. To discern the capabilities of these coolers, our testers loaded them with various types of ice (both bulk and packs), beverages, foodstuffs and more. And then they took them to task, bringing them along on adventures short and long, paying close attention to the aforementioned metrics to pass judgment.
Best Overall
RTIC Soft Pack Cooler (30 Can)
Need an easy-to-haul cooler that doesn't eat huge wads of bills? Plenty of soft coolers sit well below the top-tier tag but not all perform as impressively as this RTIC Soft Pack Cooler that keeps 30 cans of our favorite soda and beer frosty. The cooler's lack of attachment points and functional pocket space are made up for by excellent ice retention — our drinks stayed chill past the brand's 24-hour claim — and the zipper is bombproof (requiring a bit more oomph to open). If you're concerned about spillage, very little melted ice escaped these teeth.
Additional sizes: Soft Pack Cooler 12 Can, 20 Can, 40 Can (numbers don't represent quarts)
Best Upgrade
Yeti M30 Soft Cooler
Recently redesigned, this shoulder-carried soft cooler from the mavens at Yeti is even more exceptional than it was before (which is saying a lot). While it still retains many of the features that made the original great — including an ultra-wide opening that makes getting access to the goodies inside a snap — it benefits from a new Magshield seal that's simpler and better overall than the previous version's zipper. Its also leak- and waterproof, extremely efficient and even has a pair of quick-release buckles (which are similarly easy to use).
Best on a Budget
REI Co-op Pack-Away 12 Soft Cooler
Sadly, REI appears to have discontinued its largest Pack-Away option, the 24. However, the 12 has just been upgraded and, put bluntly, makes up for the loss of the larger option in every way except for capacity. This new version offers better insulation — with the ability to keep its contents ice-cold for up to 32 hours — along with a trio of formats it can transform into (cube, tote and flat-packed), a leakproof liner, abrasion-resistant bottom and recycled materials. There's also a smaller version, the 6, should you prefer that to the 12.
Additional sizes: REI Co-op Pack-Away 6 Soft Cooler (numbers refer to can capacity)
Most Svelte Cooler
Hydro Flask Day Escape 26L Soft Cooler Tote
There's something reassuring about having a streamlined cooler that perfectly hugs the front passenger seat: All the snacks and beverages are right within reach and can't get knocked over. Even if they did, the zip closure is completely watertight and the buttery smooth exterior is waterproof with welded seams. A goldfish stands no chance of escape. And for extra snack space, Hydro Flask added inconspicuous slits to the cooler's sides where reusable, sealable Dry Storage bags (sold separately) can be attached. At 3.4 pounds, this tote is also surprisingly lightweight for how rugged it is.
Editor's note: The Breeze colorway is currently on sale for $116.97, 35 percent off!

Additional Sizes: 18 liter (nearly 16 quarts)
Comfiest Carry Handle
ORCA Walker Tote
Are your digits sensitive from maxing the bouldering wall? Tired of typing or scraping wax off your skis? You'll appreciate this cooler's smooth, ergonomic handle with divots for fingers. The removable shoulder strap is also super plush. There's ample space in the big waterproof front pocket for a tidy massage tool to nurse sore hands, too, in addition to keys, phone and wallet. Keeping the mood light, the Orca is floatable and a just-right height for stashing several bottles of wine (trust us, we tried).
The 12 Best Coolers Money Can Buy
Looking to hide some sandwiches and 85 cans of beer from a bear?Here are the most rugged, capable, ice-retaining coolers to take on your next adventure.
Best Yeti Alternative
OtterBox Trooper 20 Cooler
This soft cooler is so sturdy we second-guessed its categorization. Copious rainfall. Sharp hail. Deep puddles and sludge. Whatever the conditions, the Trooper defies abuse and not even nightlong drizzle gets inside its tightly closed quarters. Rather than a zip opening, a clasp clamps down, preventing any leakage. The brand claims the cooler keeps ice for more than 3 days, which we found spot on. Not many coolers offer a streamlined, functional pouch, so we also appreciate the spacious water-resistant front pocket for our wallet, phone and keys:
Additional sizes: 30-quart with backpack straps, a top latch and bomber ice retention that nearly rivals the Icemule Boss
Best for Yeti Loyalists
Yeti Hopper Flip 18 Soft Cooler
Much like the brand's hard-sided gallery, Yeti delivers best-in-class soft designs with the Hopper Flip. It powerfully preserves ice and keeps fare colder for longer, which is key for full-send days and muggy, hot conditions. Not all leakproof, waterproof zippers are easy to open like this one. It has streamlined hitch points, too, perfect for being snugged down with a utility cord on a paddle trip, or clipping a bottle opener. If you need a cooler that's super durable and easier to handle than its stubborn-sided clan, snag one of these. It'll last.
Additional sizes: Hopper Flip 8, Hopper Flip 12 (numbers refer to a ratio of ice and cans that fit in each size, click here to see those details)
Best Lunch Tote
Carhartt Lunch Tote
For simple walks, outdoor lunches and home-prepped meals for the office, sometimes we need just enough room for fruit, chips and sandwiches. At 25 bucks, this scrunchable Carhartt tote delivers in classic style. With 1200-denier heavy-duty fabric, the exterior is ridiculously strong for that price — like a pair of workhorse farming pants — plus rain resistant and doesn't leak (though the top zipper does). The interior mesh pocket is useful for utensils and toothpick holders — not so much for a water bottle. But that's perfectly fine with us, because this is a fine upgrade for a homemade BLT.
Most Versatile Cooler
RovR TravelR 30 Soft Cooler
We have long admired RovR for the intention that goes into its products, and this recent release is no different. The TravlR is designed so that you can drop the brand's cleverly segmented KeepR cooler basket right in, upping the cold retention, transportability and ruggedness of an already handy product. Speaking of cold retention, we were pulling out frosty beverages well past the 36-hour mark. The TravlR features four daisy chains for lashing additional gear, plus two handles and a padded shoulder strap for carrying. The zipper is a little sticky when the lid is all the way shut, but we take that as a sign it's truly locking arctic climes inside.
Best Large Collapsible Cooler
Snow Peak Soft Cooler 38
A cooler this volume sans rigidity shouldn't be comfortable to carry, we assumed, but the loaded Snow Peak Soft Cooler 38 hoists like a nice handbag. The malleable walls are actually soft and easy for one person to tote to the tailgate whereas a solid cooler with 10 gallons of fodder and refreshments can be awkward for strolls without wheels. After a day trip, the cooler also squishes down to stash in a lean space. We're all about more elbow room in the garage. Though the top zipper isn't leakproof, the ice retention is reliable enough for a car camping getaway.
Additional sizes: Soft Cooler 18 (the equivalent to 19 quarts), Soft Cooler 11 (nearly 12 quarts)
This content is created and maintained by a third party, and imported onto this page to help users provide their email addresses. You may be able to find more information about this and similar content at piano.io