Every product is carefully selected by our editors. If you buy from a link, we may earn a commission.
The 11 Best Camping Air Mattresses
Get a better night's sleep under the stars with one of these inflatable wonders.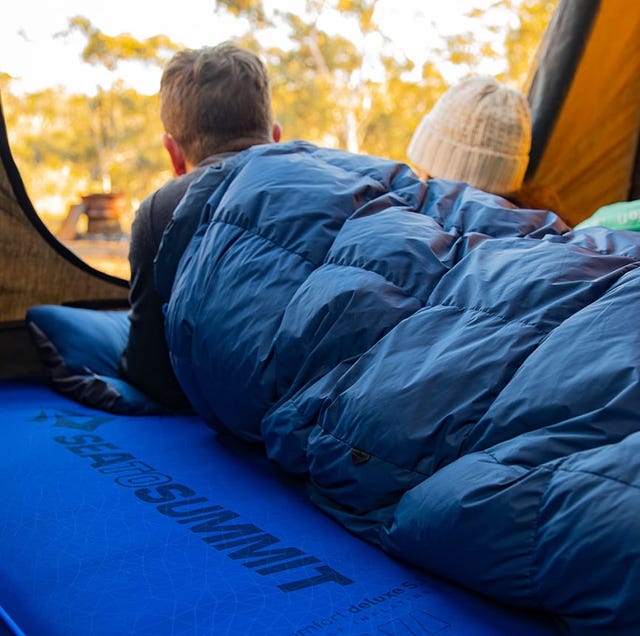 Ah, the great outdoors — the fresh smell of pine trees, majestic mountain views, flowing rivers and meandering dirt paths through lush forests. Endless adventure awaits at every turn. Once darkness rolls in though, a fitful toss-and-turn kinda night can really kill the vibe. If you love camping, but dread camp sleeping, having a high-quality camp mattress and sleeping bag and a good can make a world of difference.
What Are the Different Types of Camping Mattresses?
Camping mattresses fall into three categories: foam pads, air-inflated pads and self-inflate pads. Foam pads are the most basic and least comfortable. These are your classic thin, single layer of closed-cell foam. Air-inflate pads tend to be the lightest and pack down the smallest, but they are also the least durable. Self-inflate pads are the most popular among car campers and offer the most comfort and warmth. And unlike air mattresses for use in the home, self-inflate pads for camping don't need a wall outlet. If you are looking for something elevated from the ground we have also covered the best camping cots.
How to Choose Your Mattress
To choose one, "start with its intended use," suggests Jeff Moberg, Product Line Manager at Therm-a-Rest. "The main factors to consider are warmth, weight, comfort and packability." Are you camping close to your car and have the luxury to go big? Or are you backpacking and need something small that fits in your pack? It's worth noting that warmth is measured in R-value, an insulation scale that ranges from less than 2 (barely insulated) to 5.5 or more (highly insulated). The R references resistance to heat loss.
"It is also important to understand which shape and size you will need," he adds. "The width and thickness of the mattresses should factor in your sleeping style. A side sleeper may want a thicker and wider pad, especially if they flip sides throughout the night. This will offer more cushion and surface area and prevent the camper from pressing into the center of the mattress where the insulation layers tend to live."
Regardless of what direction you face when you sleep, a high-quality camping mattress will make your nights more restful, your days more energetic and your whole adventure more enjoyable — not to mention safer. So, ditch that dated, musty-smelling mattress and upgrade to one of these. You won't regret it.
More Camping Gear Guides
This content is created and maintained by a third party, and imported onto this page to help users provide their email addresses. You may be able to find more information about this and similar content at piano.io