Every product is carefully selected by our editors. If you buy from a link, we may earn a commission.
The 10 Best Camping Blankets for Coziness, Comfort and Capability
Made using the same functional materials as sleeping bags, camping blankets are perfect for casual camping and fit right in around the house too.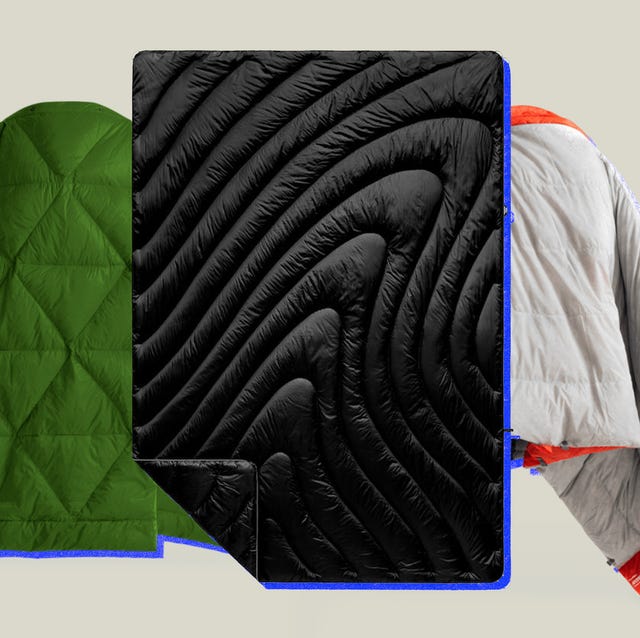 When it comes to camp bedding, the sleeping bag reigns supreme. It makes sense — a sleeping bag's mummy-style construction renders it adept at providing and maintaining warmth, even in sub-zero temperatures. But technical sleeping bags were designed with high alpine pursuits and extended backcountry jaunts in mind, and while they now come in a variety of shapes and temperature ratings, sleeping bags tend to be techy.
Enter the camping blanket. Often made using the same functional materials as sleeping bags — materials like water-repellent down insulation and ripstop nylon shells — camping blankets fulfill a similar function. They provide warmth away from the comforts of home, but beyond that, they offer more flexibility, and they do it with more style.
What to Look for in a Camping Blanket
When you're choosing a camping blanket, you'll want to consider a few factors: size, location, price and intended activity. If you're planning a family camp trip and can already imagine the kids fighting over who gets to use the blanket first, you may want to opt for multiple smaller blankets made with nylon shells that can withstand the abuse of camping and inevitable spills and stains from kids. If you're planning a trip for you and your partner and the weather is going to be chilly, nothing sets the mood like a classic wool option (and it doesn't hurt that wool is naturally water-repellent as well). If you're going to be in wet conditions, a blanket with a waterproof treatment may be the call. As you're shopping, take these factors into consideration.
Why You Should Buy a Camping Blanket
Without the restriction of a zipper, camping blankets are ideal for casual camping. And in true contemporary outdoor lifestyle fashion, technical camping blankets easily transition from the tent to the living room sofa, to the cabin, to the van without much fuss. They aren't specialized for a single environment like a zero-degree down sleeping bag might be; they're versatile and practical, which is ideal for outdoors folk and weekend warriors alike.
Our definitive guide to the best camping blankets available provides information on the 10 top camping blankets available and details their core features such as materials, size, weight, price and more.
The Best Camping Blankets
This content is created and maintained by a third party, and imported onto this page to help users provide their email addresses. You may be able to find more information about this and similar content at piano.io