Every product is carefully selected by our editors. If you buy from a link, we may earn a commission.
The Best Bike Racks for Any Vehicle
The right one will make your life so much easier. Here are our favorites.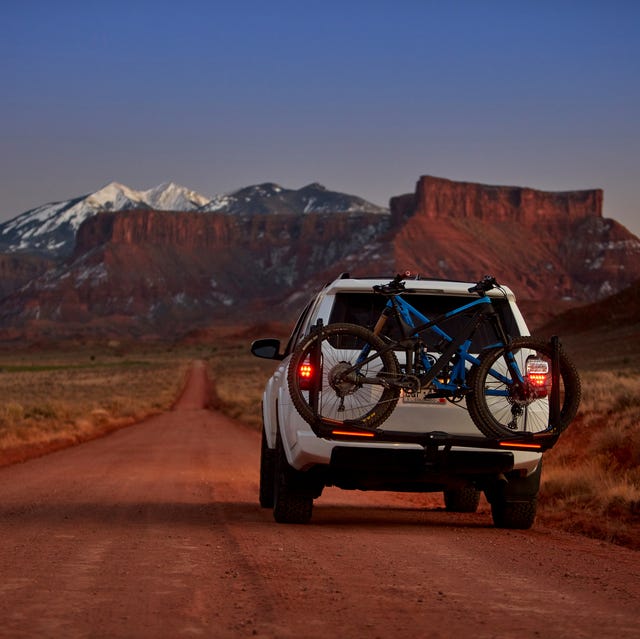 Whether you're headed on a weekend trip, to the local trail system for a lunch ride or the top of your favorite descent, a good bike rack is crucial. It's no fun to have to fold down your back seat to wrestle your bike inside, twisting the handlebars and taking off the front wheel in the process. Just returned from a particularly muddy ride? Hope you brought a tarp.
Enter the humble yet handy bike rack, your headache-sparing, space-saving alternative. It'll free up your car's interior for the rest of your gear, your dog, or a riding partner, depending on the capacity of your vehicle and your rack.
How to Choose the Right Bike Rack for You
There are five main types of bike racks: a tray hitch mount, hanging hitch mount, trunk, roof and truck bed. Which rack you choose depends on your preferred method of loading your bikes, as well as your vehicle. With each style, there are considerations. Access to the rear of your vehicle, number of bikes, ease of loading and unloading said bikes, weight capacity, locking ability and of course, price all factor into your choice. If you've got a truck and want high weight capacity and don't mind slightly impeded vision, a truck bed bike rack may be ideal for you. If you've got a smaller vehicle and want to transport as many bikes as possible, a hanging hitch rack may be your best bet. Because bike racks are an investment not only inand of themselves, but also for your bike, it pays to be diligent as you research your purchase.
There are many options out there, and it's easy to get overwhelmed. But relax. The bike racks that follow are the best available right now.