Every product is carefully selected by our editors. If you buy from a link, we may earn a commission.
The 10 Best Sandals for Hiking
Thanks to durable materials and innovative constructions, sandals aren't just for beaches and poolsides anymore.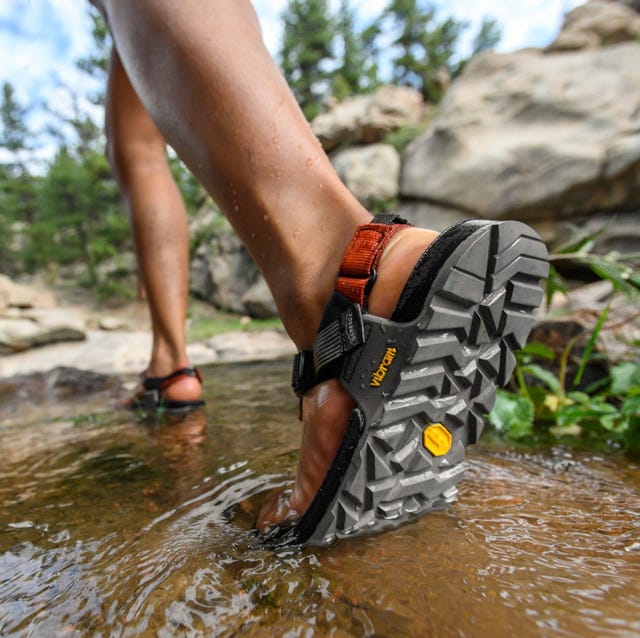 Our definitive guide to the best hiking sandals available provides information on the ten top hiking sandals and offers tips on what to consider before buying a pair. In it, we break down each sandal's key features, covering elements such as comfort, strap design, support, materials, weight and more.
A lot is implied by the word sandal. Upon hearing it, one might conjure up an image of footwear made of leather and cork loosely affixed to a pair of worn feet stemming from a guitar-toting, shower-averse long-haired hippy. That picture would stereotype both man and shoe, though.
Sandals have their place outside of cultural generalizations — in rafts, for one. Teva, one of the most highly-regarded makers of outdoor sandals, got its start in 1984 when Mark Thatcher, a river guide in the Grand Canyon, used two Velcro watch straps to modify a pair of flip-flops so they wouldn't come off his feet.
The outdoor sandals available today are more robust than that — in fact, they're about as beefy as can be without losing the light and open qualities that make them great in the first place. Sticky rubber soles with heavy lugs, platforms molded for arch support and anti-blister constructions are just some of the traits that make the best outdoor sandals suitable for use beyond boats and water.
What Should You Look for in a Hiking Sandal?
Grip
Sticky rubber soles with heavy lugs characterize the hiking sandal, which is ultimately the ideal combination of lightness, breathability and, you guessed it: grip. When shopping for hiking sandals, more often than not you'll see a rubber compound outsole with multidirectional lugs that are built to grip it and rip it — sand and gravel won't stand a chance. You'll see Vibram pop up in many brands and styles; it's the leader in outsole construction and is a safe bet when shopping for an unfamiliar sandal.
Support/ Protection
Many hiking experiences are built around the hiking boot, but during the summer months (or year-round, for warmer locales) the hiking sandal is a welcome respite from the confines of the boot — no matter how light or breathable a boot claims to be, it's no match for a sandal in terms of airflow. However, that enhanced breathability does come with a cost; protection is much more minimal in a sandal and should be accounted for, especially if you're recreating in an environment with hazards like cactus, sharp rock or uneven terrain.
Materials
The majority of hiking sandals on the market use a rubber compound for the outsole, and polyester for the webbing and straps. That's about it. Some lifestyle-oriented styles will implement leather or suede, and a few of the higher-end models will use neoprene in the upper for superior performance in the water. Some styles will also use an EVA midsole for more comfort on and off the trail.
Closed-Toe vs Open-Toe Sandals
Setting aside the upgraded protection a closed-toe sandal provides if we're going purely off aesthetics... open toe sandals are better looking, full stop. If you're going for the crunchy outdoors look, closed-toe is more than fine — it signals to the world that you're capable, you're active and you're confident in your own style. Open-toe sandals may offer less protection for your toes, but they're infinitely more versatile; with the rise of Gorpcore, we're seeing them just as often in the city as we are on the trail. You can't go wrong with either option, but if you want more airflow, more style options and lighter weight, stick with open-toe styles.
Hike in them, bike in them, climb in them — these sandals are built to go everywhere.

The Best Hiking Sandals