Every product is carefully selected by our editors. If you buy from a link, we may earn a commission.
The 10 Best Fixed-Blade Knives Available
From cutting wood to skinning critters, these blades are tough enough to rough it.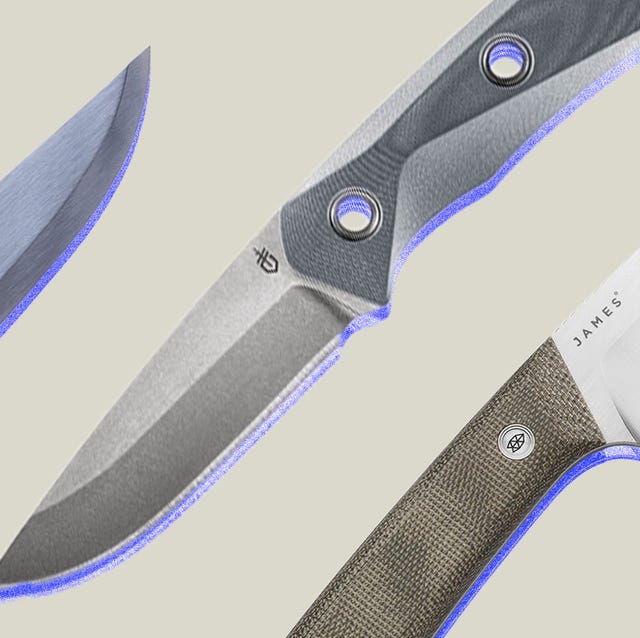 On September 19, 1827, a fight broke out on a Mississippi River sandbar. What started as a formal duel between two notable Louisiana families ended in a skirmish in which Jim Bowie, originally just a supporter on the sidelines, was shot and stabbed before drawing out a large knife and killing a man named Norris Wright. Bowie survived his injuries, took up the knife as his trademark weapon and became an American folk hero.
The fixed-blade knife has been steeped in hyperbole ever since. Large blades loom massive in pop culture — Rambo's massive serrated spine knife and Crocodile Dundee's giant clip-point are two notable examples. Such slabs of steel present a satisfying flash in front of a camera lens but don't offer more in the way of utility. In fact, their unwieldiness probably makes them less adept at performing the simple, everyday tasks that a fixed blade is most commonly used for.
When used to its best purpose, a knife is a multipurpose tool. (Who really wants to be in a knife fight anyway? Bowie barely survived his first one). A sharp blade is near limitless in its functions, from filleting a freshly caught fish to making an emergency repair on a ripped tent.
This guide provides information on the nine top fixed blades for a variety of activities and applications. In it, we break down each model based on key features like length, weight, materials, price and more.