Every product is carefully selected by our editors. If you buy from a link, we may earn a commission.
The Best Men's Jeans
From classics like Levi's, Wrangler and Lee to newcomers like Everlane, The Feel Studio, and Frame.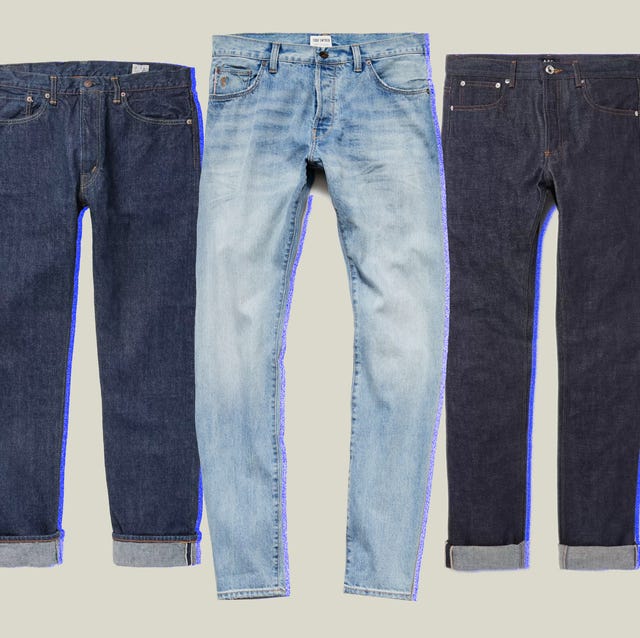 A great pair of jeans can be your go-to trousers for almost any occasion, from work to a date to a night out. They can also be found at just about any price and in an array of styles and washes. However, the sheer endlessness of available options can make searching for a new pair feel like a full-time job, but don't freak out. We've figured out the best brands to buy from for you.
While die-hard denimheads embrace a fuller, workwear-influenced shape that reference the 1950s, many guys are opting for a slimmer, more classic silhouette — sometimes with a bit of stretch. Never should they fit like yoga tights, but jeans with a cut that's just a little closer to the body and streamlined through the leg remain an important part of every man's wardrobe.
After sifting through a sea of Indigo-colored trousers in every shape, color, and cut imaginable, we've identified over 20 different brands (at different prices) that we recommend buying denim from. Some make impressively traditional pairs; others are modernizing the garment. We've done the work of sussing out which brand's jeans are the best for your money, no matter the fit, origin, or wash you prefer. First, though, look through our shortlist of considerations you should take in before adding a pair to your shopping cart.
Three Things to Consider Before Buying
#1: Wash
Denim traditionally starts out as a deep, dark, inky-blue fabric, dyed with indigo. The magic happens once the fabric is stitched into jeans, the five-pocket style, and get washed in massive — and increasingly eco-friendly — washing machines. Sometimes stuff is tossed in to achieve sand- or stone-washed effects, all in an effort to make a pair feel softer and broken in. Other effects include using high-tech lasers to burn designs into the fabric, and jeans literally being torn and repaired to mimic the scars and blemishes of a well-lived life. But because it's not your life, it's hard for us to recommend them. Which leaves you with a handful of options:
Dark Wash
Though even the darkest wash jeans are still decidedly casual, these pairs have what it takes to make it in a serious setting. Pair it with a crisp white shirt, a lightweight sweater and a blazer for work.
Light Wash
Go a little lighter for date night. Keep it clean, but feel free to go for whiskering — those thin, faded lines across the front that looks like you've been standing and sitting in this pair forever—or some light faded effects across the seat and thighs.
Distressed
Some abrasion here and there, usually a bit paler, more faded. More emphasis on points of wear like the butt, thighs, and pockets. Great for a tailgate or other similarly casual settings.
#2: Stretch
Twill refers to the way denim is woven (this method causes those diagonal lines you can see if you look very closely), and this method is what makes denim so tough and so stiff. In an attempt to keep up with the increasing demand for clothes that work hard and look good, most modern denim makers now sneak a little stretch fiber into their jeans for comfort and flexibility. Stretch also helps keep jeans from getting saggy, so they look great all day. Most companies limit the mix to one or two percent of overall material makeup, using fibers like lycra or elastane. Others are adding performance fibers to denim, like Coolmax for moisture and temperature management. While our recommendations include some of these materials, many are 100 percent cotton.
#3: Care
While some serious denim aficionados insist on never washing your jeans, the reality is that most guys should wash their jeans. The editors at Denimhunters, a subscription-based denim learning platform, have found that if you don't wash raw denim, the fiber may become brittle and break prematurely. Here's your playbook for keeping jeans fresh, but not stripping them of their color too quickly:
Wash denim with similarly colored clothing.
Turn jeans inside-out before washing to preserve color and finish.
Use a cold water and the gentle cycle in the washing machine.
Use a gentle detergent such as Woolite. Avoid bleach, spot cleaners or fabric softeners.
Have a top loader? Start the machine first, then when the soap and water are completely mixed, throw in jeans and run a full cycle.
To dry, roll in a towel to remove excess water. Lay flat or hang to finish drying.
Tumble drying causes shrinkage and breaks down fibers (specifically those added for stretch). If you must, use a low heat cycle and run for as little time as possible. But your best bet is line drying.
Where to Buy Your Jeans
This content is created and maintained by a third party, and imported onto this page to help users provide their email addresses. You may be able to find more information about this and similar content at piano.io