Every product is carefully selected by our editors. If you buy from a link, we may earn a commission.
The Best Work Pants to Buy in 2022
These hard-working, long-lasting pants are guaranteed to get the job done.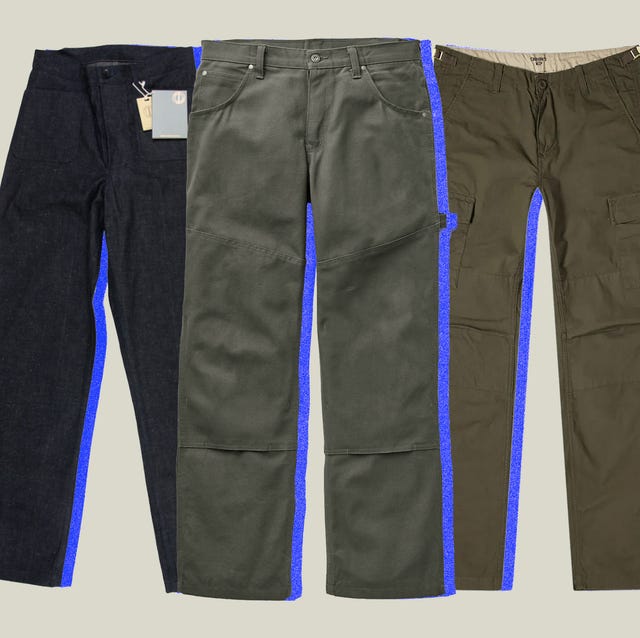 So you need some work pants. Real work pants. Not just workwear-inspired designs that don't take actual labor into account. Yeah, overengineered, heritage-revivalist dungarees made by Japanese artisans have us wading in a puddle of our own saliva, but they're kind of like using a Chrome Hearts plunger to unclog a toilet. (Kudos to commenter, rsi8395, who says they've used the Chrome Hearts plunger to unplug a toilet. You're cool.)
If you're on the lookout for a pair of pants that can do some serious work, here's what to look for and the best options to consider.
What to Look For
Peter Zottolo, a union worker and member of the International Brotherhood of Electrical Workers says that the most important thing to consider is fabric. "You want something that will hold up to crawling around on concrete, rebar, and tie wire," he says. "Double or triple stitching is good to have as well, but everyone from the cheapest to the most expensive has this. Really, the fabric is everything, with comfort right behind." Most work pants will use thick duck canvas or heavy denim which are both known for their durability. Ripstop is also a great option that tends to be lighter weight and well-suited for warmer climates.
Knee protection is also important. Most often, that means some kind of fabric reinforcement or sewn-in knee pads. Many manufacturers offer pants with double fronts that allow you to insert your own knee pads.

Pockets shouldn't skimp out on carry capacity. Utility pockets should be roomy enough to carry your tools and there should be enough of them for the kind of job you're working. Cargo pockets are great for smaller items if you're not lugging a toolbox with you. If you need to wear a tool belt, pants with more and wider belt loops are better for durability.
What to Avoid
You might think that ultra-heavy fabric would be the play. But fabrics heavier than 14 ounces can cause you to overheat, especially if you live in milder climates. Instead, most good work pants use fabrics in the range of 10 to 14 ounces.

As far as fit is concerned, much of that is left to preference. Pants that are too slim can limit your range of motion and aren't as comfortable to wear when the job requires maneuvering tight spots. On the other hand, if you get pants that are too baggy, the extra fabric can get caught in machinery.

Fits to avoid? "High rises," Zottolo says, "unless you actually wear your pants at your navel. Otherwise, a high rise worn low makes working, crawling, bending over a nuisance."
---
This content is created and maintained by a third party, and imported onto this page to help users provide their email addresses. You may be able to find more information about this and similar content at piano.io